Sports car legend Carroll Shelby called him "the fastest American to ever go over and race a Grand Prix car;" He scored a podium finish in his very first Formula One World Championship Grand Prix start (a first by an American) and was also a winner of the world famous Le Mans 24 Hour endurance race; Formula One legend and two-time World Champion Jim Clark considered him to be his hero.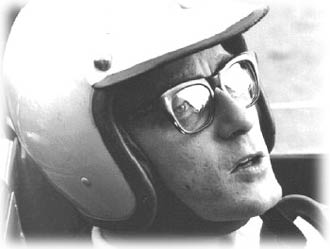 This great driver was none other than the late Masten Gregory - and outstanding Grand Prix/sports car driver who hailed from my hometown - Kansas City.
Masten was a true motorsport pioneer: he was the first American-born driver to compete on a regular basis in the European-dominated Formula One. He was also a pioneer in that he was one of the rare drivers to wear eyeglasses during that time, a practice still very uncommon even today. Masten's nearsighted vision was so poor that he required eyeglasses which, as Carroll Shelby once described, were as thick as "Coke bottles". Masten's older brother, Riddelle Gregory (a racer himself too at one time), confirmed his poor vision by saying, "Once we were driving down to Texas and Masten had me do the night driving through Oklahoma because he couldn't see very well at night. Next thing you know, here he is racing in and winning Le Mans!" Masten may have been blind as a bat without his spectacles, but one thing that was apparent - he was blindingly fast with them.
Masten Gregory was born in Kansas City, Missouri, on February 29th 1932. He was the youngest of three children whose parents owned a local insurance company. His father died when he was three, which later led to his mother selling the family's insurance business. He never finished his senior year of high school and married at the age of 19.
Masten was described as a short, slight built, bespectacled man, who possessed a surprisingly deep voice with a noticeable Midwestern twang. He spoke with an exaggerated deliberation, which was believed to be a result of his overcoming a childhood lisp. He was a chain smoker who was very independent and noted for his dry, witty sense of humor. His interest in racing was evident early on, as he enjoyed drag racing a 1933 Ford Coupe around the city streets as well as his involvement as a pitman for his brother-in-law Dale Duncan's race team.
The death of Masten's father later played an important role in his getting involved in racing. When his mother sold the family's insurance business, she set aside a significant amount of money for each of the children to inherit on their 21st birthday. However, since Masten was over the age of 18 and married, this enabled him to collect his inheritance earlier, and with a large sum of money at his disposal, he was able to buy a Mercury-powered Allard sports car and go racing.
Masten's first race was a 50-mile SCCA race in Caddo Mills, Texas, in November 1952 - a race that he unfortunately ended after five laps due to a blown head gasket. He installed a Chrysler engine in his Allard and next raced at Sebring in 1953, where he lasted a little more than one of the twelve hours, retiring from the race due to rear suspension failure.
A win would come for Masten in his third race, an event in Stillwater, Oklahoma, with his brother-in-law Duncan finishing second in a Jaguar. The Jaguar that Duncan drove in this race was a cream colored Jaguar C-Type that Masten had bought at Sebring. Masten raced the car himself from then on with more wins and great finishes following.
He won the Guardsman Trophy race at Golden Gate Park in San Francisco, as well as a race at Offutt Air Force Base in Omaha, Nebraska - the latter in front of 50,000 spectators (which supposedly was the highest attendance for an SCCA event at that time). After being black-flagged in a race at Chanute Air Force Base, Masten displayed his characteristic sense of humor by showing up at his next race with black-flags painted on his car, which were used as a background for his car number 58.
By the end of 1953, Masten was considered the top Jaguar driver in the United States. His wins, along with a string of second-place finishes that season, helped Masten get an invitation to participate in his first international sports car race - an event in Buenos Aires during January 1954. He performed admirably in the Argentine 1000 Km in Buenos Aires until water pump problems ruined his day, dropping him to 14th at the finish.
Masten, who stood 5'8" and weighed 140lbs, looked very young for his age. When he first arrived to race in Europe in 1954, his competitors initially balked at the idea of racing against "That Child." He scored a ninth place finish (second in class) in the Tourist Trophy race at Dundrod that year while co-driving with Bob Said. In 1955, he went to race at Le Mans, but co-driver Mike Sparken broke a piston in the 3 liter Ferrari early on in the race. Masten never got a chance to get behind the steering wheel. However, he was back to compete again at Dundrod to race in the Tourist Trophy race later that year, where he and Carroll Shelby teamed up together, finishing ninth overall and winning their class in a Porsche 550 Spyder. In 1956, he spent most of the year driving in (and winning often) various SCCA races.
His first big break came after a sports car race in 1957, when he shared a win with three other drivers in the Argentine 1000 Km with all the big shots of international racing in attendance. This impressive performance earned him a shot at Formula One driving for Mimo Dei's Scuderia Central Sud, a privateer team using the Maserati 250F. Masten's first Formula One World Championship Grand Prix start came at the most famous street circuit in the world: Monte Carlo. It was at this race that Masten became the first American to score a debut podium finish in Formula One history with his brilliant third place finish in the Monaco Grand Prix. Truly impressive, since scoring a podium finish in a driver's first Grand Prix start has only been accomplished thirteen times (excluding shared drives) in the 50-year history of Formula One.
Masten followed up this performance with an eighth place finish in the German Grand Prix at the Nurburgring, a fourth place finish in the Pescara Grand Prix, and another fourth place finish in the season-ending Italian Grand Prix at Monza. He finished sixth in the World Championship that season while participating in only half of the races. Amazingly, Masten accomplished all of this running up against the factory teams of Ferrari, Maserati, Vanwall, Cooper, and BRM in his rookie campaign.
Unfortunately, injuries kept him from competing much of the 1958 season, but it probably did not matter as the Maserati 250F was past its prime. However, Masten did manage a sixth place finish in the season ending Moroccan Grand Prix. The injuries he incurred during the 1958 season were the result of one of his trademarked high-speed bailouts during a sports car race at Silverstone. Whenever Masten was faced with a major crash, he would stand up in the cockpit of his car and jump out just before impact. Shortly after the accident, Riddelle talked to him on the telephone while he was in the hospital. Masten stated that he lost control of his car when he got into the grass going into a corner as an evasive maneuver when a "little Porsche" moved over unexpectedly in front of him. When Riddelle asked him why he jumped out of the car Masten replied, "You should have seen what I was going to hit! A huge earth embankment!"
In 1959, Masten received his best Formula One ride, as a number three driver for Cooper behind Jack Brabham and Bruce McLaren. He scored the second podium of his career by finishing third in the Dutch Grand Prix at Zandvoort. At Monsanto, in the Portuguese Grand Prix, Masten would score his best Formula One finish of his career by finishing second behind Stirling Moss. However, in a sports car race at Goodwood, Masten again performed another one of his trademarks by bailing out of his Jaguar when his steering failed. He consequently missed the final two Grands Prix as a result.
Despite missing several races due to these injuries and having his share of mechanical problems, Masten still finished tied for eighth in the World Championship, with Jack Brabham winning the World Driver Championship. Brabham, McLaren and Masten's efforts that season helped bring Cooper their first Constructors championship as well.
In 1960, Masten's contract with Cooper was not renewed, something that he was very bitter about. In the book "American Grand Prix Racing" by Tim Considine, Carroll Shelby stated that Masten was let go by Cooper because he was faster than Jack Brabham was, so consequently Brabham had Cooper fire him. According to Riddelle, Masten maintained this belief as well. While we may never know the real reason for Masten's release, Cooper did decide to become a two-car team for the 1960 season. And whether or not this was at the request of the newly crowned champion Brabham is not known for certainty. As far as Masten being faster than "Black Jack" Brabham, Masten probably did not get the machinery or attention to show it as a third driver for Cooper. However, he did win a pole and set a course record in a non-championship Grand Prix at Aintree that season. This, in addition to qualifying directly behind Brabham in his final two Grands Prix before getting injured.
He also scored his career best finish, a second place finish, in the Portuguese Grand Prix which also turned out to be his last race for Cooper before his season ending injuries. It also should be noted that Masten had out-qualified and finished ahead of Brabham in four out of the six races in which they competed against one another during the previous two seasons.
One thing was certain: Masten was consistently faster than McLaren when the two went head to head in Formula One and in Formula Two that season. However, McLaren was retained and Masten's contract was not renewed. Brabham went on to win another World Championship for Cooper in 1960 while Masten's Formula One career from then on was spent driving generally unreliable and less competitive equipment for various independent teams, including Scuderia Centro Sud, Camoradi International, UDT Laystall, Tim Parnell, and Reg Parnell Racing.
The best finishes Masten was able to produce before his Formula One career ended in 1965, occurred during the 1962 season when he drove a Lotus 24 for the UDT Laystall team. He finished seventh in the British Grand Prix at Aintree, sixth in the US Grand Prix at Watkins Glen as well as a win in the non-championship Kannonloppet F1 race at Karlskoga, Sweden. At the French Grand Prix, he was running fourth behind Dan Gurney (the eventual winner) before having to retire due to ignition problems. Otherwise, it might have produced an interesting scenario of the two Americans battling it out for their first Formula One win.
Masten's talent and commitment to Grand Prix racing earned him a better fate in Formula One. He was so dedicated to landing a competitive Formula One ride that he actually moved his wife and children to Italy during the 1950s, into a villa across from the Ferrari factory. However, the best Formula One opportunity that Enzo Ferrari would offer him was as a number four driver where he would only get to compete in two or three Grands Prix a year. At any rate, it is highly probable that Masten would have been the first American to win a Formula One Grand Prix and possibly even a World Championship if he could have landed a top ride with a factory team after his impressive rookie season. Those marks would eventually be accomplished by Phil Hill when he won the 1960 Italian Grand Prix and the World Championship in 1961 for Ferrari.
Fortunately, Masten's sports car career took off again after his release from Cooper. At the 1960 Le Mans 24 Hours, despite having to retire due to electrical problems, Masten recorded the fastest lap of the race in his Birdcage Maserati T61 during the opening laps of the race. This was the first time an American had ever recorded the fastest lap overall in a race at Le Mans. In a Le Mans review article, it was stated that Masten was turning such fast laps in the opening part of the race that at one point a jet-powered helicopter flying overhead could not keep up with Masten down the Mulsanne straight.
In 1961, Masten won a 1000 Km race at the ever-treacherous Nurburgring circuit in a Birdcage Maserati co-driving with Lloyd "Lucky" Casner despite having no sponsor and having to borrow tires after the final practice. At Le Mans that same year Masten recorded his best finish to date in the 24 Hour race co-driving with Bob Holbert, finishing fifth place overall and first in class in a Porsche RS61 Spyder. The following year, Masten won the 1962 Canadian Grand Prix sports car race at Mosport Park in a Lotus 19-Climax.
In 1964, Ford Motor Company began its pursuit of beating Ferrari and capturing the most prestigious sports car race in the world, Le Mans. Masten was one of the first drivers tapped by Ford to race their new Ford GT40 at Le Mans that year. He was paired up with Richie Ginther in one of their GT40 entries, and things looked very encouraging as the team led for a while early on in the race. A slow pit stop caused Masten to come out in second place and the team held that position going into the evening until the car retired due to gearbox problems in the fifth hour.
Oddly enough, Masten would finally win the 24 Hours of Le Mans the following season in a North American Racing Team Ferrari 275 LM in front of an estimated crowd of 250,000 people. He teamed up with Jochen Rindt and the two blistered the 8.365-mile course with an average speed of 121 mph. It was the first time that an American entry had ever won the prestigious race. It was also an unexpected win since it had been eight years since a non-factory team had won Le Mans.
This was easily the biggest win of Masten's career. It also happened to be a big win for Goodyear since this was the first time a car fitted with Goodyear tires finished first overall in an international race. Interesting to note, to this date the 1965 win was the last time a Ferrari has ever won Le Mans.
1965 was also the year that Masten started in his first and only Indianapolis 500 race, in a George Bryant sponsored BRP-Ford. George Bryant was Masten's stepfather and according to Riddelle, their mother did not like Masten racing to begin with. She was especially against the idea of her husband sponsoring their son. Masten qualified on the last row (thirty-first) for the race, but that starting position did not impede him. He quickly passed fourteen cars on the opening lap and was running fifth before engine problems ended his great run.
Masten's international sports car career then started to wind down with the following highlight finishes: a second place finish in a Ford GT40, co-driving with John Whitmore, in the 1966 1000 Km race at Monza; a class win and fourth place overall finish in a Porsche 908/2, co-driving with Richard Brostrom, at the 1969 Austrian Grand Prix at Zeltweg; and, a third place finish in a Alfa Romeo T33/3, co-driving with Toine Hezemans, in the 1970 Sebring 12 Hours. Finally, after the death of long time friend Jo Bonnier at Le Mans in 1972, Masten decided it was time to distance himself from competitive racing.
Masten never officially retired from racing. He told his brother that many drivers announce their retirement and then come back so he decided that he would just stop competing.
Certainly, the dangers associated with competitive racing cannot go unspoken. In addition to seeing his long time friend Bonnier die from a crash at Le Mans, Masten had seen quite a few of his fellow competitors perish in racing accidents. Masten himself had seven major crashes during his career, any of which could have easily resulted in him meeting his Maker.
He was unfairly labeled as a car crasher by a few critics and it was said to have hurt his career. However, the records clearly show that Masten rarely ever crashed out of an F1 event, even in non-championship Grand Prix, and virtually all of his crashes occurred in sports cars.
Masten had a very cavalier attitude on the racetrack and was never afraid to stand on the throttle, which boded well for someone racing independent machinery up against factory teams. He once said, "Frankly, if I couldn't go motor racing I would have to do something else involving hazard because it is the moment of risk that makes the rest of life bearable, valuable or delightful." In an interview he reflected back on his career by saying, "When I was about 32 or 33 years old, it came to me, that up until that point my life I had never believed I would live to be 30. I hadn't made any plans because it didn't seem worthwhile. Stirling Moss told me flatly that I was going to kill myself soon after I got to Europe. Everybody thought I'd kill myself, and looking back I'm surprised that I didn't. I was driving mainly on reflexes. I really didn't know anything about racing. I just had quite a bit of natural ability, I guess."
Riddelle corroborated Masten's acceptance that he might not make it through his racing career alive as he vividly remembers Masten telling him once, "If I should die, just bury me wherever. Along the side of the road would be fine." Fortunately, Masten would make it through two of the most dangerous decades in motorsports history. Ironically, the man nicknamed "The Kansas City Flash" early in his career and who had cheated death on many occasions, died in his sleep of a heart attack at his winter home in Porto Ercole, Italy on November 8th 1985, at the age of 53.
It is rather sad that the record book does not properly reflect the talents that Masten possessed as a driver. He had a very daring and aggressive racing style that quickly made him faster than many top European drivers of his time. With a simple twist of fate, Masten could have landed the competitive and reliable machinery that would have made him an American icon in racing. He was definitely ahead of his time as an American Grand Prix racer and it is truly a shame that he never received the credit or fame of those who followed him in the sport.
However, regardless of what the record books show, and given what Masten's fellow competitors had to say about him, he was no doubt an outstanding driving talent and a hero. Road racing ace Dan Gurney thought very highly of Masten both as a person and as a driver, saying that Masten had a special gift - a gift to drive fast - and that he was brave. Jim Clark, who considered Masten to be his hero, teamed up with the American in a sports car race at Goodwood in 1959 and said he realized he himself had become a star driver after he was able to match Masten's lap times in the very same car. In addition, Carroll Shelby said that Masten could be as fast as anybody could on any given day.
Surprisingly, very few Kansas City motorsport fans have even heard of Masten Gregory. It seems rather embarrassing that a driver of his talent and bravery should go so unheard of and unrecognized from the community from which he came. Masten's death went rather quietly in the press. The Kansas City Star newspaper had a small two-column article about his passing, not in the sports section of the newspaper but back in the obituary section where few motorsports fans would notice it.
Locally we have a Hollywood-style walkway that was created to honor our hometown and homegrown sports stars and builders, called "The Kansas City Sports Walk of Stars." Many great athletes and sports personalities have been inducted, such as PGA golfer Tom Watson, Olympic runner Jim Ryun, as well as many great baseball and football players that played for Kansas City professional sports teams. Masten Gregory is not even on the ballot.
Masten Gregory exemplified the true definition of a hero risking life and limb around the world. He deserves much better recognition than this.