Fastest race lap: 1:51.095 (A.Prost, Williams, 1993);
Fastest Qualifying Lap: 1:47.571 (A.Prost, Williams, 1993)
As the field crosses the start/finish line, the drivers brake hard before changing down to first for the tight La Source hairpin. The track is doubly wide on the exit, so expect to see a wide variety of lines in an attempt to gain extra speed on an opponent before the run in to the fearsome Eau Rouge.
Driving steeply down hill, past the old pit lane that is currently used for support races, the track twists left, hard right and uphill, then left again. Eau Rouge is the key for the entire lap. If taken fast enough, the opportunity exists to out-drag an opponent along the Kemmel straight into the Les Combes chicane.
A tight hairpin, Malmedy and nearly flat left hander, Rivage, lead the drivers into the fast Pouhon double apex left hander. A brief straight, and the drivers follow the road right into the fast Les Fagnes chicane. No time to relax, as there is only another short straight before the next corner, the tough right hand Stavelot. The third gear corner leads onto the main straight, so drivers slide their car wide in a desperate attempt to get their speed up.
The straight is, in fact, a series of left hand, flat-out kinks - the toughest being the particularly tight Blanchimont. A pair of fast chicanes - the Bus stop sequence - slow the cars down slightly before they return to the pit straight and start another lap of this most challenging of circuits.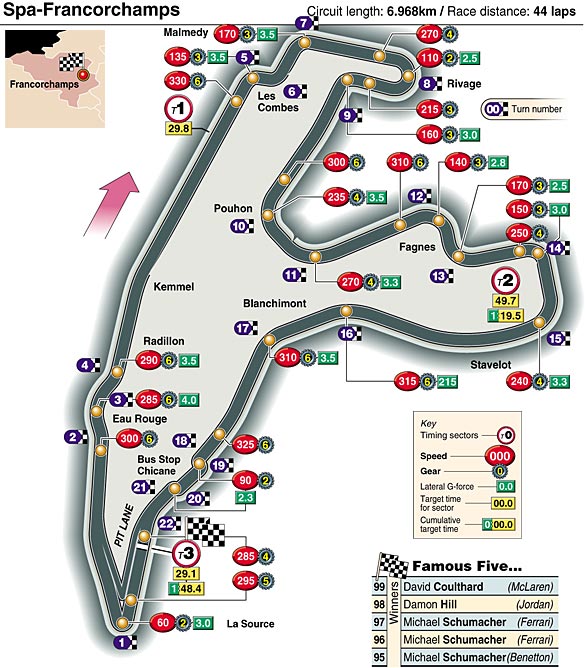 If you want to read the driving instruction while looking at the map, Click here to open the map in a separate window


Facts and Stats about Belgium

This will be the 46th Grand Prix in Belgium, with a fascinating fact about almost every one of the previous 45. But there haven't been that many Belgian Grand Prix drivers - just 19, and two who failed to qualify for a race at all. Of those 19 drivers, just two have won Grands Prix. Between them, Jacky Ickx and Thierry Boutsen have won 11 races. Many others were better known, like Jacky perhaps, as sports car racers: Paul Frere, Olivier Gendebien, Willy Mairesse, even Eric van der Poele.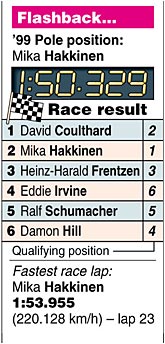 The Grand Prix has been spread around four quite different circuits: the original, marvellous Spa which took in visits to Burnenville, Masta and Stavelot from 1956 through 1970, before the event went briefly to Nivelles and, for a slightly longer stay, to Zolder. In 1983, the race returned to the now rebuilt Spa again, then returned to Zolder again for a year before making its popular home in the hills of the Ardennes. Actually, F1 actually went to Spa twice in 1985: the track surface broke up the first time, on the Saturday June 1st, and the race was called off. Instead, F1 went back for another go in September, this time successfully.
Spa is a circuit that has seen history made. Quite apart from being the scene of Richard Seaman's death in 1939, it has made news in many other ways. It is the third most used Grand Prix venue after Monza and Monaco. It is the longest circuit used, at 6.968kms/4.329miles, but, even in the early days, it ran the third longest races at 508.320kms/315.855 miles. And it boasts the second highest ever average speed to Italy. Pedro Rodriguez, who won by all of 1.1s in 1970, made an average speed of 241.36kmh/149.97mph.
Brother Ricardo Rodriguez, at 20 years, four months and three days, was the youngest points' scorer ever when he finished fourth in the 1962 event. But then along came Jenson Button and beat that record by two months, when he finished seventh, elevated to a points' scoring sixth, at the 2000 Brazilian Grand Prix. And while we're talking about youngsters, Rubens Barrichello became the youngest ever pole sitter when he scored his first pole in the changeable conditions of the 1994 event. He was 22 years, three months and five days old.
In terms of cars and drivers, Ferrari have won eleven times in Belgium, including five 1-2 finishes and even a 1-2-3-4 in 1961. (Cooper had a 1-2-3 a year earlier, led home by Jack Brabham, who had started from pole, led every lap and set fastest lap too. Niki Lauda did the same for Ferrari in 1976). McLaren have won nine times, including five 1-2 finishes, and Spa is also the scene of the team's first ever victory, when Bruce McLaren won the 1968 race. Williams have won four times, most recently the 1993-94 'double' by Damon Hill, the latter victory being gained upon the disqualification of Michael Schumacher.
Ayrton Senna won five times in Belgium, on each occasion from pole position and four of them in succession. Jim Clark won four times, all in succession, including beating Bruce McLaren by more than a lap in 1963. Michael Schumacher has won four times as well, his first ever victory (when with Benetton) in 1992, but he was also disqualified from a win in 1994. The next three, 1995-96-97, were in succession. Damon Hill won three times, including the time that Michael Schumacher was disqualified, he won having never led that race at all. Fangio also won three times. Alain Prost set fastest laps no less than six times at Spa - equal with Nigel Mansell's record at Silverstone.
There are several other landmarks in the Belgian Grand Prix history. It had the second fewest starters in 1951 and 1955, at 13. It was the scene of the Englebert tyre company's first win in 1952. Only five cars finished in 1966, the second fewest number ever. Dan Gurney scored Eagle's, and America's, only Grand Prix win in 1967. Dunlop scored their last win at the 1970 Belgian Grand Prix at that remarkable average speed.
The newly standardised numbering system was first used at the 1973 Belgian Grand Prix, and eight years later, the race was stopped for the first time due to a startline accident. In 1987, it was stopped by a second lap accident, and three years after that there was another startline accident. Of course, in 1998, 13 cars were involved in the accident just after the first corner, but only four drivers failed to take the restart. That year, of course, Jordan also won for the first time with a memorable 1-2 finish.
McLaren have been on the front row for the last two races, and achieved a 1-2 finish in 1999. Williams have been in the points for every race since 1991, including scoring three wins and two second places, but the results have tailed off recently. However, Jordan have been on the podium for the last three races.
Michael Schumacher, of course, has that remarkable record in Belgium, Spa providing the venue of his first Grand Prix in 1991, but there are others with promising records. Jean Alesi has finished all of his last four races in Belgium; Heinz Harald Frentzen has finished four out of his six races, with two third-places and two fourths; Mika Salo has four finishes from four starts; Jarno Trulli with three relatively low finishes from three starts, and Ralf Schumacher in the points for the last couple of races at Spa. Less promising are Rubens Barrichello with two finishes out of six starts and Eddie Irvine with one from six starts.
This weekend, another morsel of history will be made: Mika Hakkinen and David Coulthard will take the record for the most number of races for two drivers as teammates. In Hungary, they equalled the 77 races that Gerhard Berger and Jean Alesi spent together at Ferrari and then Benetton from 1993 to 1997. The McLaren pair have also equalled the record for the number of races won by teammates, 25. That record was held by former teammates Ayrton Senna and Alain Prost.
It will also be the 70th Grand Prix for both Giancarlo Fisichella and Jos Verstappen, the 110th for Heinz-Harald Frentzen. And of course, we are all still waiting for Michael Schumacher to take that record for the number of fastest laps, currently held jointly by the Ferrari driver and Alain Prost on 41. It will also be the 350th Grand Prix participation for Arrows and the 250th for Minardi.