Atlas F1 Editors, Writers and Readers,

Wow. Here we are, five amazing years after the first issue of Atlas (Team) F1 was published on the Internet, and it does not seem that long. Or does it? The truth is, 5 years on the Internet at this day and age can be seen as ancient. Just look at our first issue: the page was built for Netscape 1.0, a link to Yahoo points to stanford.edu, and the default color of the Web was that lovely shade of gray. I'm sure you'll agree the Internet has come a long way since then.

But, Atlas F1 was by no means the oldest of a long line of Web sites since oriented to Formula One. Part of my inspiration for Atlas F1 came from Steve Glenister's late F1 site based in the UK. There were other great motor sport sites out there at the time, like Jay Carina's Racers Archive and Tom Happinen's Motorsport News International (which is still going strong via motosport.com). But, Steve's site was devoted solely to F1 and featured a wealth of information and files. It was amazing what he had back then for that day and age on the Internet.

Late in 1994, Steve closed his site due to complaints from his employer regarding the excess bandwidth. Initially, the closure was only supposed to be temporary and many of us kept logging on only to find the site was still offline. Eventually, it was evident that Steve's site was gone for good and my desire for replacing that void was festering. This was the start of Atlas F1.


This idea of an on-line Formula One journal, however, was not mine alone. At the time, I was a graduate student in the Geography Department at Arizona State University.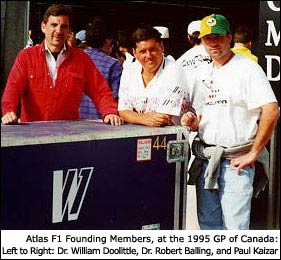 I was introduced to Dr. Robert C. Balling, Jr., an excellent climatologist and even better F1 fan. Dr. Balling introduced me to his good friend Dr. William Doolittle at the University of Texas at Austin, who was Chair of the Geography Department and an avid Formula One fan as well. Soon after, Balling, Doolittle and I met in Chicago for a meeting that resulted in a decision to create together a new hypertext journal devoted to Formula One.
Who came up with the name? I must admit the word "Atlas" is pretty generic as far as business names go, but it seemed to describe both our history in Geography, the scope of the Internet and the global sport of Formula One. Dr. Doolittle was responsible for our name and came up with "Atlas Team F1" as the endeavor was to be a team effort from around the world. Atlas was never meant to be, nor could be, a one-man show.
One of our first goals was to provide an alternate to the chaotic Usenet F1 newsgroups. This by no means was our primary goal, but with our experience placed firmly in that of academic publications, we were hoping to provide an avenue for lengthier arguments, facts, and reviews on the sport. We wanted to achieve an atmosphere of competition and achievement whereby real estate on the site was highly sought by contributors around the globe. We knew this would not happen immediately. But, if we stuck to our guns, we felt it could happen. As a labor of love, the price to pay seemed minimal.
We were not sure how to fill up the first, second or even third issues for that matter. Obviously, Balling and Doolittle could not provide all the content needed to get us started. Ironically, we posted an ad up on R.A.S.F1 informing people what we're up to and hoping we could attract others to get involved. The most attractive response we obtained was by a extremely bright student at the University of Southampton named Macsen Galvin. After some initial discussion, Max stated he was "in" and off we went.
Our first issue was far from a masterpiece, but we were up and running. Atlas Team F1 was on the map. Rory Gordon soon joined the ranks after a few issues and we were happy to have him. Rory brought another block of maturity, experience and his SuperStats column that we desperately needed in order to bulk up the endeavor in the right direction. Finally, Michael Viveen from the Netherlands joined the team after I begged him to combine his dynamic F1 news web site with Atlas. Thankfully, he agreed and thus created and solidified the basis of the journal that exists today.
For the next two years, Atlas seemed to be on a slow but steady path of improvement. However, we were suffering from a clear bout of amateurism and a lack of funding. The site was not full-time for anybody involved, thus it lacked refinement in key areas such as copy-editing, timely updates and photography. In 1998, matters turned worse when our lifeblood - our content - was dwindling to scarce proportions. At this point, I was seriously contemplating how to end the site. The "founding fathers" had lost interest and some of the other key players were losing motivation. Who could blame them? Atlas was a lot of hard work and we had received little reward.
The labor of love was quickly turning sour. I had to come to terms with the idea of failure and that our web site was going to end in an environment and time when the web was exploding with optimism and creativity. It was a depressing time for me in England, where I had been working for almost two years. The situation with Atlas was beginning to seriously affect me and in the 1998 French GP Issue, I wrote a letter to the readers explaining my situation and intentions.
To my complete amazement, I had over 1000 e-mails arrive the following two weeks with people expressing their support and pleading that Atlas F1 stay on-line. I was in awe to the extent in which Atlas meant a great deal to people around the world. I apologize if it sounds cliché, but it was those individuals who decided to write and express their gratitude and concern that inspired me to stick with the endeavor.
Looking back, there was another very fortunate occurrence in having written that letter. A young woman in Israel, who had previously contributed to Atlas, visited that French GP issue and left in deep concern. Biranit Goren was a talented investigative journalist at Israel's largest newspaper. She was also a woman who had a deep love of Formula One and was a firm believer in what we were trying to do in Atlas F1. Bira, as she is better known, immediately contacted me and had a great deal to say regarding the situation. From her perspective, she explained where Atlas had been, the good and the bad, and where Atlas should go if I were to continue.
In just a few weeks of us working together, Atlas F1 was reborn. You could see it, feel it, and taste itů especially behind the scenes. A few months passed and I decided I had found the person to take Atlas F1 to the next level. Since late 1998, Atlas F1 was in Bira's hands. She improved it from top to bottom, as most of you will testify. And, one of her greatest gifts was to bring together and solidify a great team of editors and writers; all of whom I know with great certainty she loves a great deal. Indeed, the issue that you are reading today, the reason that you are reading it, is because of her. Thank you Bira. Thank you for not letting us fail.
Therefore, what lay in store for Atlas? What will the next five years bring? We have a lot of exciting things in the works and are enthusiastic of what time and effort will bring to all of you. Very talented people created the foundation of Atlas F1. Very talented people are currently involved and running Atlas. The spirit of independent thought and independent discussion within the sport of Formula One lives well in this endeavor created five years ago.
In the next year, we should see dramatic changes in the balance between small independent and new big money sites. It will be interesting to see how Atlas F1 will fare amidst what may be even greater growing pains around our corner of the Internet. We will remain. Atlas F1 could not be in better hands.

Let me take this opportunity to express my great fondness and thanks to Bob, Bill, Max, Rory and Mike - Atlas F1's original core. My sincerest gratitude goes out to all of you who wrote to me in July of 1998 - thank you so much. Your words of encouragement and support meant an enormous deal. And, finally, to the Atlas F1 Team of 2000, let me just say that you guys are absolutely, positively and simply the best!
Happy Birthday Atlas F1!
Best regards,
Paul Kaizar
Send comments to: kaizar@atlasf1.com