McLaren International has some of Formula One's most valuable silverware in its keeping. Adam Cooper took a nostalgic tour of the company's trophy collection with Ron Dennis and Jo Ramirez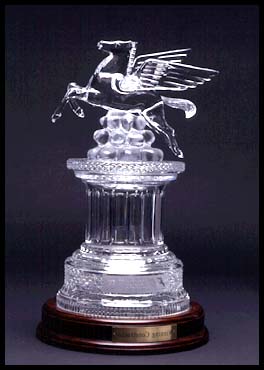 The podium ceremony is one of the great traditions of Grand Prix racing. As the culmination of a hard Sunday afternoon's work, the top three drivers climb the steps to the rostrum, where they are fêted by the crowd below. Flags are raised, the national anthems of the winner and his team are played, trophies are handed out. It's all over in a couple of minutes, before the drivers are dragged away for television interviews and the official press conference. Very soon, as is the way in F1, everyone's attention turns to the next race.
However, a great victory isn't just consigned to the history books and people's memories - at least as far as McLaren is concerned. Trophies soon find their way into the team's wonderful collection, which spans more than 30 years of success and even includes some silverware won by founder Bruce McLaren.
"Cars are always being taken apart," says Ron Dennis. "When people come here they expect to see cars, but usually they are in bits. The trophies are something tangible that reflects the achievements of the team through the years."
McLaren's collection is unique, and not just because of the team's longevity. When Dennis took charge in 1981, he had it written into the drivers' contracts that any trophies won belonged to the team. Mika Hakkinen and David Coulthard created a lot of extra work for the cleaners last season. Between them they scored 20 podium finishes, and since no fewer than nine of these were victories, McLaren also picked up nine constructors' prizes...
Much of the team's precious heritage is on display in a special trophy room alongside the reception of the team HQ in Woking. There are nine immaculate cabinets, their glass doors surrounded by polished metal frames. Each contains three packed shelves; more than 250 are on view at any one time. Beautifully lit they are even visible from Albert Drive, the road past the factory. "I admit that I still get a buzz when I see them in the morning," says Ron.
Every single one has its own story, and the variety of shapes and sizes is amazing. Some races create a corporate identity over many years; Japan and the older San Marino and Spanish trophies are particularly distinctive. Hungary uses top quality porcelain, whilst the unusual Mexican examples are wrought from hand-beaten copper. Only a few trophies represent some attempt at what might loosely be described as 'modern art' - Kyalami '93 and Phoenix '90-'91 are notable examples. Alas, some of the less inspired trophies could have been awarded for a pub darts tournament...
The reception display is just the tip of the iceberg. Other trophies are in cabinets in the executive dining room, but still there's not enough room to show all of them. Some are in storage, awaiting the team's planned move to the new Paragon Technology Centre. That will have a purpose-built display area that will allow the whole collection to be on permanent view, with plenty of room for honours won in the coming season and way beyond into the future.
McLaren will also have to make extra space for some additions from past seasons. Many of the trophies won before 1981 were kept by the drivers, or have fallen into other hands. Dennis intends to ask the current custodians if they are willing to loan them for display, or at least let McLaren borrow them and have replicas made. Of particular interest are those won in America (McLaren triumphed in the legendary Indy 500 in 1972, '74 and '76). An Indycar chassis is currently on display in the reception area at Woking, but the company doesn't have any silverware to celebrate its achievements.
Last season was a busy one for the team co-ordinator Jo Ramirez, the man who sources replicas for each trophy before handing them to archivist Ian Gosling for storage. At the 1984 German GP, where Alain Prost and Niki Lauda finished first and second, one of the prizes went walkabout just after the podium ceremony before anyone noticed what was happening. It was never found, and since then Jo's made it his business to keep a close eye on them. When Mika and David head off to TV interviews, Jo steps in. He grabs the trophies and gets them back to the motorhome, where they are the focus of post-race celebrations. It's also Jo's job to get them safely back to base. If they are too large to go home as hand luggage, they are carefully packed in bubble wrap and sent back with all the rest of the team's equipment.
While the team keeps the originals, Mika and David have the option of having replicas made for their personal collections. Jo has good connections with the companies that make them in each country, and usually it's not too much of a problem to get an extra one made. The typical cost is £500-1,000, although the stunning Australian GP designs cost nearer to £5,000! And just in case you're wondering, the drivers have to pay up.
In a few cases, drivers did manage to keep the original cups. Ayrton Senna was adept at hanging onto them, and some of his older Monaco trophies have never been reproduced for the team; the makers, commissioned by Prince Rainier, would not produce copies.
Of course, the trophies which really did 'get away' also tell a story. Senna was robbed of his 1989 Japanese GP victory in controversial circumstances, and Ron recalls handing the prize to Benetton, who had inherited the win ("They didn't want to accept it at first"). But the one that really rankles is Monza 1988, when Senna lost victory after tangling with backmarker Jean-Louis Schlesser in the closing laps. It was the only GP which McLaren did not win that season.
"It was only when we won the final race that we realised the full significance of Monza," says Ron. "At Paragon we're going to have all the '88 victories together, with a photo of Schlesser in the space for Monza..."
Portugal 1984
In 1984 McLaren had the luxury of heading into the Estoril finale knowing that the title was secure, as only Niki Lauda and Alain Prost could win. The race proved to be a classic. Prost won, whilst Lauda worked his way up the field into second place - enough to ensure that he took his third World Championship by a mere half point. "We had the most unbelievable party," says Jo. "It went on until 9am!" It was the first title earned since Ron Dennis took over, and he has fond memories. "In those days Mo't had a rather pompous representative. Before the race he was telling us how the drivers should pose for the podium photograph, so we told him we were going to spray 7-Up - one of our sponsors - because we had no commercial agreement with Mo't. We ended up getting 5,000 bottles of champagne! They had the last laugh when it arrived. You can't imagine how much space 5,000 bottles takes up. It took about seven years to drink it all..."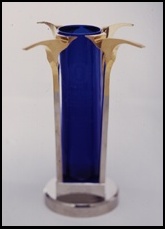 Australia 1993
Adelaide '93 was an emotional race for many reasons. It was McLaren's 104th GP win, which made it the most successful Grand Prix team of all time, surpassing Ferrari's tally. After six years, it was also Ayrton Senna's final start for the team before joining Williams, where he was to replace Alain Prost. And it was the last ever GP for Prost, who had made the majority of his 199 GP starts with McLaren. Appropriately enough, they finished first and second, Senna leading all the way and scoring his fifth win of the season. Incredibly, these two great drivers logged up 65 victories for the team between 1984 and 1993. Nobody knew at the time, but Adelaide would also be the Brazilian's last win. The Adelaide trophies, made from blue glass, are amongst the most unusual in the McLaren collection.
Monza 1989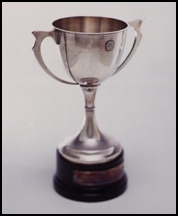 Yes, it really does exist - well, in replica form anyway! Arguably the most famous trophy in McLaren's history was won by Alain Prost at the 1989 Italian GP. The Frenchman was just coming to the end of his massively successful six-year stint at McLaren, and was heading to Ferrari the following year. Caught up in the emotion of the moment, Alain dropped his trophy into the crowd. "He was giving away something which belonged to McLaren," Ron recalls, "and I was furious!"
Jo Ramirez saw it happen. "They were calling out, 'Copa, Copa'. Alain thought this is my public from next year, so he came over and just let the cup go. As soon as it hit the crowd it was ripped into a million pieces - one took one handle, someone took the base, someone took the middle bit..." Jo was touched when several Ferrari fans later offered to pay for a replacement, but he'd already decided to follow his normal procedure and ordered a replica. When it arrived he decided to wait for an appropriate moment to give it to Ron - it would spend some six years in a cupboard in his office! The chance finally came at the company's Christmas party at the Science Museum in 1995. Prost, back at the team as a consultant, presented Ron with the replica. "I appreciated the gesture," says Ron, "but it wasn't quite the same!"
Le Mans 1995
There's no mistaking which race this one come from; the big '24' shows that it was won at the 1995 Le Mans 24-Hours. When McLaren built the F1 road car there were no plans to race it, but potential customers eventually persuaded the company to build a racing version, known as the GTR. In private hands the car achieved superb results in the early part of the season. "We were approached by a Japanese sponsor who wanted to run at Le Mans," says Ron. "One of the stipulations was that the car should be black, and none of the customers could offer that. We decided to use our test car, and I asked [sportscar team boss] Paul Lanzante if he would run it, with support from our engineers." The rest is history.
JJ Lehto, Yannick Dalmas and Masanori Sekiya scored a superb victory, holding off a challenge from Mario Andretti in the closing stages. "I deliberately didn't go to the race to emphasize to our customers that it wasn't a works team," says Ron. "I watched the last hour on TV and it was pretty exciting!" Fortunately, the trophy is not the only memento McLaren has kept. "The agreement with the sponsor was that they would have the right to buy the car after the race - but that if it won, we'd keep it."
Australia 1997
Ron Dennis and Jo Ramirez agree that the most spectacular trophies the team has ever collected are those earned with back-to-back victories by David and Mika at the Australian GP in 1997-'98. Rather than go for a conventional design, the Melbourne organisers opted for an unusual bowl shape, on a carbonfibre base. You wouldn't want to use this one to store your apples and oranges; the silver front actually has diamonds as part of the design! A superb replica of Jack Brabham's 1956 Cooper steering wheel is built around the circumference. "The '97 race was quite significant, because we went for three years without a Grand Prix win," says Jo. "In fact if we hadn't won that race it would have been 50 consecutive races without a win. It's a very important trophy for Mercedes and us, and a very good looking one too."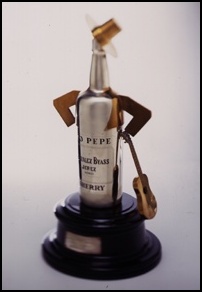 Spanish GP 1989
Jerez hosted the Spanish GP from 1986-'90, and held European GPs in 1994 and '98. It's been a successful venue for McLaren. Alain Prost won in 1988 and Ayrton Senna was victorious the following year, while the most recent race brought Mika Hakkinen's first ever GP win. Jerez used to provide F1's most distinctive trophies, which perfectly summed up its location in the heart of sherry country. They were based on the Tio Pepe company's famous bottle mascot, complete with hat and miniature Spanish guitar! "Definitely one of my favourites," says Jo. Thanks to a change of race sponsor, Mika's '97 trophy looks more like the FA Cup.
Luxembourg 1998
Apart from the FIA World Championship prizes for drivers and constructors (an innovation since McLaren's last title in 1991), the most cherished trophy of 1998 was the one earned by Mika at the Luxembourg GP. After Michael Schumacher pulled level on points at the previous race, the pressure was really on, especially when Ferrari qualified ahead of the McLarens. But Mika and the team responded in superb style. A combination of intelligent driving and good pit strategy ensured that Hakkinen came out a winner, and left him a clear leader with just one race to come. Afterwards Ron described the race as 'the most important in the team's history'. Fragile and expensive, crystal trophies like this are not common, although Hockenheim, Montreal and Estoril have all awarded them.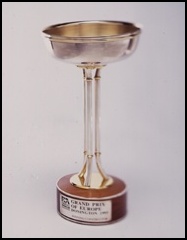 Donington 1993
Donington Park has only ever hosted one GP, and the race has gone down in history as perhaps the greatest victory earned by Ayrton Senna. He qualified fourth, but rain on race day gave him a chance to pull something really special out of the bag. He did. At the start he was edged off line, losing a place, but after an incredible first lap he was in the lead! A day of utter confusion followed, as the rain came and went and drivers found themselves swapping back and forwards between wet tyres and slicks. "That race was all about pit strategy and getting it right," says Ron. "The team did a very good job that day, and Ayrton was superb. And we had a fantastic party that night!" "It was a very memorable race," adds Jo, "one of those races where Ayrton was so unbelievably happy afterwards, because he was so satisfied with himself." Appropriately, Donington also marked McLaren's century of Grand Prix wins.