The Monaco Grand Prix was first held at 1929 and mazingly, it has changed very little since then, with just one or two modifications, but the basic shape remains familiar: the blast to the first corner - Ste Devote - up the hill to Massenet, then Casino corner and its favourite bump on the exit. Down the hill to Mirabeau - or Upper Mirabeau corner as it appears on some maps.

Then comes the slowest corner on the circuit, now called Grand Hotel, before the often unnamed right-hander, but called Lower Mirabeau on maps. Then there's the right handed sea-side Portier, followed by the tunnel, to the chicane followed by the short blast to Tabac. Then they wind around the swimming pool to Rascasse, a left and then hard right, followed, finally, by Virage Anthony Noghes, named after the man who, as president of the newly formed Automobile Club de Monaco, applied to the then governing body to hold a motor race around the Principality, back in 1928.

Since then, as a Grand Prix, it has earned many superlatives: the most scenic, the most prestigious, the most expensive, the most difficult to work at... The list is extensive. It does, of course, have the shortest lap in Grand Prix racing at 3.367 kms and it is, of course, the slowest race at 147.354 kph last year, but only 106.937kph in the rain in 1997.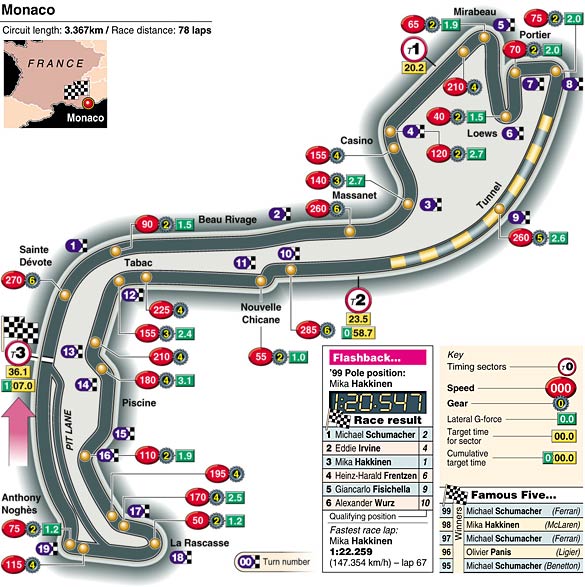 If you want to read the driving instruction while looking at the map, Click here to open the map in a separate window

A lap of Monaco with Benetton's Giancarlo Fisichella:

"The lap starts on the pit straight where I will reach over 270 km/h in 6th gear, before braking to 2nd gear and around 86 km/h for the Sainte D?vote corner. From here I accelerate up the long hill reaching about 260 km/h before going into the long left-hand 3rd gear corner which is taken in 3rd and leads to the famous Casino corner.

"I remain in 3rd gear for this and take it at around 120 km/h and as I crest the hill the car becomes very light and slides towards the barrier. Then there's a very bumpy, highly cambered straight on which the car reaches around 210 km/h and which leads down to the first of the 1st gear hairpins, the Mirabeau hairpin, which is taken at under 70 km/h. There's a very short period of acceleration which leads down to the tightest of all the corners at Monaco, the Loews hairpin which again is taken in 1st gear and the speed can be as low as 45 km/h.

"The downhill stretch leads to the two corners that go into the tunnel, both of which are taken in 2nd gear at under 80 km/h. As you enter the tunnel its quite tricky because you not only have to get used to a change in the ambient light, but there is also quite a difficult corner in the tunnel which is taken at over 250 km/h in top gear. On exiting the tunnel braking is very difficult for the chicane as you are heading downhill and have to brake from the maximum speed on the circuit of 280 km/h down to around 60 km/h and 1st gear for the Harbour chicane.

"From here I will reach around 225 km/h before going through the Tabac corner in 4th gear at around 160 km/h. I remain in 4th gear for the first, fast, part of the swimming pool area, before braking to 2nd gear and 80 km/h for the second part of the swimming pool. The approach to the final hairpin, the Rascasse, is very difficult as you have to brake from around 185 km/h while still on a curve, down to 50 km/h for this 1st gear corner. On exiting this corner it is very difficult to control the wheelspin as you accelerate up to the final corner which is taken at around 75 km/h in 2nd gear. The lap then finishes on the pit straight."


Facts and Stats about the Monaco Grand Prix

The Monaco Grand Prix is where the record for the most number of wins at the same Grand Prix is held. Ayrton Senna won five times in succession from 1989 to 1993 - and he'd already won it in 1987. He won it from pole, start to finish in '89, '90 and '91 and led home teammate Prost in 1989 for a McLaren one-two. But he was only 0.215s ahead of Nigel Mansell after 78 laps in 1992, the 11th smallest margin of victory of all time; remember Mansell weaving around behind him? On the other hand, the winning margin has been over a lap on four occasions.

Of course, Senna might have won again in 1984 but the race was stopped on lap 31 of 77, Alain Prost signalling to race officials that the wet conditions were too dangerous. (Some will say Stefan Bellof might also have won as he, like Senna, was gaining on Prost, but the Tyrrells were subsequently disqualified from that year's World Championship).

That was the first time the race was stopped. It was stopped again in 1990 and 1995 because of first lap accidents, and it was stopped at the two hour mark in both 1996 and 1997 because of rain.

Senna of course helped McLaren to the most number of wins, 10, with Ferrari next on seven and then Lotus on five equal with BRM. Graham Hill won for both of the latter two teams as he cleaned up five victories, the last time at the age of 40 - as was Maurice Trintignant when he won his second Monaco Grand Prix in 1958.

Both Ferrari and McLaren have filled the front row of the grid three times, while Williams, like March, have done the same thing just once. McLaren have had two 1-2 finishes, as have BRM, and Ferrari scored their first last year. Juan Manuel Fangio, however, had pole, fastest lap and victory at both his wins in 1950 and 1957. Tyre manufacturer Dunlop had their first Grand Prix win at Monaco in 1958 and then won it for the next nine years.

Of this year's field, Mika Hakkinen has been on pole position for the last two years, won it in 1998 and finished third last year, but that was preceded by six non-finishes. David Coulthard has never qualified lower than sixth in five visits, but has only finished once. Michael Schumacher has never qualified lower than sixth, has won three times and only failed to finished twice in eight races. Eddie Irvine has finished his last three Monaco Grands Prix in third or second place, while Heinz-Harald Frentzen and Giancarlo Fisichella have good records in the Principality. Jean Alesi has never finished lower than fifth, but then has only finished four out of ten races. Mika Salo has always finished in the top five when he's finished, but he's retired twice as well.

You can't rely on a high retirement rate either: there may have been only nine classified last year, but only three times in ten years has the number of classified finishers been in single figures. In 1993, there were 14 finishers.

Last year's win by Michael Schumacher made him Ferrari's most successful World Championship Grand Prix driver of all time. By leading home teammate Eddie Irvine, Schumacher also headed Ferrari's first and only one-two at the Monaco Grand Prix.

Weekend milestones: Michael Schumacher's win for Ferrari in the European Grand Prix takes their respective totals to 129 for the Constructor (four more than McLaren) and 39 for the Driver (12 less than Alain Prost, two less than Ayrton Senna). It put Schumacher second in the all-time points ranking with 616 points, ahead of Senna but still 152 behind Prost

David Coulthard's pole meant that McLaren equalled Lotus on 107 poles, one behind Williams on 108, and 22 behind Ferrari. And Michael Schumacher's fastest lap put him equal in the all-time rankings with Alain Prost on 41.