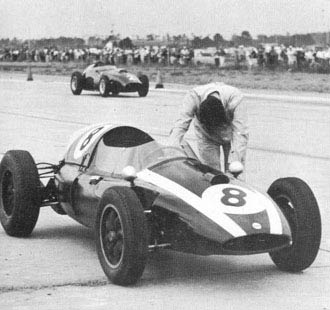 1959 How much further? Near collapse, Jack Brabham leans over his Cooper T51 Climax. On the last lap of the wide open expanses of Sebring, the race leading Cooper ran out of fuel. A finish was neccessary to secure the World Championship, so Brabham pushed his car to the line. In the background, Tony Brooks (Ferrari Dino 246) asks himself 'What if?' as he deprives Brabham of third place.

Innes Ireland in the factory Lotus 18 Climax. A historic day for Lotus, recording their first win, although it wasn't by Colin Chapman's factory team, but by the privateer Rob Walker operation with Stirling Moss at the wheel. Innes Ireland would finish second in the factory car on the sweeps of Riverside.

Roy Salvadori in the Lola Mk4 Climax at Watkins Glen. Salvadori would qualify eleventh, but would not race, as his car would be comandeered by Lola lead driver John Surtees. It would make no difference, as Surtees retired this car on lap 19 with a terminal oil leak.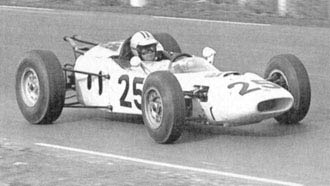 1964 Honda's 1964 toe in the water exercise was with Ronnie Bucknum as lead driver, an American sports car racer with little experience of open wheelers or European circuits. But he did know Watkins Glen. Any potential advantage went with the RA271's cylinder head on lap 50.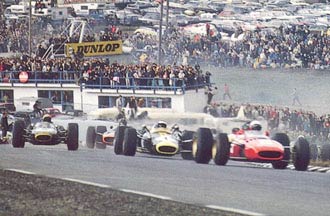 1966 Lorenzo Bandini (Ferrari 312) has exploded away from the second row at Watkins Glen to lead from Jim Clark (Lotus 43 BRM). On the outside is pole man Jack Brabham (Brabham BT20 Repco), and on the inside of him is the familiar London Rowing Club helmet of Graham Hill (BRM P83). Of the four, only Clark would finish, providing the only win for the overly complex BRM H16 engine.
Flying through the majestic sweeps of Watkins Glen are Jim Clark and Graham Hill in their Lotus 49 Cosworths. After 18 months, the new world order of three litre racing had arrived, and Lotus would take a 1-2 win. Already it was obvious that the new Lotus was almost unstoppable. That didn't stop Chris Amon (Ferrari 312) from trying, however.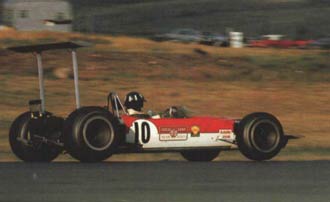 1968 Graham Hill in the bewinged Gold Leaf-sponsored Lotus 49 Cosworth. This was the first tobacco sponsorship in Formula One, and one immediately successful, as Hill brought home the '68 World Championship. Over 30 years later, and tobacco money is still the backbone of modern Formula One.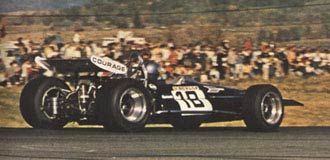 1969 Piers Courage in the Brabham BT26 Cosworth run for him by Frank Williams, then in the infancy of his Formula One career. The Williams car was the highest finishing of the Brabhams in the race, with Courage finished second. In the other Brabhams, Jack Brabham spluttered almost to a halt and Jacky Ickx retired in the works cars, while Silvio Moser's BT24 finished sixth. In front, Jochen Rindt recorded the first win of his tragically short career in the Lotus 49B Cosworth.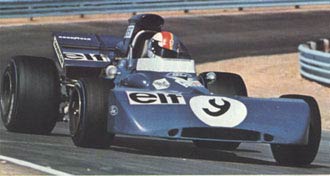 1971 Francois Cevert, the young Frenchman, protege of Jackie Stewart, aboard the Tyrrell 002 Cosworth he took to his first career victory at the newly extended Watkins Glen. Stewart led early, only to be forced to let Cevert by when his tyres went off. Stewart was then able to defend second, delaying the chasers from reaching Cevert. Two years later, Cevert would lose his life at the Glen, causing his mentor to retire.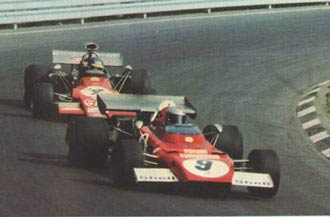 1972 Mario Andretti in one of his rare early 70s appearances in Formula One. Ferrari changed their line-up frequently in 1972, with Jacky Ickx and Clay Regazzoni driving regularly, and Andretti, Arturo Merzario and Nanni Galli driving occassionally. Here Andretti (Ferrari 312B2) leads Ronnie Peterson (March 721G Cosworth). Andretti would drive to sixth and Peterson fourth.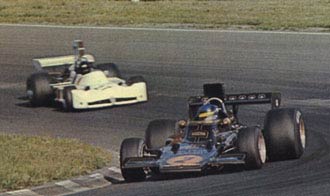 1973 Ronnie Peterson (Lotus 72E Cosworth) heads James Hunt (March 731 Cosworth) in a thrillingly close race at the Glen. Hunt almost passed Peterson, but the SuperSwede would not be denied and won by a little over half a second.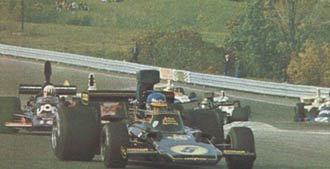 1975 Ronnie Peterson (Lotus 72E Cosworth) leads Tom Pryce (Shadow DN5 Cosworth), a Ferrari and the rest through the sweeps, dips and crests that typify Watkins Glen. Peterson would finish 5th, while Pryce would not be classified, finishing seven laps down.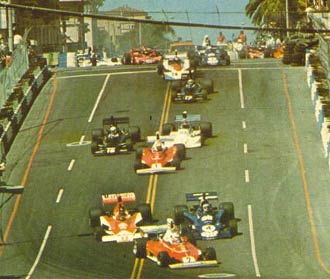 1976 On the plunge down towards the Long Beach harbour, Clay Regazzoni (Ferrari 312T2) leads from James Hunt (McLaren M23 Cosworth) and Patrick Depailler (Tyrrell 007 Cosworth). Niki Lauda (Ferrari 312T2) leads the second group with Tom Pryce (Shadown DN5B Cosworth) and Ronnie Peterson (March 761 Cosworth), while further back, Jean-Pierre Jarier (Shadow DN5B Cosworth) leads John Watson (Penske PC3 Cosworth) at the top of the slope. This was the first street race in the US at the new United States Grand Prix West, starting a tradition that would continue from Long Beach to Las Vegas, Detroit, Dallas and finally Phoenix.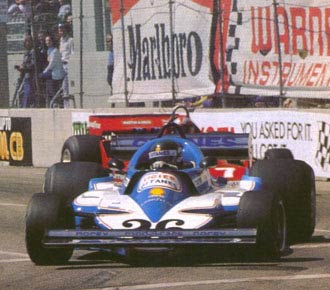 1977 Early Ligiers had a tendency to look unusual compared to their grid mates, and the JS7 was no exception. Here Jacques Laffite (Ligier JS7 Matra) leads John Watson (Brabham BT45B Alfa Romeo) at the Long Beach US Grand Prix West. Laffite would finish ninth, while Watson was disqualified for receiving a push-start.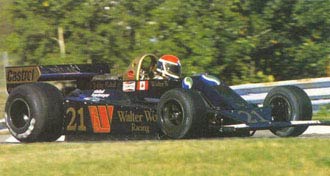 1978 New Jaguar boss Bobby Rahal had a brief Formula One career. Here Rahal drives the Wolf WR5 Cosworth to 12th place in the United States Grand Prix East at Watkins Glen. Just two years previously, Wolf had stunned the Formula One world with a debut win, but times were now hard at Wolf.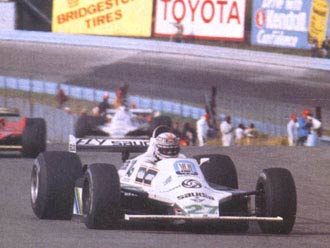 1980 World Champion! Alan Jones had secured the title at the previous round, but at Watkins Glen, AJ underlined it with style by winning the final race of the 1980 season. Here Jones leads a Ferrari and Williams teammate Carlos Reutemann through the dips and crests of Watkins Glen. This would be the last time Formula One would visit The Glen, before moving the US East race to Las Vegas.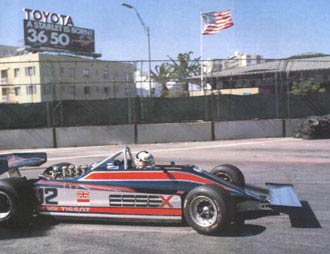 1981 A typical shot of street circuit racing, US style. Nigel Mansell and his Lotus 81B Cosworth at Long Beach. Mansell would finish 11th at the United States Grand Prix West.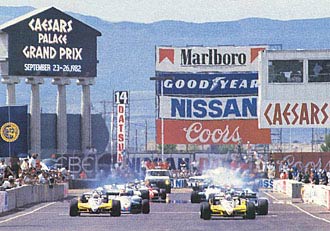 1982 The vast car parks of Caesar's Palace casino became a Formula One circuit in the early 80s, and here the field gets under way, led by the two Renault RE30Bs of Frenchmen Alain Prost and Rene Arnoux.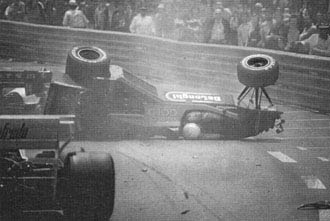 1984 Martin Brundle took no part in the one-off Dallas Grand Prix, after this shunt. Brundle broke his left ankle and right foot after his Tyrrell 012 Cosworth hit the wall head on. It was a harbinger of what was to come, with several major shunts occurring elsewhere on the course, only 9 finishers on a circuit that was breaking up on Friday and required major surgery after a 50 lap Can-Am race on Saturday. With the heat of race day, and the poor condition of the track, it was all set for a Keke rosberg win, which he achieved after seeing off the challenge of Nigel Mansell. Formula One did not return.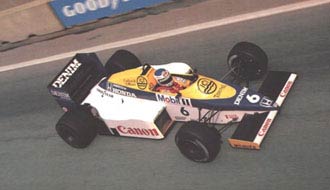 1985 The quintessential street fighter on the streets of Detroit. With wins at other street courses, Dallas, Monaco and Adelaide, Keke Rosberg's style was somewhat suited to street circuit racing. Rosberg took a comfortable win in the Williams FW10 Honda, ahead of the Ferrari duo of Stefan Johansson and Michele Alboreto.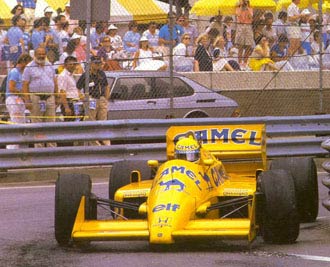 1987 It took many more years before Williams would perfect active ride suspension, but Lotus had a system in the mid 80s which worked well enough on the excessively bumpy surface of Detroit. Ayrton Senna was the only Lotus driver who could get anything out of the system, which allowed Senna in his Lotus 99T Honda to take this win.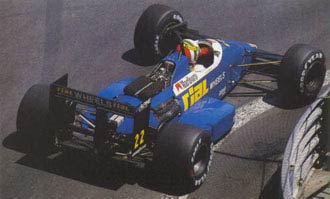 1988 Rial was a name the didn't spend too long in Formula One, but they did have a moment in the sun. Andrea de Cesaris brought the Rial ARC1 Cosworth home in fourth place during the retirement marred United States Grand Prix. It was the last time Detroit was used.
Alain Prost in a McLaren MP4/5 Honda, in a typical image from the new home of the United States Grand Prix, Phoenix, Arizona. Prost had overheating problems early, but was able to recover, and when teammate Senna's engine cried enough, Prost was there to take advantage and the win.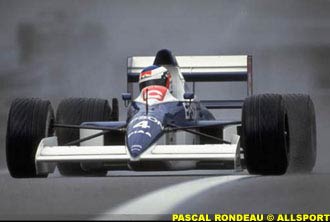 1990 At the 1989 French Grand Prix, Jean Alesi waved a flag saying that here was somebody with talent. At the 1990 United States Grand Prix, his reputation was made, with a starring role in the race. Driving a Tyrrell 018 Cosworth that had no right to be leading a race, he had a dogfight with Ayrton Senna's much quicker McLaren MP4/5B Honda on the streets of Phoenix. Senna eventually got on top of the Tyrrell, but it was a stirring drive which soon had Williams and Ferrari bidding for his services.
1991 Bertrand Gachot in the Jordan 191 Ford. It was an impressive debut for the new Jordan team. Gachot cruised through pre-qualifying, then qualified 14th, before finishing a perhaps disappointing 10th. But better results weren't far away for the strongly Irish Jordan team with the pretty green car.