The death of Harvey Postlethwaite, from an apparent heart attack, whilst overseeing a Honda test session at the circuit de catanlunya, has shocked the Formula One world.
Universally liked and respected, the 55 year old had spent nearly all his working life in Grand Prix racing, having designed cars for Hesketh, Wolf, Ferrari, Tyrrell and the as yet unraced Honda prototype F1 car.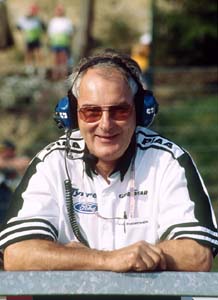 Many tributes stressed though, his human qualities and not just his design abilities. Former team owner Lord Hesketh, for whom Postlethwaite designed the winning Hesketh 308 said, "He was a great man with a young family, some of the best years of my life were spent in his company. He had charm, sense of humour, real ability and talent and was a great lateral thinker. He took us from nowhere to being a front-running team. He was a tremendous guy. It's appalling news."
Mike Gascoyne, Jordan's chief designer was another who was quick to pay tribute and to acknowledge the role Postlethwaite had played in his career, having worked under his direction for some seven years at Tyrrell. "Harvey was above anything a great friend and also a defining figure in my career and the careers of many other young engineers. His infectious enthusiasm for engineering and motor sport was an inspiration to all those who worked with him."
Dr Harvey Postlethwaite studied science at Britain's Birmingham University and later he obtained a PhD in Mechanical Engineering. His boyhood ambition to be a pilot was thwarted by his colour blindness. It did not stop him, however, from becoming an amateur racing driver and he competed for a while in a Mallock at club racing level until he ran out of money.
It was in 1970 that he joined March as a racing car designer - a challenge that was to be his life's work. In 1974 he became part of one of the great romantic episodes in British Formula One history - the Hesketh F1 adventure. Financed solely by the extroverted Lord Hesketh, managed by "Bubbles" Horsley, it launched the career of the late James Hunt. From being the laughing stock of the pit-lane they gained credibility, largely due to the simple and extremely effective car designed by "Doc" Posthlethwaite on a budget that never exceeded eighty thousand Pounds.
When James Hunt won the '75 Dutch Grand Prix, defeating the might of Niki Lauda and Ferrari, it marked more than just the only win the team was ever to achieve, but the debut triumphs for both Hunt and Postlethwaite. There were to be many more for both but the first was always the sweetest. At the end of the year the team finished 4th in the Constructors' Championship and James Hunt scored points in every race he finished.
When the Hesketh team folded due to lack of funds, Postlethwaite moved to the new Wolf team funded by the oil magnate Walter Wolf. This team astounded the F1 world by winning on debut - when Jody Scheckter won the 1977 Argentinean Grand Prix. They would win twice more in '77 but never again thereafter.
Harvey Postlethwaite's next major challenge came after a call from Enzo Ferrari. The Ferrari team in the early eighties had quickly mastered the turbo technology pioneered but not perfected by Renault. What they lacked was the chassis to go with the power. Postlethwaite's first Ferrari design, the 126C2, was the dominant car in 1982 winning for Ferrari the constructors' title, a feat they repeated in '83. Postlethwaite brought to Ferrari the then new carbon-fibre construction techniques for their monocoques that had already become standard for most British teams.
Postlethwaite would stay at Ferrari until the end of the '87 season, when he would leave after differences with new technical chief John Barnard. He would return for a two year stint in '92-'93 but then finally gave up the unequal struggle with Ferrari bureaucracy for good. "I was beginning to find the whole thing a little too cumbersome for my taste," he admitted. "I'd had some good times with Ferrari, especially when the old man was alive, but by the end I had too many memories of sitting in planning meetings with some 40 other people, all talking, all getting nowhere."
After both Ferrari stints Harvey Postlethwaite worked for Ken Tyrrell. The contrast between the two teams was enormous but technically the challenge was the same - how to make a racing car go fast. For many the highlight of his time with Tyrrell was the 019 introduced in 1990. This "high nose" design - the product of Postlethwaite's fertile brain in conjunction with his aerodynamicist Jean-Claude Migeot - showed that you didn't always need a mega budget to come up with smart ideas. This design feature would be copied up and down the pit-lane for many years. The car would score 16 points and see Tyrrell finish 5th in the constructors' table that year.
Gradually, however, the Tyrrell team slipped into terminal decline. Bought out by the BAR team to ensure their entry onto the grid, Postlethwaite endured a difficult last year in Formula One. It was a testament to his character and leadership that the team departed from Grand Prix racing in Japan at the end of the '98 season with its pride if not its reputation intact.
The Honda project was Postlethwaite's last F1 challenge. After years of trying to work miracles on small budgets, this venture held out almost unlimited promise. The car was designed and constructed in almost record time and was both quick and reliable from its first test. Although at the time of writing the Honda board have yet to finally approve their F1 project, the performance of the team led by Harvey Postlethwaite must have given them enormous encouragement. It is a total tragedy that he will never be able to see his creation run in a race, and perhaps win, like so many of his previous efforts.
Harvey Postlethwaite was a "racer" and the product of a racing industry that is gradually changing. A man of the highest principles and integrity, he will be sorely missed on the F1 pit-lanes he has graced for over 20 years.
He is survived by his wife Cherry and two children Ben and Amy to whom all at ATLAS F1 extend our deepest sympathies.