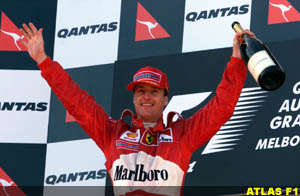 The wait has been long and tough, but five months on from the crowning of Mika Hakkinen as 1998 champion in Suzuka, Japan, the fight for glory in 1999 has begun in Melbourne, Australia. Pre-season testing suggested that McLaren had retained their performance advantage, but Michael Schumacher was confident that Ferrari were only fractionally off the McLaren pace. Most expected division one to be a private McLaren/Ferrari club, with the rest headed by Jordan, Williams and Benetton, plus Prost, Stewart and maybe BAR and Sauber making their presence felt.. The first evidence to support all the guesswork arrived on Friday 5th March as the cars rolled out for the first unofficial practice sessions.

Friday free practice

By the end of the day, McLaren Mercedes' dominance was confirmed. The only bad news for the Woking team being Hakkinen wiping off one side of his car while exploring its limits. The shunt looked worse than it was and Hakkinen was uninjured. It was an early test of the new regulation which tethers the cars' wheels to the chassis using cables, which should mark the end of the sight of wheels flying off dangerously in all directions in future.

Hakkinen also underlined his number one position as team mate David Coulthard had to be content two-fifths of a second down in second. Next in line was a bit of a surprise - Rubens Barrichello's Stewart. This was not simply Scottish luck as Johnny Herbert in the second Stewart wasn't far behind in fifth. The meat in the Stewart sandwich was Heinz Harald Frentzen, happy and smiling confident that the 1999 Jordan Mugen Honda car was basically good - quite a contrast to Jordan's 1998 experience in Melbourne. Not sharing that confidence in his own car was Michael Schumacher, one place below Frentzen's team mate, Damon Hill who was in sixth place and celebrating his hundredth grand prix. Neither Ferrari looked very stable and Eddie Irvine's languished back in 14th place. Nevertheless, times were very close and ignoring the McLarens, positions three to eight were covered by just one second.

Saturday free practice

On Saturday morning, Schumacher senior was one of the first out on track. The first minor incident involved Tora Takagi blocking the exit of the pit lane after stalling his Arrows. Later, Schumacher and new-boy Mark Gene in his Minardi Ford, had off-track excursions and Hill stranded his Jordan in the gravel. BAR Supertec's new signing, Ricardo Zonta was also stuck out on the circuit with mechanical problems. Later, BAR team-mate Jacques Villeneuve also slid off, as did the new Williams Supertec driver and two-times Indycar champion, Alessandro Zanardi. By the end of the first session, Coulthard was fastest, followed by Hakkinen and, surprise - Herbert. Stewart were rapidly emerging as the chief McLaren challengers.

In the second free session, Hill lead his old sparring partner, Michael Schumacher, out of the pit lane to start the session. The session was stopped for a while after Alex Wurz slid off and bounced off a barrier at medium speed. He was unable to continue and his car needed to be removed from the edge of the run-off area. By the end of the session, virtually everyone except the Stewarts had been off the track at some point during the two days. Hakkinen re-emerged as the leader, a clear 0.6 seconds ahead of Coulthard, but Herbert maintained his third spot, followed by Hill, who had spent most of the time languishing behind his Jordan team mate, but managed a quick lap towards the end of the second session. Another to improve dramatically was Villeneuve in the BAR in 5th just behind Hill's 4th place and ahead of the frustrated Schumacher's Ferrari in 6th.

Qualifying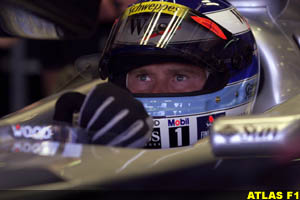 Free practice is one thing, but qualifying in the afternoon would be where it really mattered for the first time this year. Tyre choice looked interesting. With Goodyear missing this year, everyone had the same choice of Bridgestone tyres. At this point the drivers have to choose the compound they would have to stick to for qualifying and the race. The 1999 tyres are quite a bit harder than last year's in order to cope with the extra groove on the front and the fact that Bridgestone aren't having to compete with another tyre supplier this year. Indeed, the opinion was that tyres were best after a couple of laps instead of starting to go off as was the experience last year. However, perhaps with an eye on the probability of hot weather, most teams went for the harder compound and expected their drivers to stay out for several consecutive flying qualification laps instead of the usual single hot lap. The exceptions were Eddie Irvine, the two Saubers, Jarno Trulli for Prost, Luca Badoer at Minardi, both Arrows and both BARs. As it turned out, the softer compound stood up very well and surprised those who didn't choose it.
The circuit was quiet for the first ten minutes of qualifying as the temperature remained fairly low. Herbert the first out, posted a conservative 1:33.594. He was soon followed by Zanardi, then Zonta. Ferrari still looked out of shape and Schumacher slid wide at turn 4 on his first flying lap. Villeneuve, it could be argued, did his sponsors proud by doing a neat controlled 360 spin showing off both sides of the remarkable dual-liveried BAR
Over a quarter of an hour after Herbert's initial foray, out came Hakkinen, who immediately over-cooked it at turn 1. No damage was done and second time around he posted a 1:31.063, two seconds faster than then-fastest, Barrichello. Coulthard settled in 0.1 of a second off Hakkinen, but then put a wheel on the grass and slid into the gravel at turn 9. With commensurate skill, Coulthard inched the car out of the gravel trap without getting bogged down and continued back to the pits relatively unscathed.
Eddie Irvine had decided to go his own route regarding set up and it would later prove to be a good decision. But in the mean time, he, like Schumacher was finding that his Ferrari seemed to dislike staying on the racing line. Villeneuve raised a cheer by temporarily claiming third place with a 1:32.888, albeit 1.8 seconds down on Hakkinen and Coulthard. Unfortunately, on his winding down lap he innocently baulked Schumacher who then abandoned a reasonably promising run. But soon, Schumacher got his revenge and taking Villeneuve's third place, the 1997 champion then being demoted even further by Irvine, who slotted in behind Schumacher in fourth. Ralf Schumacher's Williams looked very balanced, but the lap times suggest his Supertec V10's power deficit is a big problem. On his next run, Schumacher senior was slightly held up by Pedro Diniz's Sauber, then he went well wide at turn 4 - having to abandon the lap. Next time around he went a lot better and broke the 1 minute 32 second barrier to consolidate third.
On their final stints Coulthard and Hakkinen were initially held up in traffic but with just five minutes to go, Coulthard was one thousandth of a second shy of Hakkinen's time. On his third flying lap and with barely a minute to go before the end of the session, Coulthard grabbed pole, 0.117 seconds under Hakkinen's time and he knew it - waving in acknowledgment to the crowd on his slowing down lap. However, it didn't last long. Hakkinen just managed to start his final lap in time though a waved yellow flag, which he appeared to acknowledge with a quick gesture from the cockpit, put a question mark over his run. At the first split time, there was nothing between the two McLarens but as the lap developed, Hakkinen nibbled at the lap time and as he crossed the line he was just under half a second quicker than the disappointed Coulthard. Coulthard felt he, like Hakkinen, could have gone quicker with one more lap, but while Hakkinen managed to start his final lap with seconds to spare, Coulthard was not so lucky. Hakkinen said: "I did five laps in my last run and every lap had traffic except the last lap. I saw that David did the quicker lap and I had one lap left, so I thought, OK, this is my chance. So I went flat out and I did it" He added he could have gone quicker. Nothing became of the yellow flag incident.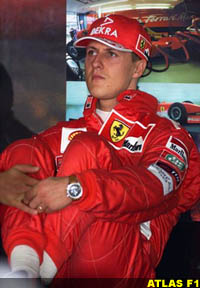 Meanwhile, Schumacher could not improve and slid off at the final turn, ending the session well over a second off Hakkinen's face. The two times former champion was clearly unhappy with things and looked very glum in the post race interview, declining to discuss at any length why his Ferrari was slower than expected. Meanwhile, Rubens Barrichello found himself in fourth place: "I'm just behind two McLarens and one Ferrari which is Michael Schumacher. I'm delighted. It's a good start and I've never been in fourth position - I've been first, second, third, fifth, sixth, so I honestly think I have a chance to win the race." Luck would prove to dash that hope, but if luck hadn't failed him, we might have been celebrating Barrichello's first victory today instead of Irvine's.
Fifth was Frentzen, whose smile - often absent last year - seemed to grow and grow as time went on. The top Jordan, followed by Irvine's Ferrari in sixth. Seventh was Fisichella in his technically interesting Benetton, which this year features a unique torque transfer system on the front wheels to help braking. If there was a benefit, it was only marginal as the next car up, just over a tenth slower, was Ralf Schumacher's Williams, which runs the same Renault-based V10 engine as the Benettons, albeit called a Supertec rather then a PlayLife.
Damon Hill, two times winner in Australia confessed 1999 optimist, was a very disappointed ninth on the grid after being fourth in the morning. "I think it could have gone a little better. I qualified ninth, which on the face of it is not too good but the times are very very close and on my last run I got a lot of traffic and had to back off." He was, however, optimistic for the race as the car felt good. Wurz's Benetton rounded off the top ten and Villeneuve's BAR had to make do with 11th, followed by Trulli's Prost and Herbert's Stewart. Herbert was mystified that he couldn't repeat his sensational performance that morning, though there was a suspicion that his car had developed a faulty damper. Elsewhere, Zanardi was a disappointing 15th, almost a second a lap down on his Williams team mate.
Pedro Diniz, who has developed a reputation for occasionally embarrassing his more illustrious team mates, surprised few by out-qualifying Sauber team mate Jean Alesi. Trulli was a lot happier in Melbourne than fellow Prost pilot, Olivier Panis, the Arrows team did better than expected, with Spanish newcomer Pedro de la Rosa acquitting himself well against the more experienced Takagi. Number two BAR driver, Ricardo Zonta did extremely well to qualify 19th after a troubled session. As usual the Minardis of Luca Badoer and Mark Gene lined up at the rear of the time sheet. Gene, who spun off towards the end of the session, failed to deliver a time inside the seven percent over pole threshold, but was later allowed to take the start as this was the first time he had failed the seven percent test all week.
Only a second separated the top ten - if you excluded the indecently quick McLarens. The fight behind the McLarens, at least, looked like it would be close.
Warm up
On Sunday, the warm-up had its fair share of incidents. Zanardi started the day as it would continue - his Williams died at the final turn. Takagi indulged in some more lawn mowing and Hill didn't manage to complete his first lap before flying off into a tyre barrier. Meanwhile, Zonta and Alesi had a slight impact, but without any apparent damage. In the times, Coulthard this time lead Hakkinen, both a second faster than third placed Michael Schumacher, who was followed by the unlikely combination of Diniz, Panis and Zanardi.
Race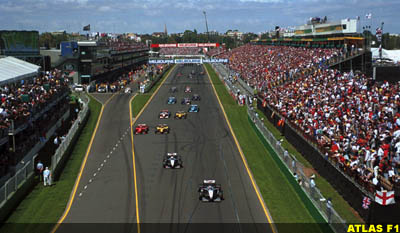 McLaren, apparently bored without a serious challenge from their competitors, proceeded to create their own dramas just prior to the formation of the grid. Coulthard went out on his installation lap and promptly returned to the pits with a problem. Hakkinen then tried to exit his the garage with a data cable still attached to his car, causing a gantry from the ceiling to fall down, apparently hitting team boss, Ron Dennis, on the head in the process. Hakkinen too wasn't happy with his car because of a mis-fire, however, both McLarens eventually made it to the grid on time.
Gary Anderson, Stewart's new technical director and the man who took the can last year at Jordan for their dismal performance at the start of the season, was justifiably optimistic after qualifying as Barrichello and Herbert were both highly enthusiastic about their cars. The day before the race he was asked about reliability as the latest works Ford Zetec V10s had, in testing, continued their family tradition of self destruction at a depressingly frequent rate. Anderson answered: "Yeah, at the moment we don't have anything that's jumping out at us…" How wrong that statement would prove to be. As the grid formed up for the start, smoke started pouring from the back of Herbert's Stewart. Almost as at the same time, Barrichello's Stewart expired in smoky sympathy. The start was aborted and Herbert's race was run as the spare car was reserved for Barrichello.
However, there was more drama to come. As the grid moved off for the second formation lap, Hakkinen was late away and got stuck in the middle of the pack. However, the rules allow you to regain your grid position if you get away before the entire grid has left you behind. Hakkinen was allowed to start from pole. However, Michael Schumacher's run of start line misadventure extended to a second race in succession as his Ferrari refused to find first gear - a sign of things to come as it transpired. By the time his Ferrari mechanics had given him a push start, Schumacher was the last to get away from the grid. Takagi's Arrows was also stuck, but he didn't get moving for some time. Schumacher was told to start from the rear, something the team was very unhappy about as Takagi being stuck too suggested the entire grid hadn't yet passed Schumacher. Meanwhile, Barrichello in the spare Stewart started from the pit lane.
As the lights went out, everyone made a clean start. Entering turn 1 Hakkinen lead Coulthard comfortably but Irvine had Frentzen to his left plus Hill and Ralf Schumacher to his right. Hill, making a great start from 9th was momentarily battling for 5th with his erstwhile team mate. Then Hill was swarmed by Villeneuve on his left and Fisichella to his right.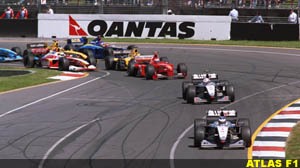 Into turn 2, the two McLarens were already visibly clear of Irvine who was now in control of the challenging Frentzen. Ralf Schumacher too was clear of Fisichella who was now being challenged hard by Villeneuve. Hill looked out of trouble but as he approached the apex of the corner, Trulli - almost completely over onto the kerbing of the corner outbraked himself and collected the inside of Hill's Jordan. The Jordan was punted around into the gravel and bogged down, unfortunately just a foot or so away from the relative safety of the grass. Trulli was able to continue, but was destined to have more incidents at the same spot.
By the middle of the opening lap, the field had just about settled down and begun to string out. First time past the start/finish line, Hakkinen lead by just over half a second from Coulthard, who in turn was nearly two and a half seconds clear of Irvine. Frentzen, Ralf Schumacher and Fisichella followed in neat 0.8 second increments. Villeneuve was looking good in 7th, keeping Fisichella busy. By now, along with Hill and Herbert, Alesi was already out.
The McLarens were dropping the rest of the pack like a hot potato but Irvine, on those softer tyres, had the legs of Frentzen. Behind him, Ralf Schumacher was falling back, but in no trouble from the following Fisichella. By lap 2, Trulli had displaced Villeneuve and 8th placed Diniz was catching the Canadian. By lap 5, the McLaren duo were trading fastest laps and had opened up a ten second lead. Team orders didn't seem to be the order of the day this year. By this time, Michael Schumacher was up to 14th place. By lap 12, the McLarens were nearly 20 seconds ahead of Irvine in third and Schumacher was closing on Zonta in 10th spot. At this point, Zanardi, who was having problems with the handling of his Williams, made an unscheduled stop. On lap 13, unlucky for some, both Coulthard and Hakkinen were beginning to give ground to Irvine for the first time. Coulthard didn't complete another lap, coasting into the pits with no gears after a hydraulic failure. Hakkinen was also experiencing throttle problems. The sole surviving McLaren was very sick indeed. The two-stoppers were pitting now and the tail-starting pair of Michael Schumacher and Barrichello found themselves in 9th and 10th places after Villeneuve ended his race in the wall after his rear wing broke off. This incident brought the safety car out and Hakkinen's 18 second lead was gone.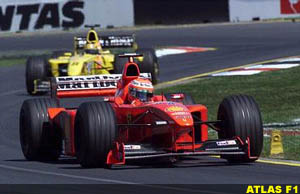 As the safety car peeled off on lap 17, Hakkinen couldn't accelerate cleanly and Irvine had to back off in order not to pass Hakkinen before the start/finish, but once over the line, he and the rest of the pack flew past Hakkinen. Ralf Schumacher made a much better job of the re-start than Frentzen and passed the Jordan for second place into the first corner. However, the feisty Frentzen immediately re-took second at the next corner. Here, Fisichella nudged Trulli, losing his front wing in the process. Trulli, apparently charmed at the spot where he barged Hill off at the start of the race, was fortunate again to be able to continue. Later on lap 26, Trulli's luck at the same corner eventually ran out as he collided with Gene's Minardi, eliminating both from the race.
Hakkinen came in for an evaluation of his car's condition and was sent back out, but the throttle problem remained and he was soon back in the pits for good. Hakkinen later remarked that although the technical problem was disappointing, he still had a big smile on his face as he knew the car was so good. He was more sorry for the mechanics than for himself.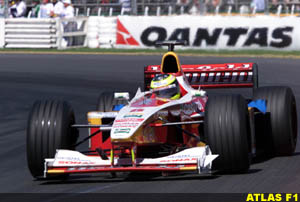 Irvine was now leading the race comfortably, perhaps because of his softer tyres. Frentzen in second later admitted that he was hoping Irvine would need two stops to his one stop, but that was a forlorn hope. Indeed, when Irvine did stop on lap 34 - with Frentzen in tow into the pit lane, his old tyres looked in great shape. However, before then the safety car was out again on lap 19 after Zanardi's agonising afternoon was mercifully ended after he crashed out. Incredibly, Schumacher was now fourth and just a couple of seconds behind Irvine, with Frentzen and Ralf Schumacher in-between. Schumacher can win this, everyone thought. However, at the second re-start, Schumacher couldn't stay with the leaders as his gearbox problem returned. Suspicion pointed to faulty electronics in the steering wheel and this was eventually replaced on lap 27 after a rear tyre punctured and his front wing was knocked askew, but only after one aborted visit to the pit lane. From 4th, Schumacher was back to last again, but going a lot better.
Barrichello had a storming race until lap 30, when in 4th place from last he was told he has earned a 10 second stop and go penalty for passing Schumacher under yellow flags. Barrichello indignantly explained that the penalty was very severe because he felt he had been forced to pass the Ferrari in order to avoid a collision after it slowed suddenly. Until this point, Barrichello, perhaps rightfully, felt he could have won the race. He was able to lap much faster than the leaders and was just a couple of seconds behind them. He also had no problem passing others earlier in the race.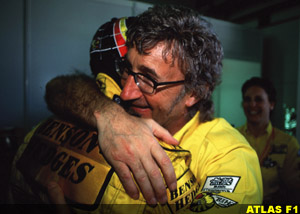 The rest of the race was relatively uneventful. Irvine took a cautious approach to lapping Zonta's smoking BAR, which promptly expired after passing a series of waved blue flags, thus probably saving the BAR newcomer from the black flag. Ralf Schumacher did put on a spurt at the end of the race, but never really worried Frentzen, although he was unable to challenge Irvine in the lead because his Jordan's Mugen Honda V10 lost power mid-race.
Only 8 cars were running at the end, the lowest number for the Australian race, but at his 82nd attempt, Eddie Irvine, often controversial, sometimes unpopular, but never boring, crossed the line to net his first win and Ferrari's 120th and a popular one it was too: "To win your first race here, where there are so many Ferrari fans and so many Paddies and there are even Ulster flags out there, which is great, this was like a home Grand Prix." Asked why he was popular in Australia, Irvine joked that history had something to do with it: "Probably because there are so many Irish convicts here!" He added, with a smirk: "Michael did all the pre-season testing, made the car reliable for me and I get the glory, which is great."
Michael Schumacher, ended up last in 8th place and a lap down, but had the consolation of fastest lap. He said after the race: "I would like to say congratulations to Eddie because he did a magnificent job. Finally he got his first victory in. All the team is very happy and so am I. Even so, it didn't work for me, but that is racing."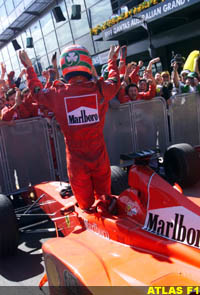 Eddie Irvine also got warm and emotional congratulations from the other Eddie - Eddie Jordan. It was he who gave Irvine his break in F1 back in 1993 at the penultimate race in Japan. He notably scored a point in that race. Although Irvine eventually out-grew the team, both Eddies remain on good terms away from the race track, although Jordan pointed out to Irvine that he got his first win before he did! Another point for Jordan to savour was that all the finishers, except Takagi but including Michael Schumacher were at some point Jordan team members.
Who would have predicted an Irvine victory in Melbourne? But now there is talk that if he can keep it up, be boosted by the new confidence of winning, he could be allowed to go for the title in deference to Schumacher. It's far too early for that speculation, but Ferrari's team director, Ross Brawn, commented that he could be given the opportunity of going for it if he could keep ahead of Schumacher. Certainly, Schumacher didn't look to be on top form this weekend and this was compounded by incredibly bad luck. We'll just have to wait and see if Irvine can maintain his form and whether Schumacher can bounce back.