So the testing's over and it's time to go racing. And after one of the most hectic Winter World Championships in years, all appears to be set on a cracker of an F1 year to close off the millennium.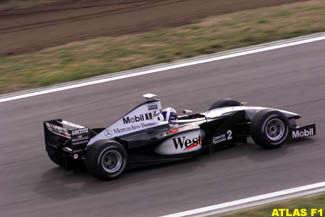 A year ago, McLaren had dominated proceedings in the off season and set off to Australia where began that team's early-season domination. That was enough to stave off all challengers until the very end. This year, however, things appear somewhat different.
Until mid-February, all seemed much as last year at this time. Mika and David on top and the rest fighting over the scraps in Barcelona, the circuit, which saw the bulk of testing activity, and which gives the clearest picture of the silly season. Mika's consistent pace was blinding as usual, regularly on top. Ferrari had come to Barcelona for a couple of days under duress, Italy being snowed out, but both teams were playing a cagey game and any blinding times weren't forthcoming, neither team showing their hand in each other's company. A far cry from the halcyon years of fighting over fast times and the unofficial Winter World Championship of the early nineties.
On the 10th of February, Minardi's new signing, Marc Gene caused a stir by ending up a very noticeable fourth on the day, albeit on qualifiers and low tanks, but using a '98 spec Ford mill. Still the McLarens topped the tables daily.
Then on the 17th, Jean Alesi ended up quickest on the day in the latest Sauber, albeit some half a second off Hakkinen's benchmark 1:21.1 at that point, set on the eleventh instant. Mika was back on top the next day, but the two last days of testing at Barcelona confirmed things were not going to be all that easy to call in '99.
Heinz-Harald Frentzen was quickest on the 19th, just ahead of Coulthard and Alex Wurz, and just off Mika's mark of the 11th. But the next and final day was to upset the until then stable apple cart.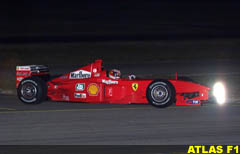 None other than Jarno Trulli ended up quickest on the day, his time of 1:21.090 being the fastest lap so far this year at a busy Barcelona _ an achievement, which must certainly have buoyed the hopes of Prost Peugeot for '99. Second in that last session, and second fastest for the year so far at Barcelona too, was Rubens Barrichello's Stewart Ford, just five hundredths off the flying Trulli. Hakkinen's earlier benchmark saw him third overall for the entire January and February testing at Barcelona, but Frentzen's last day best of 1:21.340 saw him pip David Coulthard's best, set the previous day at 1:21.468.
But the most significant aspect of the almost two months spent by the teams who visited Spain in that period, was that the top eleven of the seventeen drivers who tested at the circuit, and who are racing this year, were within one second of the pace...

Silverstone was a hive of activity too, in February, and the results from there show a definite dark horse. Thirteen drivers were at Silverstone during the last month, but one man and one team shone throughout. The fact that Giancarlo Fisichella's time of 1:25.670, set on Tuesday 23 February, is a complete second quicker than the second quickest time, almost a tie between his FTT-equipped Benetton team mate, Alexander Wurz, and David Coulthard, who visited the circuit with Hakkinen and McLaren as a final stop before setting off to Melbourne, shows reason to believe that the Benetton will be a factor this year. And Alex Zanardi's Williams and Hakkinen's times on the last day too, were near identical to Wurz and Coulthard's.
Then, one cannot discount Ferrari, who despite their two days at Barcelona in the peak of Italy's blizzard, only tested at Fiorano and Mugello, well away from the spotlight. Their pace at Fiorano compared to benchmarks there, is closer percentage-wise than anyone else got to the respective fastest laps and pole times at the other circuits last year, while Michael Schumacher reeled off several race distances with impressive reliability.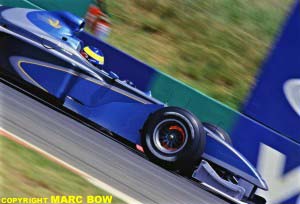 The only teams that sought out summer conditions at a sweltering, sunny Kyalami, paid for that temperature with major reliability woes. Williams and BAR had five fraught days at Kyalami, but that experience would have tempered both teams, who will arrive in Australia with a more realistic view of things to come.
So, using the past weeks' testing as a barometer, it's going to be terribly difficult to come up with any sort of prediction in '99. But if one looks at the line-ups and other factors, 1999 promises to be a most exciting prospect.
The World Champions still look good. Consistently in front until just about the very end of testing, their early pace is what should be looked at when trying to determine McLaren's form. How much were they sandbagging in Barcelona, and then again in Silverstone on Thursday? If one plots Mika and David's early week pace against those who shone later in the week, then they would be almighty close to last year's pole time of 1:20.282. But then, how much were the McLarens controlling their pace later on in testing, if at all? Mika Hakkinen brings with him the additional strength of being World Champion this year. That, in itself, is a significant additional advantage.
Ferrari has been most clandestine all winter. Their pace seems more consistent with last year's at Mugello and Fiorano than the others have been to their benchmarks at the circuits thy regularly test at. Schumacher was only five tenths off last year's best lap at Mugello, compared to the Silverstone testing pace being 2.4 seconds off last year's pole and the best in Barcelona being almost a full second off last year's pole there. Eddie's been close to Michael too, but all the world's pressure is on Maranello to produce their first world champion in twenty years. A feat which would please Bridgestone no end if it happens, in their first year with the Cavallino.
These two teams have to be the favourites again this year, but by a far smaller margin than last season.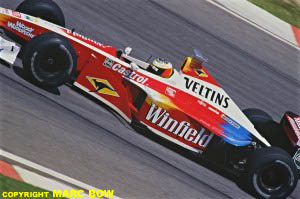 Williams, with their all-new line-up, new image and the last of two years without a factory engine, have their work cut out. Quickest at Kyalami, but only against BAR and with poor reliability, they have two positive pointers. Kyalami will have honed their resolve to be right and ready at Melbourne, while Alex Zanardi's pace at Silverstone on Thursday places him right in the hunt. The double-Champcar champion could prove to be a most significant factor, while Ralf's pure pace should prove a factor.
Jordan's first year with two senior drivers should see more of that long awaited victory the team enjoyed at Spa last year. Frentzen proved his pace in Barcelona, while Damon's wet practice time in Silverstone eclipsed Michael Schumacher's fastest lap in similar conditions in last year's British GP. Jordan will be a factor this year.
Benetton could be the surprise package of 1999. Fisichella's pace at Siverstone on Tuesday may just have let the cat out of the bag as to exactly what FTT can achieve on a twisty track, while Wurz has also been right there throughout the winter testing.
Sauber left Barcelona two weeks ago after setting the fastest time of the day on Wednesday. The others went quicker later on, but Alesi's pace cannot be ignored. Pedro Diniz has proven himself a most worthy racer and can be expected to contribute to the team's lot in a competitive car this year.
Pedro's old team, Arrows, still had to find out what they were actually doing at the time of writing, although their one possible driver, Tora Takagi showed well at Silverstone. They will have their work cut out to repeat their '98 championship achievement on their testing form though.
That's because the only other teams that scored points last year ended testing as the cream of the crop in Barcelona. Rubens Barrichello's second quickest there must have Stewart Ford over the moon. Rubens has what it takes, like some others, his first victory would be very sweet. Johnny Herbert also showed pace in the off-season, his presence at Stewart gives the team something they've never had before - a driver who's won GPs.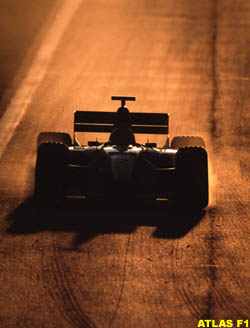 Last in the constructor's championship in 1998, Prost go to Melbourne as the fastest car at Barcelona's intensive test sessions in 1999. Jarno Trulli may just find himself showing the potential so many believe he has this year, while team mate, Olivier Panis, who has won a GP, must be wondering if that will happen again this year. Like Ford, it must not be forgotten that Peugeot's engines are from a factory source, so they do have the backing to match the recognised leaders. And Barcelona proved that this could, in fact, have already transpired.
No, Minardi did not score any points last year. But they appear to have more focus this year, and far better Ford engines. Luca Badoer is on loan from Ferrari, and Maranello's clearly been giving the little Faezena outfit a hand elsewhere too. Marc Gene's fourth fastest on a day at Barcelona too, shows that Giancarlo and his men have all the possibility of surprising the world in 1999.

Any publicity, they say, is good publicity. BAR's arrival in F1 has been anything but quiet. Controversial and in-your-face, Craig Pollock and his team have arrived with a bang. They cannot be underestimated at all, and don't forget that Adrian Reynard, who's chassis is the BAR, has never failed to win on his debut in all other single seater formulae. F1 is his most difficult shot, but armed with Jacques Villeneuve and World GT champ, Ricardo Zonta, it wouldn't be an impossible task for them to pull off a win in Melbourne. Yes, the controversy must be rubbing off on the team and their disastrous Kyalami test must raise questions as to reliability, but compared to many F1 newcomers over the years, BAR is set to shine the brightest for a long, long time as F1 newcomers.
So, 1999 is set to be a cracker of a year, a most difficult one to call - despite the obvious favourites of Ferrari and McLaren, Michael Schumacher and Mika Hakkinen. If either of these two do take it this year, it won't be the walkover it was last year, and if anyone does beat them, it's impossible to predict who exactly that will be. In all, 1999 promises to be one of the most exciting years ever in F1, and the best chance in many a year that the title will be more than just a two horse race again.