As Ferrari enter a new era - without Michael Schumacher to lead the team - Eddie Irvine places his hopes on Ross Brawn, no less than Ferrari place their hopes on Irvine. From here on, the name of the game is Strategy.
Strategy is a much-used but perhaps little understood word in the world of Formula One. It involves the number and timing of pit stops, running with a light or heavy fuel load, and the use of new tyres to optimise a driver's speed, particularly at certain points of the race. Every driver has to have one and in the end, they are all intended to do just one thing: to get that driver ahead of his nearest adversary.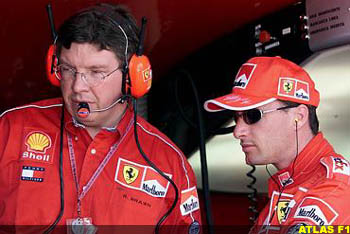 Strategy is the plan to do that. It involves fuel loads, tyres, the length of time to make a pit stop, the length of the pit lane and how long it takes to travel it in comparison to the normal race track line. A long twisty pit lane, when the race track is fast and direct, points a driver in favour of a minimal number of stops. A slow pit lane, when the race track is also slow, directs the driver to as many stops as he wishes. It's all part of strategy, and all these factors have to be balanced against one another in the quest to find the best strategy for any given driver in a particular race.
It should be noted, however, that a strategy which may work for one driver in a certain race won't necessarily work for another driver in the same race, simply because of the position, pace and strategy of his own particular rival.
Considered one of the masters of pit lane strategy is Ross Brawn, the technical director of Scuderia Ferrari Marlboro. He has been working with Michael Schumacher since they were at Benetton together, and in those early days, one would see Michael rushing down the pit lane entry and exit as quickly as possible, so that he and Brawn knew how much time the car would spend in the pit lane, and they could then work on the most effective strategy. Their joint efforts netted them two World Championships.
Since they rejoined their efforts at Ferrari, they have again often beaten the opposition thanks to their strategy, often with a slower car than the opposition's. Michael might be stuck behind another car when Brawn would make the decision to bring him in early or even leave him out late. That would allow Michael to quicken his pace, and when the other driver pitted, Michael, ideally, would find himself out in front of the opposition.
Of course, with Michael out of action, Ross's attention will be turned to Eddie Irvine, who is just as much of a fan of Brawn. "He is a strategy superstar," says the Ulsterman. "He's the ace in our pack. He can unpack a race and put it back together in his mind. That is why we are able to judge our pit stops so well and it makes life easy for the drivers. I don't have to worry about any of that. He does it all."
A certain amount of strategy can be planned. "The best strategies are pre-planned," says Brawn. "The planning starts back at the factory when we sit down and discuss all the possibilities. On the Fridays and Saturdays, the engineers and drivers have their say. You have six or seven strategies. We look at various fuel loads, the decreasing effect on tyres, and the time it takes to make a stop. They are the three fundamental areas. As the race evolves, we then pick the one that seems the most appropriate."
While many strategies seem to involve a seat-of-the-pants decision, the planning can be quite extensive. "Most teams have a simple computer programme, but what you often get is two strategies that might be quite close together and demand a one stop or a two stop strategy. So you do the calculations and then you start to make some judgements on top of that."
When it comes to it, however, Brawn has the final say as to what happens. He doesn't believe that committees work on the pit wall. But time and time again, the strategy has worked. "When it all comes together and takes Michael from a safe second to victory, it gives you a real buzz. I've shared a lot of victories with Michael but his win at Imola this season gave me great satisfaction. Some said we were lucky, but I knew exactly when Michael should be called in. It wasn't our first choice, but by rolling the dice and creating a different situation, we were able to beat David Coulthard."
Less satisfactory was the French Grand Prix, when the usually famous Ferrari strategy wasn't successful. "Somebody else had a better strategy!" he admits of Jordan who made just one pit stop. "We are very proud of our approach to races, but we don't get it right every time and in France Jordan did a better job. We did have some problems with the car - water in the electronics - although I cannot say exactly what difference that made but we were still not fully on top of the situation in France. It is something that we are going to change."
Whether the Irvine-Brawn duo can deliver is yet to be seen. But whatever the outcome is, expect it to be fascinating...