Leaving Hockenheim in Germany we head to Eastern Europe, to the home of the Hungarian Grand Prix: The Hungaroring in the town of Mogyorod. At 3.968 Km, the Hungaroring is the second shortest and the second slowest Grand Prix circuit. Sunday's race will be the fourteenth Hungarian Grand Prix. In some ways, the Hungaroring is a bit like Monaco without the yachts and the barriers.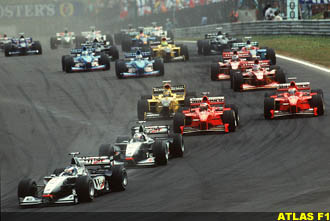 During the race, the drivers have to negotiate 1001 corners. The drivers make about 28 gear-changes per lap giving a total of 2156 gear changes, which averages out at about 21 gear changes per minute. Like Monaco, driver fatigue and "brain-fade" are major concerns. In other ways, the Hungaroring is like a Kart circuit that does not demand the finesse required to finish at Monaco. Driving at the Hungaroring is more instinctive, seat-of-the-pants, with little time for careful planning of the racing line. The list of drivers who have succeeded at the Hungaroring is quite different from the list for Monaco. Overtaking is very difficult so qualifying is very important and it is hard to recover from a bad start.
"It is a very punishing race for the car because the Hungaroring is a slow speed circuit and the weather is usually hot, which makes cooling the car very difficult. The track is also very bumpy so finding the perfect set up raises a huge challenge," explains Jordan's Chief Designer Mike Gascoyne. Jordan's Managing Director, Trevor Foster, agrees. "The Hungaroring is a difficult circuit," he says. "Levels of grip are very low and there is really only one overtaking opportunity, which means qualifying is more important than ever. As the track is so dirty off the racing line, the driver has to maintain 100% concentration as running wide might affect the following sequence of curves. As a result, it is one of the most mentally tiring circuits."
"Breathing can be a problem," adds Rubens Barrichello. "There is not much respite for a driver because there are so many turns. I have specifically worked on improving my breathing for the race through aerobic work and running. Mentally the race is tough because you are concentrating harder than what you would on a layout that has long straights. You are very busy in the cockpit at the Hungaroring."
Pitstops and tyre strategies
All of the Grand Prix held at the Hungaroring over have been held under dry, sunny conditions. However, Attrition is a bit unpredictable. Fourteen cars finished in 1998 and 1994, thirteen were running in 1997 and 1995, ten finished in 1996.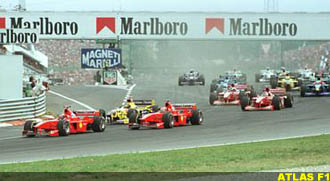 In last year's race, most teams went for a two-stop strategy while Michael Schumacher won on a three-stop strategy. Damon Hill also used a three-stop strategy to win in 1995. The surface of the Hungaroring is both slippery and abrasive. "The Hungaroring is slow, sinuous and low on grip, especially on Friday when there always seems to be a lot of surface dirt to be cleaned away by the cars," explains Yoshihiko Ichikawa, Technical Manager of Bridgestone Motorsport. "These characteristics mean that we feel confident in offering the teams a choice of our Soft and Extra Soft compounds.
"This is only the second time this year we have brought the Extra Soft to a race (the first was at Monaco) and we expect that all the teams will want to try it on Friday. But despite its low grip, the surface at the Hungaroring is quite abrasive and the temperatures are expected to be high, which means reasonable degradation should be expected by those teams which have not found a good mechanical set-up and effective aerodynamic settings."
Ichikawa adds: "As always, we anticipate that there will be a tendency for the cars to understeer when they are running on extra-soft compound, and they will have to provide for this when making their set-ups. It should also be mentioned that especially with the Extra Soft compound we expect to see some degradation in the rear tyres."
The Teams
Ferrari now leads the manufacturer's championship by 16 points and continues to be the most reliable team of 1999. Ferrari won the Hungarian Grand Prix in 1998 and 1989.
World Championship leader, Eddie Irvine served another helping of humble pie to his critics in Germany. However, Irvine has yet to score a point at the Hungaroring, his best finish being eighth last year. "I think our car should go quite well in Hungary and I like the track as well," says the Ulsterman. "However, finishing the race is going to be hard work. If I can take another finish on the podium I will be happy. If I scored another win that would be great. Tactics and tyres are going to be important here. If the team gets things right, which they usually do, another 10 points is not impossible. But, ass I said before, I am not thinking about the Championship. I am just taking each day as it comes and we shall see how it all turns out at the end of the year."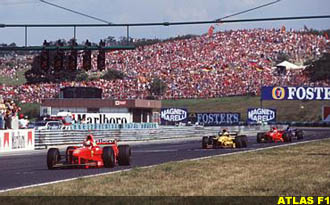 Mika Salo has jumped to ninth in the World Drivers Championship. Salo has yet to score a point at the Hungaroring. His only finish in Hungary was twelfth in 1997 for Tyrrell. A philosophical Salo stated, "I had trouble getting the car sorted out in my first race for the team in Austria which is very similar to the Hungaroring in the type of corners it has. Since then I have had a lot more time in the car including two days of testing in Fiorano last week, so I hope to be able to understand the car a lot better than I did in Austria. If we finish the same way as we did in Germany that would be perfect."
McLaren will have to regroup after their disastrous weekend at Hockenheim. They have re-signed both their drivers for the 2000 season, ending their own "Silly Season" rumours. Although McLaren have won the Hungarian Grand Prix three times, they haven't won there since 1992. Furthermore, their aerodynamic advantage is not very important at this circuit. According to team owner, Ron Dennis "With six races remaining we will use the strength and depth of the team in order to achieve our goals. There is still a long way to go and this has never been a sport for the faint hearted. The team are more focused than ever. We have had a run of disappointments recently but as a team we do not dwell on these things. Instead we will go to Hungary even more determined to achieve a good result."
Mika Hakkinen has slipped to second in the drivers championship and has limited success at the Hungaroring. Hakkinen finished fourth in 1992 for Lotus, and fourth again in 1996 for McLaren. Hakkinen set pole position in last year's race and led the first half of the race but limped home sixth after the front anti-roll bar on his McLaren came adrift. "Hungary presents us with a number of challenges," says Hakkinen. "Setting the car up to maximise performance on this twisty track is always interesting but I am confident that we will find a solution. This is also a special race for me as so many Finnish people attend that it almost becomes a home Grand Prix."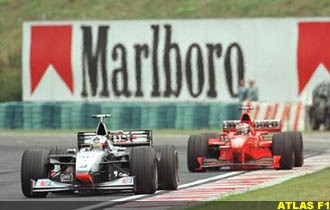 David Coulthard is still fifth in the drivers championship after the German Grand Prix, and he finished second in 1998 for McLaren and second in 1995 for Williams at the Hungaroring. Coulthard's thoughts on the upcoming race: "Hungary is a fun race, the crowds are always very enthusiastic and Budapest is a lovely city. The hot weather and dusty conditions that we experience at this circuit will add to the task ahead of us this weekend. That said we are well prepared and determined to improve on the results of the last race."
Jordan are still a distant third in the manufacturers championship. Jordan have scored six points at the Hungaroring, finishing fourth in 1998, fifth 1997 and sixth in 1996. Once again their reliability may prove to be crucial in Sunday's race.
Heinz-Harald Frentzen moved up to third in the drivers championship after the German Grand Prix. Frentzen finished fifth in 1995 for Sauber and fifth in 1998 for Williams and set fastest lap in 1997. However, Frentzen played down his chances at the Hungaroring, saying: "On race tracks like Hungary where you need a lot of downforce, our car is not as good as it has been, for example, here at Hockenheim. We are on the way to improving it, and we look forward to that. But we will have to fight hard for that."
Damon Hill has slipped to tenth in the drivers championship, but Hungary is Hill's track; he won his first Grand Prix victory at the Hungaroring in 1993, again in 1995 for Williams, finished second in 1994 and 1996 for Williams, second in 1997 for Arrows and fourth last year for Jordan. Hill nearly gave Arrows their first Grand Prix victory in 1997 but was thwarted by gearbox problems with three laps to go. Hill set pole position in 1995 and 1996 and also set fastest lap in 1996. Sunday's race may be his last chance to equal Nelson Piquet's record of 23 Grand Prix victories.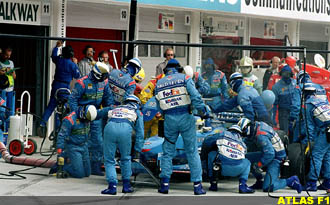 "The Hungarian Grand Prix has always been kind to me," says Hill. "I really like Hungary. All the corners are really good. Turn 1 is particularly tricky because there is a big drop from the straight in the braking area so you are actually braking downhill and turning into a corner which drops away from you which makes the car lighter. You can get on the power quite early there and 'sling-shot' out of the corner into the next one. In some ways the circuit is similar to Monaco - slightly faster but without the barriers next to the track and you are always fidgeting with the car. Everyone says Budapest is a beautiful city, but I must admit I have never had the chance to explore it."
Williams is still fourth in the manufacturers championship. Williams have been the most successful team at the Hungaroring, winning the Hungarian Grand Prix seven times, including 1990, 1993, 1995, 1996 and 1997.
Ralf Schumacher is still sixth in the drivers championship. Ralf finished fifth in 1997 at the Hungaroring for Jordan. "If overtaking on most of the present circuits is difficult then I must say that in Hungary it is nearly impossible," says Ralf. "Therefore the team has to push very hard in qualifying to reach a good starting grid position."
Alex Zanardi finished 13th in 1994, and doesn't like Hungary that much. "It is not really exciting to race there," says the Italian". "Everyone looks forward to qualifying as that is where the battle is but I cannot say the same for the race... unless you are first and all you have to do is hold your position! Having said that, a win there is worth ten points like at any of the other tracks. Nevertheless the fact that it is very tiny and short makes it very difficult to have a real race on."
Benetton is still fifth in the manufacturers championship. Benetton has been quite successful at the Hungaroring in the 1990's, winning the Hungarian Grand Prix in 1994. This year they have so far struggled but Technical Director Pat Symonds is optimistic. "Having identified recently some problems with the aerodynamics of the car in the higher downforce configurations, the team decided that in preparation for Budapest our resources would be more effectively used by conducting some aerodynamic testing at Danielson in France rather than joining the other teams at Silverstone," he says. "It is hoped that this work will improve our competitiveness in Budapest."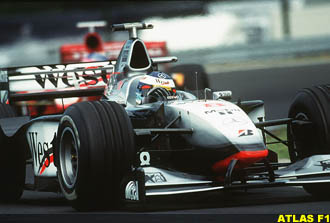 Giancarlo Fisichella is still seventh in the drivers championship. Fisichella has yet to score a point at the Hungaroring, his best finish being eighth in last year's race. Alexander Wurz is now eleventh equal in the driver's championship. Wurz has yet to finish at the Hungaroring, retiring from his first Hungarian Grand Prix last year.
Stewart is still sixth in the manufacturers championship. The Stewart team has yet to score a point at the Hungaroring, their best result was Jos Verstappen's thirteenth position in last year's Hungarian Grand Prix. Although the new Series 4 Ford V10 engine is clearly competitive, the team is still struggling for reliability. "Following the two non-finishes we experienced at Hockenheim a lot of time and energy has been spent on improving our reliability for the Hungarian Grand Prix," says Paul Stewart, Chief Operating Officer. "We are confident that the car works well in high downforce aerodynamic trim so we will be looking to qualify both cars at the front of the grid. A points finish for both Rubens and Johnny is a realistic target."
Rubens Barrichello is still eighth in the drivers championship. Barrichello's only finish was a sixth in 1996 for Jordan. "At the Silverstone test we improved the car's mechanical grip which should put us in good shape for qualifying and the race," says the Brazilian.
Johnny Herbert is now thirteenth equal in the drivers championship. Herbert finished third for Sauber in 1997, fourth for Benetton in 1995. "I have always been comfortable on circuits that have a lot of low speed corners," he says. "We found improvement at the Silverstone test so I'm confident of repeating my performance in Austria where I was on the pace all weekend and qualified sixth. I'm more comfortable with the car than I was at the start of the season – I just need some luck in the race."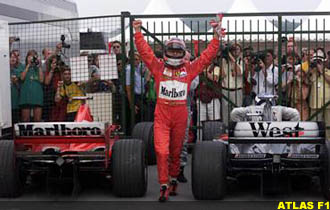 Sauber is seventh in the manufacturers championship. The Swiss team has scored seven points at the Hungaroring, finishing third in 1997, fifth in 1995 and sixth in 1993. Sauber previously finished fifth in 1995. Jean Alesi has had little success in ten starts at the Hungaroring, finishing third in 1996 for Benetton and fifth in 1991 for Ferrari. Pedro Diniz is eleventh equal in the driver's championship and has yet to score a point at the Hungaroring.
Prost is eighth in the manufacturers championship. Team owner Alain Prost never won at the Hungaroring but Shinji Nakano finished sixth for Prost in 1997. If the Prosts qualify well they may be virtually impossible to overtake. Olivier Panis is now thirteenth equal in the driver's championship. Panis finished fifth in 1996 and sixth in 1995 and 1994, in his debut Hungarian Grand Prix. Jarno Trulli finished seventh in 1997 and retired from last year's race.
BAR's unreliability continues to let them down - no points and 18 DNFs. "There is a feeling in the team that we've underachieved so far this year," says Team Manager, Robert Synge. "We're all disappointed that with the tremendous facilities at Brackley and the depth of technical expertise available, we haven't done better. Still, there are 285 people at British American Racing who are all working flat out to improve the situation and I am certain their efforts will be rewarded. Despite the disappointment of the German Grand Prix, the team remains optimistic. The way we look at it, we have two drivers and six more opportunities to score points this season. If we can get our cars to the finish, there is a good chance they will both finish in the top six."
Jacques Villeneuve won the Hungarian Grand Prix in 1996 and 1997 and finished third in 1998 for Williams. Ricardo Zonta has competed successful at the Hungaroring in other formulae. Zonta finished second in the 1998 FIA GT1 race for Mercedes-Benz. "It's a very interesting track," he observes.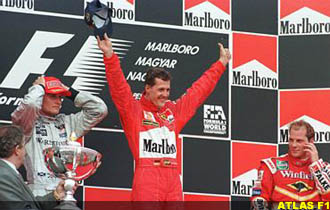 "It doesn't offer many possibilities for overtaking, but it is an exciting place to drive. I also think it's located in a very beautiful place. I have only been at the Hungaroring once, last year in the FIA GT Championship, but I have good memories of it. I also remember very clearly the Hungarian Grand Prix of 1986. I was still competing in karts in Brazil at the time, and I was very excited to watch the duel between Nelson Piquet and Ayrton Senna in that race. The two Brazilians did a great job and their performances gave me an even stronger will to become a top driver."
Arrows had their finest hour in 1997 when Damon Hill finished second which was the first points they had scored since Eddie Cheever finished fifth in 1989. In last year's race, Pedro Diniz' Arrows finished eleventh, ahead of Tora Takagi who finished 14th for Tyrrell. A finish in the points for either Pedro de la Rosa or Tora Takagi is unlikely on Sunday.
Minardi suddenly acquired some speed and reliability at Hockenheim. They also have a reasonable record at the Hungaroring, so they will be hoping for both Marc Gene and Luca Badoer to finish on Sunday. Both Minardi's retired from last year's race and Luca Badoer finished eighth in his last outing for Minardi in 1995.
My Predictions:
If it is dry, I'm going to pick Ferrari, McLaren and Jordan as the top three teams for qualifying with Stewart and Williams making up the top five.
Starting grid:
Mika Hakkinen
David Coulthard
Eddie Irvine
Mika Salo
Damon Hill
Heinz-Harald Frentzen
Rubens Barrichello
Johnny Herbert
Ralf Schumacher
Giancarlo Fisichella
Jacques Villeneuve
Jean Alesi
Sunday's race could be a procession but qualifying position and reliability is likely to determine the outcome.

The 1999 Hungarian Grand Prix Preview in a Nutshell:

The Hungarian Grand Prix is up for grabs, no team or driver has a clear advantage.

Ferrari is alive and kicking without Michael Schumacher. Can Eddie Irvine and Mika Salo score another Ferrari victory at the Hungaroring?

McLaren-Mercedes will want to bounce back from their disaster in Germany. Mika Hakkinen and David Coulthard are again closely matched at this circuit.

Always in the points at the Hungaroring: Damon Hill and Jacques Villeneuve.

Can Damon Hill get his 23rd Grand Prix victory?