British American Racing has had a baptism of fire in Formula One. Number One driver, Jacques Villeneuve, had a torrid time in his first two races, and when he finally showed the form the world was waiting for - qualifying his BAR fifth at Imola - he was left on the grid while the rest raced off to play. New man Ricardo Zonta, too, had a dismal time in Australia, and he didn't even race in Brazil, after a practice shunt that saw him also miss Imola and now Monaco. His replacement, Mika Salo, was within a hair's breadth of scoring the team's maiden points at San Marino, when his car expired with a lap left. It was good enough to classify him seventh, though.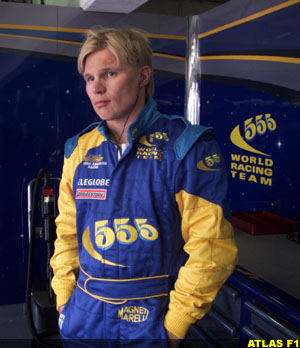 But after testing during the last week at Nogaro, a little circuit in Argamnac, France, there appears to be spring in the step of BAR's personnel. Mika Salo was quickest on an on-off raining Friday's testing, and then again on Saturday - to emerge fastest of all from a well-attended 3-day test at the little circuit that is used because of its likeness to Monte Carlo.
Besides his teammate, Villeneuve, Salo saw off the Stewarts of Rubens Barrichello and an even quicker Johnny Herbert, and the Williamses of Ralf Schumacher and Alex Zanardi. But second quickest in Nogaro was another surprise...
Pedro Diniz was fast in Argamnac, hustling his Sauber round Nogaro in an extensive and reliable couple of days testing, ending up only two tenths off Salo, who was happy with his progress. "This gave me a good opportunity to play with the setup of the car and become more confident with it," said the Finn. Villeneuve, too, was satisfied with progress, his comments promising better results, especially considering his Imola qualifying. "We tried a lot of different setups and found some interesting results, so I'm going to Monaco happier and more confident," said Jacques.
Elsewhere, McLaren travelled to Magny Cours, where they tested alongside Prost. But although test driver Nick Heidfeld was reliably quick, he was driving last year's MP4/13. Mika Hakkinen didn't have anything like the trouble-free time Heidfeld enjoyed; Mika's 1999 MP4/14 apparently suffered engine trouble, among other problems, during the secret test.
Prost's time at Magny Cours saw the team testing on just one of the three planned days, with the cars arriving late and hydraulic dramas among their snags.
Championship leaders, Ferrari, had only the weather to contend with in a trouble-free four day session at Fiorano, which saw them attending to special aerodynamic and power steering solutions for Monaco. Michael Schumacher set the fastest time from Eddie Irvine on separate days, while Luca Badoer alternated between Ferrari and Minardi duties, with a long wheelbase version of his Minardi race steed showing some promise.
Jordan only tested in aerodynamics in a straight line in England and Arrows spent their time fixing Imola's damage, neglecting to test.
So, where does all that leave us?
Monte Carlo is the most difficult Grand Prix to predict, but there could well be a slightly different pecking order in Monaco this weekend, to that which we've become accustomed to so far this year: McLaren should dominate the practice and qualifying, and Ferrari will be right there, again, on Sunday afternoon. But behind the big guns, anything can happen, and following testing, probably will. BAR could well be the new leaders of the second division on Sunday, and possibly even challenge the red and silver racers up front. But then, so can the Jordans, Benettons, Williamses, Stewarts and Saubers, et al. And in Monaco, anything can happen.

Test Times Summary


Testing at Fiorano 5-8 May 1999

Pos  Driver                Best      5th     6th     7th     8th May 
 1.  M. Schumacher         1:01.919   -      1:02.7  1:01.9   -      
 2.  E. Irvine             1:02.794  1:04.0  1:02.7   -       -      
 3.  L. Badoer (Ferrari)   1:03.010   -      1:03.8   -      1:03.0  
 4.  L. Badoer (Minardi)   1:05.108  1:05.1   -       -       -      

Fiorano: 2,976m Fastest Lap 1999 - M. Schumacher, 25/3/99, 1:01.518  


Testing at Magny Cours 5-6 May 1999

Pos  Driver       Best      5th     6th May 
 1.  M. Heidfeld  1:17.950   -      1:17.9  
 2.  M. Hakkinen  1:18.100   -      1:18.1  
 3.  O. Panis     1:19.650  1:19.6   -      
 4.  J. Trulli    1:20.620  1:20.6   -      

Magny Cours: 4,247m Fastest Lap 1999 - R. Schumacher, 3/2/99, 1:17.890 


Testing at Nogaro 7-9 May 1999

Pos  Driver          Best      7th     8th     9th may 
 1.  M. Salo         1:17.032   -      1:19.3  1:17.0  
 2.  P. Diniz        1:17.281  1:19.2  1:19.8  1:17.2  
 3.  J. Herbert      1:17.626   -      1:21.9  1:17.6  
 4.  R. Barrichello  1:17.776   -      1:20.9  1:17.7  
 5.  J. Villeneuve   1:17.916   -      1:19.7  1:17.9  
 6.  R. Schumacher   1:18.920  1:18.9  1:19.5   -      
 7.  A. Zanardi      1:19.360  1:19.3  1:19.8   -      

Nogaro: 3,636m Fastest Lap 1999 - M.Salo, 8/5/99, 1:17.032