With the 1999 Grand Prix scene entering its third race of the season, we could be poised for a San Marino GP full of surprises - if the 3-day test at Jerez last week is anything to go by.
Granted, in Brazil, although McLaren was by no means shot of their reliability troubles, they were clearly dominant, leading the way through the weekend at Interlagos. Stuck behind Michael Schumacher after his mysterious sudden slowing on the third lap, Mika played with the Ferrari until his chance came - to turn it on when the red car was out of his way and end up in an easy lead after his own pit-stop.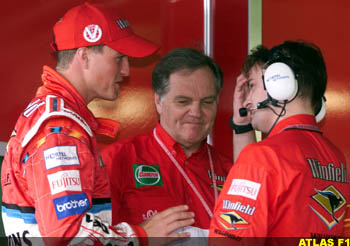 But testing last week in Jerez showed that Imola could just be a surprise. It must not be forgotten though, that any of the top teams could have been 'sandbagging' in the testing, while others may have been on low fuel and qualifiers to show some much needed form.
Despite much talk among the Mecachrome/Supertec/Playlife users, of that source's lack of power of late, it was a so-powered machine that came away from a fully-supported test the fastest. And it was the most successful combination from those users of ex-Renault powerplants this year so far, Ralf Schumacher, who came away king of Jerez.
Ralf has shown extreme maturity so far this year, and despite his claimed lack of pace, he's been there when it counted most. So Ralf's pace at Jerez adds some spice of expectancy as the circus heads for Imola.
Second fastest was David Coulthard, who despite good pace, suffered from reliability with the McLaren. Fastest on day 2, David handed the sole McLaren to Hakkinen on the last day, but Mika's progress was hampered by searing temperatures, leaving the Finn an unfamiliar sixth for the week. Despite an engine failure, Coulthard also spent time in the pits after going off early on, and then experienced hydraulic problems.
Michael Schumacher was third overall, after leading the first day, when he set his quickest time of the test almost out the box. He concentrated on race settings thereafter, although a transmission gremlin curtailed his final race distance, with two laps to go. He lost much of his testing time on Friday after an engine failure. Eddie Irvine only tested Saturday, setting 13th fastest.
Fourth - and continuing to show Prost Peugeot's continued improved pace in '99 - was Jarno Trulli, working on a variety of tests on tyre, chassis and engine, although Jarno did have a mill expire. Alex Wurz further confirmed his engine's presence, with a reliable week in the Benetton, ending fifth ahead of Hakkinen. Alex Zanardi was in impressive form, with seventh fastest. He hopes that the "demon" is finally out of his car and is looking forward to a return to form at his home race in San Marino. Williams is hoping for an even better result in Imola, than they've achieved in the first two races.
Olivier Panis ended eighth in the other Prost, from Barrichello, a little off where we'd expect him after his early-season showing. But Stewart was hindered by engine failure. Even so, the team were pleased with the progress they made during the test. Barrichello's Friday engine failure mirrored that which put him out of the Brazilian GP. The team hopes to cure this piston-related problem in new-spec engines expected to be race-ready in time for Imola, Barrichello used such a mill on the Saturday without problems. Johnny Herbert also lost most of Friday with electrical problems, his best time set on that day, sixth on the day and eleventh fastest overall.
Considering Jacques Villeneuve was just a second off the pace in tenth, not only are things looking up for BAR, but if the pace is so close at Imola, we're in for a good weekend - perhaps a race, for once, open to a good number of possible victors. But Jacques' time at Jerez was by no means an easy one, with many interruptions due to a variety of little reliability problems. Ricardo Zonta is confirmed as a non-starter at Imola; Mika Salo will drive there for BAR. Mika tested at Jerez on the first day, the Finn was delighted with the car.
Jordan was conspicuous by their absence from the top of the Jerez time sheets, but Heinz-Harald Frentzen left Jerez a very happy man, having only run in race trim. Both Jordans were impressively consistent in their efforts and only a clutch problem hampered the German. Damon Hill, although relatively slow, ran trouble free throughout.
Although Marc Gene's fifteenth quickest was on a qualifying set-up, Minardi must be satisfied with progress. Gene took over from a still sore Luca Badoer, who'll be back in San Marino. Sauber had a most troubled first two days testing, before packing up early with both drivers rather frustrated men. Arrows were the only team not in Jerez.
So, where does all that leave us?
The McLarens definitely left Jerez well off their expected form. They may have been playing their usual game of cat and mouse, but then their reliability in Spain remained questionable. Ferrari and Schumacher were closer to the pace - something, which if continues on Friday and Saturday should see a big crowd at Imola on Sunday in support of the championship leaders. But the pace Michael was close to in Spain wasn't that of the McLarens. Williams' speed last week hopefully points to a close weekend's racing at Imola. The same goes for Prost, Benetton and even BAR, all of whom could be a far bigger factor in the F1 equation when the Euro season starts Sunday.
The other revelations of the season thus far - Barrichello and Frentzen - cannot be discounted, especially the German, who could be in a surprising championship position after the weekend... His team mate has kept out of the limelight since Brazil, but don't ever discount Damon.
We must wait now for Friday, when the trends for the weekend will start to become apparent. With a little luck, it may not be the expected status quo...

Test Times Summary