Anyone looking at last week's Formula One testing times at Barcelona would be convinced that the old school will be back at work in front of this weekend's Spanish Grand Prix. Indeed, World Champion Mika Hakkinen's McLaren-Mercedes only just fended off Michael Schumacher's championship-leading Ferrari, on a circuit not expected to favour the Italian car. Next came former World Champion, Damon Hill, providing the Jordan folk with something to smile about. David Coulthard ended up fourth, from Olivier Panis, heinz-Harald Frentzen, Ralf Schumacher, Pedro Diniz, Jarno Trulli and Jean Alesi bringing up the top ten.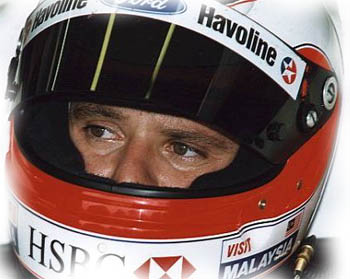 But it's none of the top ten who I expect to make the most of Barcelona's extensive testing in the past months, and to get a firm grip on what's due this coming weekend, one should look further back in time than just last week's Barcelona activity.
Stewart-Ford's wrap-up of last week simply mentioned that the team was concentrating on race set-up in anticipation of the weekend. So why is that so significant? Rubens Barrichello was, after all, only fourteenth last week. That he was, but late in March, at the previous Barcelona test, Rubens circulated the Spanish racetrack in 1:20.5, almost exactly half a second quicker than anyone's been around there since Mika Hakkinen's pole position lap last year.
And Rubens has been quick every time he's been at Barcelona this year.
The Stewart isn't the only car that surprised at the Spanish circuit in testing this year either. Jarno Trulli left Barcelona quickest after the February test there, his Prost-Peugeot pipping Barrichello at the post after an extensive few weeks' testing. Jarno was also quick in the March session, ending just behind Herbert's second Stewart and teammate Panis. Prost, too, say that they spent last week concentrating on a good race set-up for Sunday.
Of the rest, the McLaren twins of Hakkinen and Coulthard were next up in overall Barcelona times so far this year, from the Jordans of Frentzen and Hill. Benetton's Alex Wurz was next, from Panis and Michael Schumacher, who - it must be said - has spent considerably less time than many in Spain this year.
Yes, overall form so far this year promises another Hakkinen/Schumacher, McLaren/Ferrari epic, as the apparent underdogs attempt to wrest a more unlikely victory this time, to firm their grip on the World Championship. Ferrari make no bones of the fact that Barcelona doesn't suit their machinery. But last week's times do hint otherwise.
If we look back at longer-passed Barcelona test sessions, it becomes clear that there's more than one dark horse lurking in the Spanish wings. It's likely that something else besides a McLaren or a Ferrari can occupy the front row of the grid on Sunday afternoon, But do any of those men have the equipment, team and tactics to keep the first division boys off their upper steps of the podium?
Other than Prost and Stewart, Jordan could spring a surprise, Frentzen's running like a train in '99 and Damon surely wants to forget his slow start to this season with a little success. BAR could well approach the front. That considering Mika Salo's testing progress early last week - and remembering the team will have a little spring in their step, now that they're the works Honda equip next year. Like his fellow ex-World Champion Hill, Jacques Villeneuve must be itching for a result too.
Benetton, Williams and Sauber have all shown promise at times in testing at Barcelona, so much so that examining the closeness of the times in the tables below is highly recommended. It all adds up to the possibility of a cracker of a race on Sunday.
But whoever else wins in Spain must first beat McLaren and Ferrari. Quick laps and even a pole position are one thing, but to beat the big guns over a full race distance is another. Altogether.

Test Times Summary

Barcelona Testing, February through May 1999          

Pos Driver          Best      Feb     Mar     May     
 1.  Barrichello    1.20.591  1:21.1  1.20.5  1:23.6  
 2.  Trulli         1:21.090  1:21.0  1.22.3  1:22.8  
 3.  Hakkinen       1:21.141  1:21.1    -     1:21.7  
 4.  Coulthard      1:21.468  1:21.4    -     1:22.4  
 5.  Frentzen       1:21.469  1:21.4  1.23.2  1:22.5  
 6.  Hill           1:21.530  1:21.5  1.23.2  1:22.3  
 7.  Wurz           1:21.560  1:21.5  1.24.3  1:24.2  
 8.  Panis          1:21.630  1:21.6  1.22.3  1:22.4  
 9.  M.Schumacher   1:21.690  1:21.6    -     1:21.8  
10.  Alesi          1:21.720  1:21.7  1.23.2  1:23.0  
11.  Gene           1:22.825  1:22.8  1.23.9  1:25.3  
12.  Fisichella     1:21.899  1:21.8  1.24.1  1:24.2  
13.  Herbert        1:22.101  1:22.3  1.22.1  1:23.4  
14.  Diniz          1:22.590  1:22.5  1.24.0  1:22.7  
15.  R.Schumacher   1:22.761    -     1.25.0  1:22.7  
16.  Salo           1:23.013    -       -     1:23.0  
17.  Irvine         1.23.285    -     1.23.2  1:24.0  
18.  Takagi         1:23.306  1:23.3    -     1:26.2  
19.  Zanardi        1.24.335    -     1.24.3  1:23.6  
20.  Villeneuve     1.23.346    -     1.23.3  1:23.4  
21.  de la Rosa     1:23.596  1:23.5    -     1:25.9  
22.  Badoer         1:24.634     -      -     1:24.6  

Barcelona Testing, 19-21 May 1999                     

Pos  Driver         Best      19th    20th    21st May
 1.  Hakkinen       1:21.723  1:23.3  1:22.6  1:21.7  
 2.  M.Schumacher   1:21.841  1:24.5  1:23.5  1:21.8  
 3.  Hill           1:22.357  1:24.7  1:23.3  1:22.3  
 4.  Coulthard      1:22.416  1:23.9  1:22.6  1:22.4  
 5.  Panis          1:22.470  1:25.1  1:23.2  1:22.4  
 6.  Frentzen       1:22.529  1:24.5  1:23.8  1:22.5  
 7.  R.Schumacher   1:22.761  1:23.9  1:23.0  1:22.7  
 8.  Diniz          1:22.792  1:25.8  1:24.1  1:22.7  
 9.  Trulli         1:22.818  1:24.8  1:23.9  1:22.8  
10.  Alesi          1:23.000  1:24.8  1:23.9  1:23.0  
11.  Salo           1:23.013  1:23.9  1:23.0  1:23.5  
12.  Herbert        1:23.437  1:25.6  1:24.9  1:23.4  
13.  Villeneuve     1:23.482    -     1:24.4  1:23.4  
14.  Barrichello    1:23.611  1:24.5  1:24.8  1:23.6  
15.  Zanardi        1:23.612  1:24.6  1:23.6  1:23.6  
16.  Irvine         1:24.052  1:24.3  1:24.0    -     
17.  Fisichella     1:24.223  1:24.2  1:24.6    -     
18.  Wurz           1:24.237  1:26.0    -     1:24.2  
19.  Gene           1:25.375    -     1:27.3  1:25.3  
20.  Badoer         1:24.634  1:26.2  1:24.6    -     
21.  de la Rosa     1:25.922  1:26.9  1:25.9    -     
22.  Takagi         1:26.212  1.26.2    -       -     

Barcelona Testing, Wet Times - May 20th, 1999         

Pos  Driver          Time                             
 1.  M.Schumacher    1:38.611                         
 2.  R.Schumacher    1:40.087                         
 3.  Hakkinen        1:40.159                         
 4.  Herbert         1:40.385                         
 5.  Trulli          1:40.428                         
 6.  Barrichello     1:40.757                         
 7.  Alesi           1:41.968                         
 8.  Diniz           1:42.793                         
 9.  Fisichella      1:45.152