Atlas F1 - the Journal of Formula One Motorsport - was founded in February 1995 and is now the longest running F1 website on the Internet.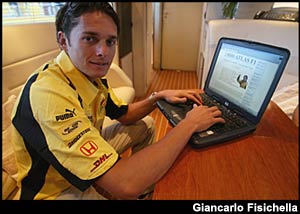 Atlas F1 offers in-depth and quality coverage of the sport, and the web site has made a name for itself among fans and professionals alike as the leading online publication, with unmatched and unrivaled reliability.

Atlas F1 was the first web site on the Internet to have signed a license agreement with Formula One Administration, and currently the only F1 web site with accreditation to the FIA Formula One World Championship Grands Prix.

Atlas F1 publishes more content every month on Formula One than ANY publication in the world, online or offline. The amount of content published on Atlas F1 per month equals more than 5 copies of F1 Racing magazine -- that's five month's worth of coverage produced every month!

No other F1 website has received as much kudos in the press as Atlas F1:
The 2003 BBC GP Review Magazine selected Atlas F1 as the best Formula One web site, stating that: "AtlasF1 has become the must-have portal for all dedicated F1 junkies. From a world-wide team of hugely respected columnists and journalists the site delivers the best daily news and information for F1 fans anywhere, together with a weekly 'webzine'. Facts are verified, speculation is never passed off as the truth and rumours are posted in their own 'Grapevine' section so as to differentiate them from reality. And although they're usually one of the first with news as well, the site contains a wealth of truly great material. [...] Call yourself a fan? It's only six pence a day! Worth it? Absolutely without question."

Johnny Herbert, former Jaguar Racing driver and three-time Grand Prix winner said of Atlas F1: "The equivalent of your weekly F1 newspaper and you don't even have to order it from your local newsagent."

"J Magazine" - Jordan Grand Prix's official periodical - writes about Atlas F1: "Probably the best site out there is Atlasf1.com. Founded in 1995, Atlas F1 has become the must-have portal for all dedicated F1 fans. With daily news updates and a weekly 'webzine', the site is subscription only - US$40 for a year. … Worth it? Absolutely, without question."

The BBC Web Guide labeled Atlas F1 as "some of the best motor sport journalism on the Net."

The F1 Links Directory writes about Atlas F1: "Arguably the Number 1 site on the web for the Formula 1 Junkie, it has that ingredient that is missing in a lot of glossy F1 sites - content. What did we ever do without it?"

Atlas F1 offers a wealth of information on Formula One, which includes among other sections:
Weekly Magazine: offers the most in depth, quality and varied coverage of Formula One by far. The Magazine is published every week on Wednesday throughout the year, and includes interviews, features, columns, commentary, and analysis.

Grand Prix Stats & Data: One of the features you can find ONLY on Atlas F1 is interactive data from Grands Prix - including easy-to-use comparison tools, which allow you to measure up lap times and sector times of drivers against each other.

News Service: The most reliable Formula One news service to be found anywhere on the Internet. We verify every fact published in our newsroom, insist on providing accurate, in-context quotes and never masquerade speculations as facts. Arguably the fastest service in providing news on the events: Grands Prix, testing, business and legal affairs are all covered thoroughly and professionally.

The Daily Grapevine: offers reports on rumours, speculations and other "soft news" from the world of F1. More often than not, the Grapevine's rumours turn out true. More often than not, The Daily Grapevine will report today speculations that become news tomorrow.

The Photo Gallery: Working with the finest photographers and photo agencies in the world, Atlas F1 offers an easy to use, versatile and quickly-updated photo gallery, with photos offered in low, medium and high resolution. Whether you are looking for portraits, car shots, action shots or technical shots - the Photo Gallery will have it all for you.

Atlas F1 has the largest staff of Formula One writers online, with over 20 writers around the world:
| | | |
| --- | --- | --- |
| Publisher: | Paul Kaizar | (USA) |
| Editor in Chief: | Biranit Goren | (Italy) |
| News Editor: | Pablo Elizalde | (Spain) |
| Grand Prix Editor: | David Cameron | (Italy) |
| Special Columnists: | Ann Bradshaw | (England) |
| | Doug Nye | (England) |
| | Keith Sutton | (England) |
| | Bjorn Wirdheim | (Sweden) |
| GP Correspondents: | Alan Baldwin | (England) |
| | Timothy Collings | (England) |
| | Gary Emmerson | (England) |
| | Will Gray | (England) |
| Senior Writers: | Roger Horton | (Australia) |
| | Karl Ludvigsen | (England) |
| | Thomas O'Keefe | (USA) |
| Magazine Writers: | Richard Barnes | (S. Africa) |
| | Marcel Borsboom | (Netherlands) |
| | Mark Glendenning | (Australia) |
| | Mark Alan Jones | (Australia) |
| | Tom Keeble | (England) |
| | Reginald Kincaid | (England) |
| | Mitch McCann | (USA) |
| | Dieter Rencken | (S. Africa) |
| | Marcel Schot | (Netherlands) |
| | David Wright | (Australia) |
| GP Illustrator: | Bruce Thomson | (Canada) |
| Technical Writer: | Craig Scarborough | (England) |
| Photo Editor: | Ross Stonefeld | (USA) |
| Assistant Editor: | Michele Lostia | (Italy) |
| BB Administrator: | Pascal Straatsma | (France) |




Former WilliamsF1 press officer
Ann Bradshaw;

F3000 Champion & Jaguar's 3rd driver
Bjorn Wirdheim;

Veteran Grand Prix photographer
Keith Sutton;

Author and former Ford executive
Karl Ludvigsen;

Historian and veteran journalist
Doug Nye;

Legal and business analyst
Thomas O'Keefe;

Formula One journalist and author
Timothy Collings;

Reuters motorsport correspondent
Alan Baldwin.