Stewart unveil the SF2; Minor problems for Ferrari; Coulthard: we are looking strong
©
---
Tuesday January 13, 1998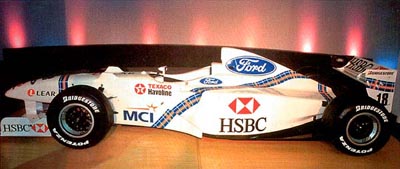 Stewart Grand Prix ended the 1997 season, their first, with a total of 6 points. Points earned by Rubens Barrichello's second place in Monaco. The main problem for Stewart was their reliability and especially the reliability of the Ford engine. But inexperience also played a part.
Now with the presentation of the new Stewart-Ford Jackie Stewart says "we still have a great deal to learn."
He also added: "In many ways 1998 will be more difficult than our first year. People might say that if only we can be reliable we will be competitive. That would be asking too much too soon. I expect a conservative year, a year of consolidation."
His son Paul stated: "I want to see us qualify regularly in the top ten and finish far more races, which in turn should bring us regular points. Our aim is to be a top six team at the end of 1998. Most first year teams never make it to the second year but we haven't robbed the second year budget to pay for the first year. We had spent even more money on developing our second year car."
Rubens Barrichello, who will again team-up with Jan Magnussen said: "My own feeling is that the new regulations in Formula One this year might well give the smaller and younger teams a bigger chance. Not only that, but for the first time we will have a Ford engine created specifically for this car."
---
Minor problems for Ferrari
The first kilometres for the new F300 Ferrari have been rather successful. The team did suffer some minor problems especially with the new gearbox but the team was overall pleased with the result so far. The car has driven 429 km until now. Ferrari spokesman Claudio Berro said: 'Like a race and a warm-up, with no major breakdowns.'
---
Coulthard: we are looking strong
Both David Coulthard and Mika Hakkinen are looking forward to the season. They believe they can compete at the front of the field especially because Adrian Newey is on their team.
Coulthard is looking to repeat his 1997 Melbourne win: "I do not see any reason why we cannot win again. Adrian, the other engineers and reliability will see us out in front.
---
[ Previous | News Index | Next ]