Schumacher blames Coulthard (Belgian Grand Prix)
©
Terms & Conditions
---
Sunday August 30, 1998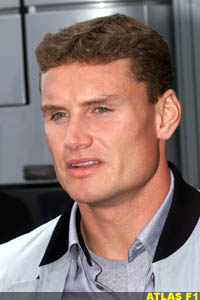 "I am very annoyed about what happened," said Michael Schumacher shortly after he retired from the Belgian Grand Prix, following a crash with McLaren's driver, David Coulthard. "It was clear that we would have taken the lead in the championship, as I was by far the fastest car on the track. Coulthard seemed to be running 5 to 6 seconds slower than his real pace once I was behind him. When he rejoined the race he was much quicker again. Obviously lifting on the straight like he did when I hit him is very dangerous. He has the experience to know that you do not slow down on a straight like that without giving any warning. So one could think he did it deliberately."
Ferrari team boss joined Schumacher in his criticism over Coulthard, saying: "What happened to Michael is very serious. He was stuck behind Coulthard for over a lap, despite the waved blue flags. The McLaren driver slowed down noticeably on the straight when doing around 200 km/h. The deceleration was violent and in the wet conditions the impact was inevitable. The consequences of this incident could have been much more serious."
However, David Coulthard rejected the accusation. "(Schumacher) came into the garage saying that I tried to kill him...I find his behaviour totally unacceptable. If he wanted to discuss it, man to man, there wouldn't have been a problem. If he wants to accuse me of things like that then I have no interest in talking to him. The allegations he made were untrue. I have given my side of this. Michael Schumacher has given his. I am 100 percent certain that I did nothing wrong. I could see him coming from the the previous corner. In those conditions, like that, you are not looking in your mirrors all the time. The team had asked me to move across and tuck in on the right to keep out of his way. I did that and then he just drove straight into the back of my car. I did nothing wrong. I think what Michael said and did is disgusting, especially accusing me of trying to kill him."

On another clash Schumacher had with McLaren, the German also commented, referring to the incident at the start which saw him overtake Hakkinen, who subsequently spun out of the race. "At the second start I was on the outside of Hakkinen and I tried to leave a bit of room. He was forcing me a bit wide, but I had the better line and could accelerate better out of the corner. It is very disappointing to still be seven points behind in the championship, when I could have left Spa with a three point lead."
---
[ Previous | News Index | Next ]