Biaggi gets a taste for Formula One
©
Terms & Conditions
---
Tuesday January 19th, 1999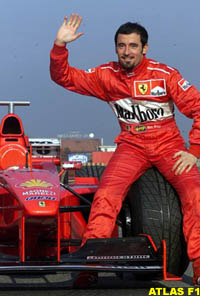 Four-times motorcycle World Champion Max Biaggi made his Formula One car debut today, driving Michael Schumacher's Ferrari F300 at the factory test track at Fiorano, Italy.
The Italian completed 57 laps of the circuit at Maranello, and impressed Ferrari chiefs have hinted he may have further tests with Scuderia Ferrari Marlboro later this year. Biaggi has often indicated he would like to make the switch to four wheels once he has achieved all his goals on two wheels.
"This is a dream come true," he beamed. "It's another important moment in my career, maybe not as much of a thrill as winning four World Championships but it comes very close."
In cool, sunny conditions Biaggi had five outings in the F300, getting progressively quicker as the day went on. His fastest time of 1m 06.5s stunned Ferrari race personnel, since Schumacher's '98 lap record stands at 1m 0.08s, and Biaggi tested with '99 F1-spec tyres, which are more heavily grooved than '98 tyres.
"When I first climbed into the car I felt a total prisoner. On a bike you feel really free but it's very claustrophobic inside the cockpit. It was different once I was out on the track though - I felt very safe and quickly felt at ease with the car. Of course, the speed and acceleration are incredible and you get a huge amount of vibration from the track. The biggest difference is braking - in the car you can brake much, much later than on a bike.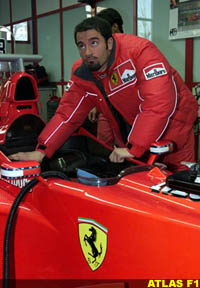 "It's been a fantastic day. I've enjoyed myself very much, very, very, very much and I'd like to thank everyone at Ferrari, especially chairman Luca di Montezemolo, who invited me to drive the car."
Di Montezemolo indicated that Biaggi may get another chance to test a Ferrari. "I don't think this will be the only test we will do together," he said. "Maybe we'll do this again."
Biaggi - who won four back-to-back 250 titles before taking second place in last year's 500 series, his debut season in the premier class - admits he still dreams of racing a Formula One car for real. "When John Surtees (the only man to have won world titles on both two wheels and four) told me I should get into Formula One, I didn't believe it was possible," he added. "But now I don't think it's so improbable, it could happen. Even so, my first love is still motorcycles."
Biaggi returns to motorcycling duties on January 26, embarking on his 1999 pre-season testing programme at Phillip Island, Australia.
---
[ Previous | News Index | Next ]