Eddie Irvine speaks
©
Terms & Conditions
---
Saturday January 23rd, 1999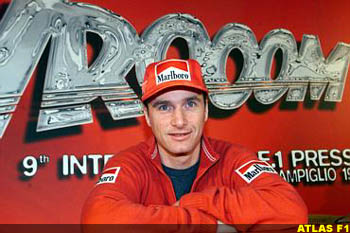 Eddie Irvine inaugurated the "9th VROOOM F1 INTERNATIONAL PRESS MEETING", at the Madonna di Campiglio - the traditional winter event organised by Marlboro on the slopes of Madonna di Campiglio, in Trentino. Irvine discussed with the media his 1998 season and his prospects and ambitions for the new world championship that is about to begin. The Ferrari driver looked in good shape, relaxed and ready for the new challenges ahead. He spent the winter months preparing himself without the stress of testing, as he only drove a couple of days in Barcelona.
"After last year's results where I got my best ever championship finish with 4th place overall, now, for this year, I want to do even better," Said Irvine to the press. "It would be really great if we could end up first and second. I realise that it's going to be very difficult because I know that my role is to help my team-mate win, but I still hope that while obviously performing as requested by the team I can still perhaps get my first Formula One victory. All this will depend on how competitive the new car will be right from the start of the season. Last year, Ross Brawn and Rory Byrne designed a car that was fairly conservative because reliability was their prime concern. I think that we can be happy with the overall 1998 results because we ended the season very close to our main rivals. Now, for the new Ferrari we need that extra speed so as to be up there right from the first race in Melbourne"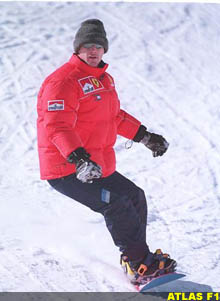 Irvine is convinced that this year there won't be too many surprises. He thinks that it will again be a battle between Ferrari and McLaren: "In its first test, the new BAR seemed to have gone fairly well, but I don't think that they will be able to be up to the level of the top teams. Occasionally Jordan and Williams might be able to win a race or two, but I don't consider them as being championship challengers."
Then, when talking about his status within the Scuderia Ferrari Marlboro, Eddie said: "I never have any problem with my fans who always give me a warm welcome wherever I go, but unfortunately the Italian press always seem to want my scalp, but I understand them. They have to write pages and pages about Ferrari every day. The team have confirmed me so I don't consider myself under examination. Formula One drivers are well paid but, if they fail to deliver, it's only right that they be sacked. I am not worried about this because, with the exception of my team-mate and Hakkinen, I managed to beat all the other so-called number one drivers. So my goal for this year is to win my first ever F1 race whilst still respecting the team objectives which are very clear - to win the world championship."
When commenting on the tests so far and the new tyre situation, Irvine added: "I don't think that the fact that all the teams will be on the same Bridgestone tyres will necessarilly be an advantage for Ferrari. One thing is sure, there'll be one less unknown factor to deal with, there'll be no excuses. As far as testing is concerned Eddie reckons that the reduction to 50 days a year will not be a major problem."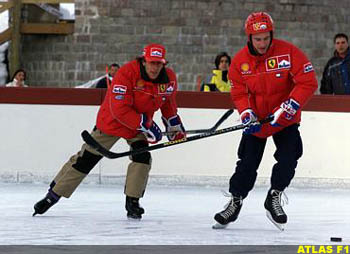 Irvine was asked what was Michael's secret that enabled him to be such a quick driver: "I think that he has an exceptional natural ability. From the technical point of view I don't think that he is that superior to the other drivers. I am better that him in some areas, he too has some weak points. I know what they are but it's not up to me to reveal this in public. Find out for yourselves. It would be much better for us to try and unearth the weaknesses of our rivals."
Finally the Ulsterman concluded by talking about the forthcoming season: "Last year we were better than McLaren in race strategy and in reliability. Now we need a faster car, hoping that our rivals won't come up with something that will give them some other huge advantage. As I said, I want to win my first race but my job is to help Michael. Last year, I let him pass five times. Now for the 1999 Formula One championship I hope that we can be quicker than McLaren immediately. They are the title holders, so now they need to worry about us because we are hungry to take their crown away".
---
[ Previous | News Index | Next ]