Williams is optimistic about new car
©
Terms & Conditions
---
Monday January 25th, 1999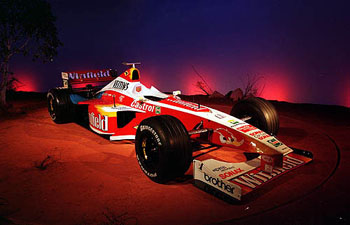 The Williams team presented their 1999 challenger in a very Winfield Australian setting today. Frank Williams said he was optimistic of the changes this new car has of taking on McLaren and Ferrari, but it still did have to prove itself on the track.
Williams is looking to win races because last year was a disaster with respect to success. He stated: "I have always felt humiliation does us good. But we're going into the new season with the aim of winning races. We have not gambled with the car. I cannot predict if the car will win races but I think it can. We are looking forward for a new opportunity and an exciting season. This is the first time I have seen the car complete and it looks very impressive. It is not a year of transition for us, but one season which can be taken very seriously. We are very optimistic about its chances but we will have to wait and see throughout this week and the rest of the season."
"I knew it would be difficult to readjust to formula one, but I am finally getting close to where I want to be for the first race. The new engine is a little step forward and there is more to come. I cannot wait to see how it performs in the new car. I am very encouraged," Alex Zanardi said.
Ralf Schumacher stated: "I am quite optimistic the car will be what I like. I tested last year's car and we know the areas that needed to be improved. Our expectations are very high. This is a very important year for the team. This is only my third season in Formula One, so to be with a top team is great. My aim is to win races with them."
---
[ Previous | News Index | Next ]