Friday August 27th, 1999
McLaren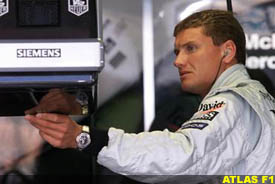 David Coulthard: "Another productive Friday as we tried alternative settings for the car. The tyres are much better through the fast corners than everyone had anticipated and I am feeling comfortable with the handling. All in all a good day's practice."
Mika Hakkinen: "Everything today was normal for a Friday. We worked on different set ups to prepare for the race on Sunday and I think we have done some pretty good work. I changed to a new set of tyres right at the end of the session but I came upon some traffic on my quick lap, so I wasn't able to put in as fast a lap as I would have liked."
Ron Dennis: "An uneventful practice which saw both Mika and David trying various set ups. It is of course difficult to predict the traffic leaving the pit lane exit, which on such a long lap makes it that much harder to find a clear track. Both drivers encountered traffic on their optimum laps which gives us clear room for improvement tomorrow."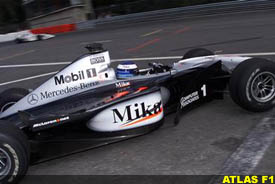 Norbert Haug: "Both David and Mika continuously improved during both sessions and the team certainly worked in the right direction. It was quite unusual to have a whole day in Spa not being interrupted by rain and this helped us to find a good base for tomorrow's qualifying and Sunday's race."
Benetton
Giancarlo Fisichella: "After the performance in Hungary, I expected this result. The car isn't perfect yet, there is still some understeer that we haven't yet managed to rectify. In today's sessions, we worked through the planned programme and then at the end I ran on a new set of tyres and posted the third fastest time. I aim to qualify in the first three rows tomorrow."
Pat Symonds, technical director: "Although Friday's times are never a good indication of the level of competitiveness of the teams, it is nevertheless encouraging to see Giancarlo in third position. Naturally he ran new tyres at the end of the session to achieve this. With Alexander's car we appear to have a problem which is causing huge understeer and throughout this morning's practice we were not able to cure this. We need to have a good look through the car tonight to find the root of the problem."
Jordan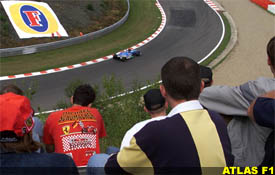 Heinz-Harald Frentzen: "We look very competitive and the session was going well until I crashed. It is a pity we could not continue our programme as we were doing some very good work. The accident was unnecessary and it was my fault. I went too quickly into the corner and I lost it. I went off on the dirty and there is not much space on that part of the circuit between the track and the armco and I just slid into the barrier and damaged the front and rear suspensions. I did not hurt myself at all. The impact was minimal but unfortunately the way I crashed meant there is quite a lot of damage to the car so I am worry that my mechanics will have to work so hard to build the car up again for tomorrow."
Damon Hill: "We are looking competitive again today which is good news. We did some good set-up work which showed in the lap time at the end of the session. I think we should do well in qualifying. I have great memories of this circuit and it is good to be out here racing again."
Williams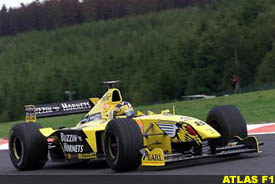 Ralf Schumacher: "I am quite happy with my car today as it was well balanced and I must say that on this kind of track we can get the best out of the FW21. We had a fairly good performance and I hope that tomorrow will be the same. I definitely like the track here at Spa and I feel quite optimistic for tomorrow's qualifying where I expect that we could be quite high up the grid."
Stewart
Rubens Barrichello: The car feels very strange at the moment. I was battling with instability at the rear and a lot of the set-up changes I made didn't work out. The car is good in the high speed corners but I'm losing time in the low speed corners through lack of traction. I'll be spending a lot of time with my engineer to find a better balance for tomorrow."
Johnny Herbert: "I'm happy with the balance of the car and managed to put in a good time towards the end of the second session. We are still missing a bit of mechanical grip but I'm sure we can find that in time for qualifying. I must say I really like Spa and I'm confident that I can qualify in the top six."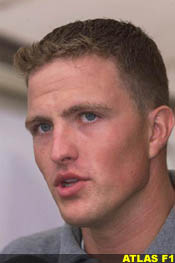 Paul Stewart, Chief Operating Officer: "We struggled a little in the first session for pace but by making several set-up changes we were able to improve the balance. We also carried out some tyre evaluation to find a direction for tomorrow. It's nice to see Johnny reasonably well placed at this stage of the weekend. Rubens feels he has some work ahead of him to improve the balance of his car."
Martin Whitaker, Director, Ford Racing, Europe: "An uneventful day from an engine point of view where we experienced no problems. Both cars will be fitted with new engines overnight."
Ferrari
Jean Todt: "Today we worked mainly for the race. We still need to make changes to optimise the set-up of our cars. We did a lot of laps and with all the data we have thus acquired, we will be able to make the necessary modifications for tomorrow. At that time, we will also work on our qualifying trim."
Eddie Irvine: "We have a lot of work to do because the car's handling is all over the place. I had oversteer and understeer and I was locking the front and rear brakes. I concentrated on working for the race, but to be honest we made very little progress and I think the car was actually worse at the end of the session than at the beginning.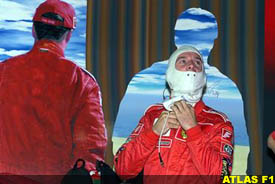 At the end, I tried a new set of tyres, but I did not push too hard as I want to save them for tomorrow."
Mika Salo: "Because of the accident at the start last year, I missed the race so it is good to be back in action on my favourite circuit. We seem to have a lot of support around the track which is encouraging. We had a good test last week and the high-speed running I did at Mugello has helped me a lot. We improved the car throughout today's session, including the last run where it got even better. So far it looks okay. But there are still some parts of the track where the car could be better, so we must find the right compromise for tomorrow. I am not worried about my lap time today, as everyone is working on different programmes."
---