Saturday August 28th, 1999
McLaren Mercedes dominate qualifying
Mika Hakkinen and David Coulthard fought between themselves over pole position for Sunday's Belgian Grand Prix, the two McLaren-Mercedes drivers a full second faster than their closest rivals.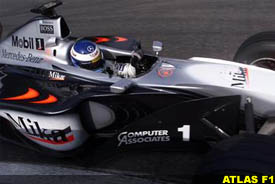 Hakkinen took his tenth pole of the season on his final run, beating Coulthard's best by one tenth of a second. "I improved my car for the final run, but a couple of small mistakes meant that I didn't improve my time," said Coulthard, both driver surprised to be so far ahead of the rest.
Jordan take the second row
Last year's winning Jordan team claimed the second row of the grid with Heinz-Harald Frentzen just ahead of his team-mate Damon Hill. Frentzen reckoned he could have been a lot closer to the McLarens but for the fact that he lost two run with two separate red flag incidents. "I had changed my car since the morning and it wasn't so good. I made some changes after my first run, but it wasn't until the last run that I was able to see if they worked. I wasn't able to fine tune the car and I wasted two sets of new tyres, so it was a pretty frustrating session for me," said Frentzen. Hill was happy with his car, but also lost one run because of the red flag.
Ralf Schumacher heads row three for Williams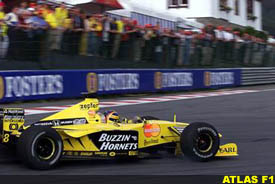 Ralf Schumacher complained of losing a little time an a possible place on the second row when he ran across a slower car on his best lap with his Williams which left him on the third row of the grid. Alex Zanardi was back in eighth place, the Italian still complaining of braking problems .
Irvine starts a disappointed sixth for Ferrari
Although Eddie Irvine had managed to improve his car for qualifying, he was disappointed not to be able to better sixth fastest. "There wasn't one sector where the car was any worse than the other parts of the track. I didn't think we would be able to beat the McLaren's, but I hoped we could be ahead of the others but it just wasn't possible," said Irvine. "I had some understeer on my last run and I was also slowed by traffic. Mika Salo had a similar session to Irvine to end up ninth fastest.
"I just couldn't get the maximum performance out of the car," said Salo, who was more optimistic with the car's performance in race trim. He was also delayed by the two red flags and only got one good run.
Black day for BAR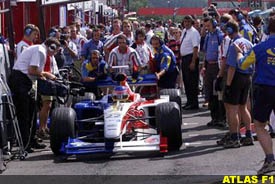 Both the red flag incidents were caused by bad crashes for both BAR drivers at the infamous Eau Rouge corner. Jacques Villeneuve was the first to crash when he clipped a kerb while flat out. "I thought I could hold the car, but the back end came around," said Villeneuve whose car was destroyed when it hit the barriers and rolled without injury to Villeneuve. He later went out in the spare car, but that was handling so badly he decided to end practice with what was to be 11th place with his first flying lap. A few minutes later, team- mate Ricardo Zonta brought out another red flag when he lost control of his car at the same place and bounced off the barriers on the inside. He too was miraculously unhurt, his car destroyed in the impact. The team immediately diverted two test cars that were on the way to next week's Monza test.


Pos  Driver        Team                 Time                   
 1.  Hakkinen      McLaren Mercedes     1:50.329   227.364 kmph
 2.  Coulthard     McLaren Mercedes     1:50.484     +  0.155  
 3.  Frentzen      Jordan Mugen-Honda   1:51.332     +  1.003  
 4.  Hill          Jordan Mugen-Honda   1:51.372     +  1.043  
 5.  R.Schumacher  Williams Supertec    1:51.414     +  1.085  
 6.  Irvine        Ferrari              1:51.895     +  1.566  
 7.  Barrichello   Stewart Ford         1:51.974     +  1.645  
 8.  Zanardi       Williams Supertec    1:52.014     +  1.685  
 9.  Salo          Ferrari              1:52.124     +  1.795  
10.  Herbert       Stewart Ford         1:52.164     +  1.835  
11.  Villeneuve    BAR Supertec         1:52.235     +  1.906  
12.  Trulli        Prost Peugeot        1:52.644     +  2.315  
13.  Fisichella    Benetton Playlife    1:52.762     +  2.433  
14.  Zonta         BAR Supertec         1:52.840     +  2.511  
15.  Wurz          Benetton Playlife    1:52.847     +  2.518  
16.  Alesi         Sauber Petronas      1:52.921     +  2.592  
17.  Panis         Prost Peugeot        1:53.148     +  2.819  
18.  Diniz         Sauber Petronas      1:53.778     +  3.449  
19.  Takagi        Arrows TWR           1:54.099     +  3.770  
20.  Badoer        Minardi Ford         1:54.197     +  3.868  
21.  Gene          Minardi Ford         1:54.557     +  4.228  
22.  de la Rosa    Arrows TWR           1:54.579     +  4.250  

All Timing Unofficial

---