Wednesday December 1st, 1999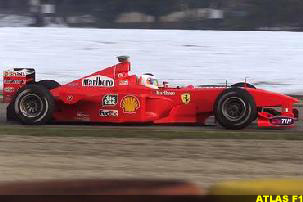 Several teams took the first opportunity to start testing again today. Rubens Barrichello took to the wheel of the '99 Ferrari. He drove 58 laps on the Maranello track. The Ferrari team stated that they were impressed with the Brazilian. He stated: "For me it's a great time and a great emotion to see my name written on a red car. We are still just testing the car. I feel like I have driven this car for longer because I feel very used to it." Barrichello again stated he will have some surgery on his ribs. The injury is a result of a crash at Imola back in 1994. "I have a small operation which I haven't had time to do yet, on my ribs (...) By December 20, I should already be able to do some exercise," he said.
David Coulthard was fastest on the Jerez track with a time of 1m 24.7s. Jarno Trulli came in second. Ralf Schumacher was in his Williams way behind Coulthard, but he stated however that he was pleased with the engine.

Pos Driver        Team     Time
1.  Coulthard     McLaren  1:24.74   
2.  Trulli        Jordan   1:26.99   
3.  Alesi         Prost    1:27.04   
4.  Heidfeld      Prost    1:27.63   
5.  R Schumacher  Williams 1:29.30

---