Tuesday December 13th, 1999
Johnny Herbert led the times on the second day of testing at Jerez today. He was more than a second quicker than 2000 teammate Eddie Irvine, having his first drive of the Stewart-Ford SF3.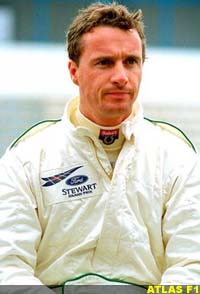 Irvine, however, seemed pleased with his first Jaguar ride, saying, "It is great to be back in a British team and I feel completely re-motivated. Speaking English certainly makes life a lot easier than it was with Ferrari." Irvine added that, "The only problem I've had has been that this car hasn't got power steering and I've got used to that in the last four years. It's been quite tough on my arms because of that."
Olivier Panis started McLaren's testing at Jerez on a good note, setting second fastest time just behind Herbert. Meanwhile, Jacques Villeneuve logged 57 laps in the new BAR-Honda, setting an impressive third best time, just ahead of Rubens Barrichello in the Ferrari.
Sauber ran two cars, this year's C18 with an ill Pedro Diniz and a modified C18 designated C18B with the new engine and gearbox for Mika Salo. Both drivers also tested some new components. "It was a brand new feeling to drive the Sauber Petronas race car. It is nice to do so many laps on the first day of testing. The new parts worked well and reliable," Salo commented.
Williams tested two young drivers today, Petrobras Junior Team driver Bruno Junqueira and Japanese Formula 3 Champion Darren Manning. They continued the development of the new BMW engine, as well as running some small items for the 2000 car. Both drivers will continue tomorrow.
Minardi continued their "young driver" tests, regular driver Marc Gene accompanied by Italian F3 champion Peter Sundberg, and F3000 drivers Max Wilson and Norberto Fontana. Unfortunately, varying weather conditions hampered Sundberg's time at the wheel.


Pos  Driver       Team                Time    
 1.  Herbert      Stewart-Ford        1:25.304
 2.  Panis        McLaren-Mercedes    1:25.515
 3.  Villeneuve   BAR-Honda           1:25.790
 4.  Barrichello  Ferrari             1:25.955
 5.  Irvine       Stewart-Ford        1:26.638
 6.  Diniz        Sauber-Petronas     1:26.710
 7.  Salo         Sauber-Petronas     1:26.715
 8.  Gene         Minardi-Ford        1:28.450
 9.  Junqueira    Williams-BMW        1:28.718
10.  Manning      Williams-BMW        1:29.189
11.  Wilson       Minardi-Ford        1:29.462
12.  Fontana      Minardi-Ford        1:31.739
13.  Sundberg     Minardi-Ford        1:44.256

---