Saturday December 18th, 1999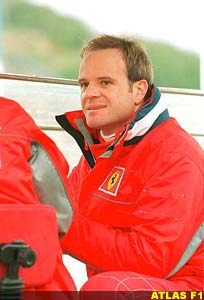 Barrichello Quick at Jerez
Rubens Barrichello has concluded his test of the Ferrari F399 at Jerez yesterday and he will now fly back to Brazil. He posted second fastest time (1:23.183s) behind Johnny Herbert and reported that he was very happy with the tests although the temporary fix to his brake pedal was still giving him a painful right foot. "We were never after really fast times," he reported after covering more than 2500km during tests both earlier at Fiorano and subsequently at Jerez.
Coulthard and Panis at Jerez
David Coulthard and Olivier Panis continued the McLaren-Mercedes test programme at Jerez, Panis concentrating again on the development chassis fitted with the 2000 spec Mercedes V10 engine. Panis set a 1:25.617s best on Tuesday which he improved to 1:24.588s the following day when he was fastest overall and then managed 1:24.478s on Thursday although he dropped to fourth fastest on the day. Coulthard lost time early in the test with engine problems with his '99 spec Mercedes engine, but worked through a programme of tyre and chassis component testing on Wednesday (1:25.507s/4th) and Thursday (1:23.459s/3rd).
Jordan Working Back at Base
The Jordan Mugen Honda Team did not attend this week's Jerez test, preferring to remain at its Silverstone base completing developments on its 2000 electronics systems. "We will be out next week on the Silverstone national circuit, probably with Andrew Gilbert-Scott driving, to test out the electronics and make sure that the gearchange works properly," said Technical Director Mike Gascoyne. He added that he had been very impressed with Jarno Trulli during the two previous tests at Jerez and Barcelona. "He takes things steadily, step-by-step, but knows exactly where he wants to be," said Gascoyne.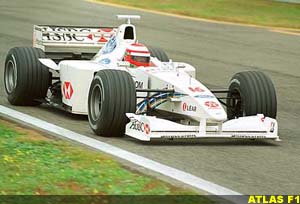 Irvine Upbeat about First Test
Eddie Irvine admitted he was impressed with what the 2000 season might have in store for him after testing a Stewart-Ford SF3 for the first time at the Jerez circuit on Tuesday and Wednesday."In some areas the car is better than the Ferrari," he said. "Overall I was impressed with the team set-up and the feel of the car. Coming straight into the team after driving a Ferrari at Suzuka in the Japanese Grand Prix five weeks ago makes it easy for me to make the comparison. I suppose the biggest problem was that it was really tough driving a car without power steering. After four years with power steering at Ferrari it was quite hard, but otherwise there were no problems."
Irvine completed 21 laps on Tuesday to set a best time of 1min 26.68sec, fifth fastest of the day and 1.3sec slower than his team-mate Johnny Herbert who set the pace and has much more experience with the Stewart-Ford combination. On Wednesday Irvine covered another 25 laps for a best of 1:26.99s with Herbert doing 69 laps, the fastest of which was 1:25.12s. Herbert stayed on alone at Jerez on Thursday when he set the fastest time of the week on 1:23.097s which was the fastest time of the week. The team's new test driver Luciano Burti also drove in the wet on Monday (1:42.545s/3rd), Wednesday (1:26.186s/7th) and Thursday (1:25.583s/5th)
Williams Give Young Drivers a Shot at Jerez
The Williams-BMW squad returned to Jerez this week where Petrobras Junior team F3000 driver Bruno Junqueira and Japanese F3 champion Darren Manning started a two day test programme. The technical priorities for the test were to continue developing the BMW V10 engine, to run a number of small chassis components for the forthcoming 2000 Williams FW22 and to assess Bridgestone tyres built to next year's specification. On Tuesday Junqueira completed 31 laps in the morning for a best time of 1:28.75s while Manning did 27 laps in the afternoon, his best being 1:29.24s. On Wednesday Junqueira improved to 1:26.78s after 22 laps while Manning covered 34 laps for a 1:28.88s.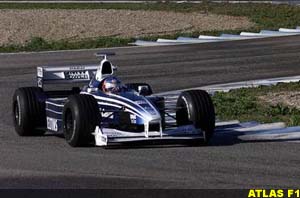 The BMW engine ran quite reliably until Wednesday afternoon when an oil system problem was discovered with the car when Junqueira was driving. For Thursday the team asked Jorg Muller to take over the test as they wanted to evaulate a new exhaust system and engine mapping, so they wanted a driver on hand with prior experience of the engine. He did only 15 laps for a best of 1:28.17s. Commented Gerhard Berger; "We can now trace back the problems with the oil system and are confident we will be able to solve them for the next test."
Benetton Sit Back and Plan Launch
The Benetton-Playlife team is still working hard on its new B200 challenger which will be officially unveiled at the Catalunya National Museum of Art in Barcelona on 17 January after which it will take part in the test session at the nearby Circuit de Catalunya circuit from 19-21 January.
Heidfeld Impresses at Barcelona
Nick Heidfeld impressed the Prost-Peugeot team during testing at Barcelona on Thursday when he completed 91 laps for an encouraging best of 1:22.0s. Heidfeld was working on optimising the set-up of this year's AP02 chassis fitted with the A18 spec engine. "I have never liked the car as much as I do here in Barcelona," he said. "On Wednesday we found a good rain set-up, and when I could test for the first time on the latest Bridgestone tyres on Thursday, the car ran really well." The test continues today (Friday).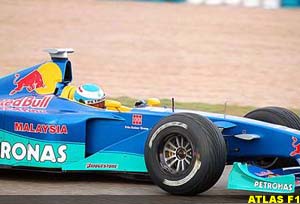 Hydraulic Troubles for Sauber
The Sauber-Petronas team had two chassis on hand in Jerez, this year's C18 fitted with a new hydraulic differential and the C18B which, as expected, had the new gearbox and revised Ferrari type 048B engine. Mika Salo started running with this interim car, but his Tuesday efforts were frustrated by teething problems and not until Wednesday did he manage 62 laps for a best of 1:26.745s. Pedro Diniz started testing late on Tuesday due to the fact he was suffering with a high fever. He covered 35 laps on Tuesday for a best of 1:26.877s and then another 26 laps on Wednesday, the fastest being 1:26.764s. Salo's car then suffered a leaking hydraulic accumulator which will be re-designed for the next test, but despite this Salo managed 64 laps on Thursday for a best of 1:24.78s while Diniz posted a fastest of 1:25.46s after 58 laps.
Arrows: Productive Tests at Barcelona
Arrows conducted a four day test at Barcelona from 9-12 December where Pedro de la Rosa, testing new gearbox internals for the new A21, produced the fastest time ever for one of the team's cars on this circuit on 1:23.02s after completing a total of 300 laps. Mark Webber, who recently signed to drive for the Arrows Junior team, also continued helping the team with electronics testing. Between 15-17 December the team continued to run at Barcelona working on gearbox programmes and new electronic systems for the 2000 season. De la Rosa was joined by Formula Nippon champion Tom Coronel who eventually managed a 1:26.3s best on a day when de la Rosa did a 1:23.9s fastest lap, Coronel losing much of the first day due to wet weather.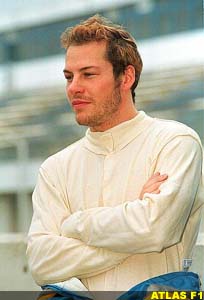 Gene Satisfied
Minardi testing at Jerez finished on Wednesday and Marc Gene reported he was very satisfied after lapping in a best of 1:25.545s. He concentrated on brake development work while Max Wilson and Norberto Fontana were also both tried by the team although no decision has yet been made about the second driver.
No Major Problems for BAR
British American Racing completed its test session at Jerez yesterday (Thursday) where Jacques Villeneuve and Ricardo Zonta between them covered almost 1000km without any serious problems. "Taking into account the tests in Silverstone and Jerez, it appears that the mechanical reliability we lacked during 1999 seems to have improved enormously," said Craig Pollock.
---