Friday December 31st, 1999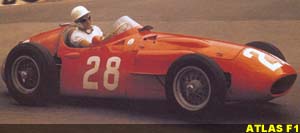 It sounds so natural: Sir Stirling Moss. The legendary British racing driver, who captured the hearts of millions of racing fans during the 50s, will be honoured on New Year as the Queen of England will award him with the British knighthood for his services to motor racing.
Moss, now 70 years old, participated in Formula One between the seasons of 1951 and 1961. He never won the World Championship - his best result was second on four consecutive seasons - but is still regarded as one of the best drivers of his era. He retired from racing after a horrific accident in 1962 at Goodwood, where he was badly injured and lay unconcious in the hospital for over a month.
Speaking after hearing of his knighthood, Moss admitted the honour means more to him that the sixteen Grands Prix races he won. "I have no regrets about not winning the WC title," Moss said today. "It was something I wanted very much but Fangio was the best driver in the world. This honour, however, is the acceptance of the British nation and that means more to me."
Moss receives the highest British honour a year after fellow countryman, Frank Williams, had been knighted for his services to motor racing as well.
---