Sunday September 12th, 1999
Frentzen takes win as Hakkinen stumbles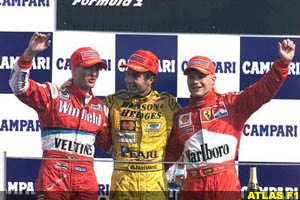 "I tried very hard to keep up with Mika, but he was just a bit too quick," said Heinz-Harald Frentzen, who had resigned himself to a second place finish to the Flying Finn in the Italian Grand Prix. Until lap 30 of the 53 laps race, that is. As Frentzen came into the first chicane for the 30th time he saw Hakkinen parked on the grass having just spun off under braking while holding a comfortable eight seconds lead.
"I couldn't believe it. I saw him spin off all on his own and thought maybe he had a lack of concentration or something," said Frentzen, who took over the lead and went on to his second win of the season for the Jordan team.
Hakkinen said later he had selected first gear instead of second into the corner which had caused him to spin. "It was my fault," said the frustrated Finn, who jumped from his car and threw his gloves to the ground in disgust at his own mistake, one which cost him the chance of pulling out a healthy lead over Eddie Irvine who is now equal in the World Championship standings after a sixth place finish.
Despite pressure from Alex Zanardi's Williams in the opening laps, and then even more pressure from his teammate Ralf Schumacher for the rest of the race, Frentzen kept a cool head and his four seconds lead all the way to the flag to take his second win of the year and third win of his career.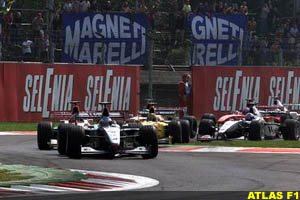 With only three races to go, Frentzen has also put himself right in contention for the 1999 World Championship just 10 points behind Hakkinen and Irvine and moving into third place overall two points ahead of David Coulthard.
Although it was a difficult weekend for Scuderia-Ferrari, Mika Salo made it a triumphant one for the Tifosi when a strong drive and good race tactics and pit stop from the team saw him take third place by the flag. "It was great to be on the podium again and it was particularly emotional in front of all the Italian fans," said Salo, who had started from sixth place on the grid.
Eddie Irvine made a cautious start from eight spot to come through to sixth by the finish behind David Coulthard, while Rubens Barrichello had driven a good race for Stewart-Ford to take fourth place behind Salo whom he had passed briefly only to lose out again at the pit stop.
"I made a bit of a cautious start as I knew it was vital to finish this race and that might have cost me one or two places. The car was still not too good in the race, but in the end I got one point and my nearest rival got none," said Irvine, who is now equal on points with Hakkinen for the title with 60 points each.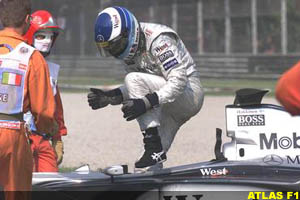 It was a hectic first lap of the race. Frentzen lost his second place to Zanardi at the start, but at Curva Grande his raced wheel to wheel to take it back again, a move which eventually ensured him his victory.
Alex Zanardi held his third place until lap 17 when he moved over to allow his team-mate ahead, Schumacher having won a wheel-to-wheel battle with Salo and Coulthard during the first lap. Lap 11 had seen Barrichello slipstream Coulthard down the pit straight before passing him in a classic out-braking move into the first corner which gave him his eventual fourth place.
Yet another demise for the McLaren team and a strong victory for the Heinz Harald Frentzen and the Jordan team has now set the stage for a thrilling four-way finish to the World Championship battle with three races to go.

Italian Grand Prix
World Championship of Drivers, round 12;
Monza, September 12th, 1999;
53 laps, 305,810 kms.
Weather: Partly cloudy and dry

CLASSIFIED

Pos  Driver        Team                  Time        
 1. Frentzen      Jordan Mugen-Honda     1h 17:02.923
 2. R.Schumacher  Williams Supertec         +   3.200
 3. Salo          Ferrari                   +  11.900
 4. Barrichello   Stewart Ford              +  17.600
 5. Coulthard     McLaren Mercedes          +  18.100
 6. Irvine        Ferrari                   +  27.400
 7. Zanardi       Williams Supertec         +  28.000
 8. Villeneuve    BAR Supertec              +  41.700
 9. Alesi         Sauber Petronas           +  42.100
10. Hill          Jordan Mugen-Honda        +  56.200
11. Panis         Prost Peugeot             +   1 Lap *

* retired with engine failure


NOT CLASSIFIED / RETIREMENTS

Driver        Team               On Lap   Reason         
Herbert      Stewart Ford          40     clutch         
Takagi       Arrows TWR            35     brakes         
de la Rosa   Arrows TWR            35     brakes         
Hakkinen     McLaren Mercedes      29     spun off          
Trulli       Prost Peugeot         29     gearbox         
Zonta        BAR Supertec          25     wheel bearing         
Badoer       Minardi Ford          23     accident with Takagi         
Wurz         Benetton Supertec     11     transmission/electronics         
Diniz        Sauber Petronas        1     spun off         
Fisichella   Benetton Supertec      1     spun off         
Gene         Minardi Ford           0     collision with de la Rosa         


Fastest Lap: R. Schumacher, lap 48, 1:25.579 (242,723 kmph)

Lap Leaders: Laps  1-29, Hakkinen;
             Laps 30-35, Frentzen;
             Laps 36-37, Salo;
             Laps 38-53, Frentzen.

Drivers Points Standings after 13 rounds:

 1. Hakkinen      60        =  Irvine        60
 3. Frentzen      50        4. Coulthard     48 
 5. M.Schumacher  32        6. R.Schumacher  30
 7. Barrichello   15        8. Fisichella    13
 9. Salo          10       10. Hill           7 
11. Diniz          3        =  Wurz           3
13. Herbert        2        =  Panis          2
15. Alesi          1        =  Trulli         1
 =  de la Rose     1                           

Constructors' Points Championship:

1. McLaren-Mercedes          108
2. Scuderia Ferrari          102
3. Jordan-Mugen Honda         57
4. Williams-Supertec          30
5. Stewart-Ford               17
6. Benetton-Playlife          16
7. Sauber-Petronas             4
8. Prost Peugeot               3
9. Arrows                      1

All Timing Unofficial

---