Friday April 21st, 2000
British Grand Prix organisers have told fans planning to drive to Silverstone to watch Saturday qualifying to stay at home because all the car parks will be closed due to heavy rain.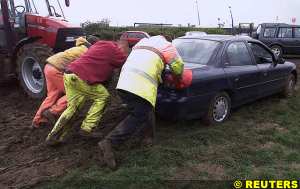 "Basically we are saying that if you bought Saturday tickets and you are not here already and were coming by car, do not come," said Peter Morris, general manager of corporate communications at the circuit.
Silverstone said in a statement that all public parking at the circuit would be closed on Saturday to all vehicles except coaches.
"Heavy rain during the build up to the event has caused damage and flooding to car parks. The action taken will enable work to be undertaken on Saturday so they are ready to cope with vehicles arriving for the main event, the Grand Prix race, on Sunday," the statement said.
Silverstone apologised to fans and said refunds would be arranged for Saturday ticket holders who decided not to attend.
Thousands of fans already camping around the circuit or able to reach the venue on foot would not be affected.
Morris said cars would be turned away by police. No buses would be laid on by organisers to help spectators reach the circuit.
To the dismay of drivers and teams the British Grand Prix has been brought forward to April from its traditional date in July this year and Silverstone appears to be suffering as a result.
Spectators were thin on the ground at Friday's practice sessions and Silverstone boss Denys Rohan has said that corporate hospitality bookings are down 25 percent on last year.
---