Saturday April 22nd, 2000
Barrichello Takes His First Pole for Ferrari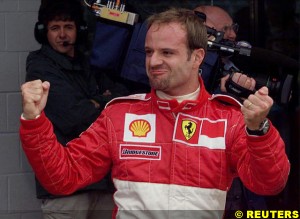 Rubens Barrichello timed his pitch for pole position just perfectly on the drying Silverstone track to claim his first pole for Scuderia Ferrari Marlboro, the third of his career, all set in similar changing conditions. "I like these conditions and I know Silverstone well. The team gave me a good car and we timed the final laps just right. I was lucky not to have any traffic. If it rains for the race, it will be a big help to start from the pole regarding problems of visibility."
A disappointed Michael Schumacher had to make do with the third row of the grid and fifth place. Like everyone he waited until the last possible moment to take advantage of the driest track conditions , but got the chequered flag just metres before the start of his final flying lap where he had been hoping to take pole. He had also made a last minute change to his car which did not work as he had hoped, prompting a couple of mistakes on his best lap.
Frentzen Shares the Front Row
Heinz-Harald Frentzen was knocked of the pole in the closing seconds of practice, but was never-the-less delighted to take the second position on the grid for Jordan's home race. "We have made some changes to the car for this race which have not had the chance to test properly, but seem to work quite well," said Frentzen. Getting a clear lap at the right moment was like flipping a coin. I was lucky and had a clear lap," he added. Jarno Trulli had his quick lap spoiled by a Williams , and then lost any chances of matching his team-mate's time with a spin on his final lap. It meant that he ended up a distant 11th quickest.
McLaren Take Row Two
A bad set-up for the drying conditions prevented Mika Hakkinen taking his fourth pole in four races. " I went out for a final two lap run. I made a mistake on my first quick lap and slowed up and I had to lift off in a couple of places on my next lap. We have to look at the data to find out what was wrong with the car," said Hakkinen , who still predicted a good race if he made a good start. Coulthard was also frustrated, traffic spoiling both of his final flying laps.
Button Delighted to be Sixth
"It's a great feeling to be starting my home race next to Michael Schumacher," said Jenson Button who took a creditable sixth fastest for Williams, He was just ahead of his own team- mate Ralf Schumacher, victim, like his brother, of bad timing when it came to his final laps.
In Brief...
Jos Verstappen briefly held the pole in the dying minutes of the session, but ended up eighth for Arrows after he spun off in his final lap. De la Rosa also made a mistake on his final run which left him back in 19th place.
Eddie Irvine made the top 10 for Jaguar with ninth place, but was another to lose his chances of a better lap when he missed the flag by 5 seconds.

Pos  Driver        Team                 Time                  
 1.  Barrichello   Ferrari              1:25.703 
 2.  Frentzen      Jordan Mugen-Honda   1:25.706   +  0.003
 3.  Hakkinen      McLaren Mercedes     1:25.741   +  0.038
 4.  Coulthard     McLaren Mercedes     1:26.088   +  0.385
 5.  M.Schumacher  Ferrari              1:26.161   +  0.458
 6.  Button        Williams BMW         1:26.733   +  1.030
 7.  R.Schumacher  Williams BMW         1:26.786   +  1.083
 8.  Verstappen    Arrows Supertec      1:26.793   +  1.090
 9.  Irvine        Jaguar Cosworth      1:26.818   +  1.115
10.  Villeneuve    BAR Honda            1:27.025   +  1.322
11.  Trulli        Jordan Mugen-Honda   1:27.164   +  1.461
12.  Fisichella    Benetton Playlife    1:27.253   +  1.550
13.  Diniz         Sauber Petronas      1:27.301   +  1.598
14.  Herbert       Jaguar Cosworth      1:27.461   +  1.758
15.  Alesi         Prost Peugeot        1:27.559   +  1.856
16.  Zonta         BAR Honda            1:27.772   +  2.069
17.  Heidfeld      Prost Peugeot        1:27.806   +  2.103
18.  Salo          Sauber Petronas      1:28.110   +  2.407
19.  de la Rosa    Arrows Supertec      1:28.135   +  2.432
20.  Wurz          Benetton Playlife    1:28.205   +  2.502
21.  Gene          Minardi Fondmetal    1:28.253   +  2.550
22.  Mazzacane     Minardi Fondmetal    1:29.174   +  3.471

All timing unofficial

---