Saturday April 22nd, 2000
Ferrari
Rubes Barrichello: "I am very happy with my first pole for Ferrari. I like these conditions and I know Silverstone well. The team gave me a good car and we timed the final laps just right. I was lucky not to have any traffic. I did not know what to expect because, last week in testing, I only drove in the wet, and only did two laps in the dry yesterday. I tried to guess what the weather conditions were going to do. The only thing to do was to keep concentrated and pray for no traffic. The team did a good job with my car, I know this track very well and I pushed right to the very limit.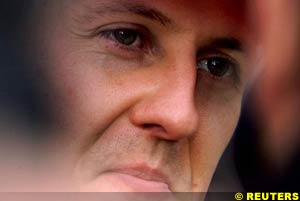 I went out early because I thought it might rain later. That is why I went out early again for my second run at a different time to the others. Starting from pole tomorrow will be important if the weather is bad for the race. I will not be celebrating Brazil's 500th birthday tonight, but I hope to give my country a better present tomorrow...If it rains for the race, it will be a big help to start from the pole, because I will have fewer problems of visibility."
Michael Schumacher: "First of all, I want to congratulate Rubens on his pole. On my last run, we had changed the set-up but it did not pay off. On top of that, I made a couple of small mistakes, which cost me previous time. I am not satisfied with my grid position. However, it is very important for me that my main rival for the championship is right in front of me because my main objective is to pass him. It is impossible to predict what will happen tomorrow in the race. This weather means that everything can change in a matter of minutes."
Jean Todt: "Thanks to Rubens, who did a great job in qualifying. Ferrari has secured its first pole position of the season. The session was very closely fought, with the changing track conditions and the ever-present risk of rain. We got Michael out of the pits a couple of seconds late, and that is why he did not get a second timed lap on his final run. But for that, he would have had the chance to improve his time. Given the unpredictable weather, tomorrow's race will be a difficult one. We will try our best to defend our position in the championships."
Jordan
Heinz-Harald Frentzen: "We have made some changes to the car for this race which have not had the chance to test properly, but seem to work quite well. Getting a clear lap at the right moment was like flipping a coin. I was lucky and had a clear lap.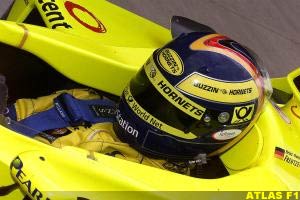 I think Lea has brought me luck. I called home just before qualifying and Tanja put Lea on the phone to me. She made some baby noises and I think she must have said, 'Good Luck Daddy'! I am very happy with this result, it was a great effort from the team. It is very exciting to start Jordan's 150th race here at Silverstone from the front row of the grid. I did not really expect to be on the first row, but we seized the opportunity and did a very good job. It will be tough tomorrow but let's hope the car is reliable and we can continue today's good work."
Jarno Trulli: "I am not happy with my result today. But at least Heinz was able to have a good qualifying and show that our car is very competitive here. The car felt good and I was quick, but I was held up by traffic and did not have a clear run."
McLaren
Mika Hakkinen: "I was not completely happy with the car's behaviour during today's qualifying as it had a tendency towards understeer. The team subsequently found a set-up error, which caused the problem. Off course starting the race from the second row will make things more difficult. Having said that without the yellow flags caused by Trulli's spin I still probably would have got pole. Tomorrow the weather will play a role in the outcome but we have done a lot of running in both wet and dry conditions at Silverstone and I believe we have a good set-up no matter what."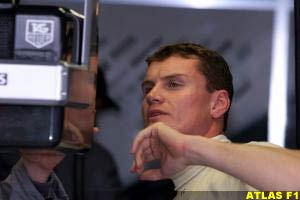 David Coulthard: "With the circuit getting drier all the time it will always come down to where you are on the track on the last lap. Its just impossible to guess what traffic will be like. Considering that on my last run I was slowed down by a Jordan and then running behind a Williams, fourth place isn't so bad."
Ron Dennis: "Clearly both drivers were hampered with the inevitable problems that are the result of qualifying on a drying circuit, David being slowed by traffic and Mika having to lift for the yellow flags after Bridge. In the circumstances second row is not so bad but we had got rather used to pole position. As is normally the case the race should be somewhat more interesting as a result of this somewhat unusual grid."
Norbert Haug: "This qualifying was a little bit of a lottery and the outcome was not as good as it should have been. Anyway both cars on the second row of the grid is a good base for tomorrow's race."
Williams
Jenson Button: "It's a great feeling to be starting my home race next to Michael Schumacher. I had a disappointing start to the morning, the day started off quite badly. However the track got drier and drier and there was more of a dry line out there to take. The team did a great job on the timing of my runs, I was very happy with the balance of the car and I was confident I could do a good time. Even so, I didn't quite expect to be sixth on the grid and given that it's the British Grand Prix. I feel absolutely fantastic. Although it's a little disappointing not to have a full house here today, the point is that this is a global audience watching it.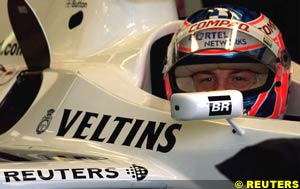 I'm looking forward to a good race. Hopefully tomorrow we'll get a good crowd and I'll try to give them something to cheer about."
Ralf Schumacher: "It's not so bad, but I expected more. I always feel quite comfortable in changing track conditions like today, but I couldn't quite manage to optimize the last lap to achieve the time I knew was possible."
Sir Frank Williams: "This result reflects on the excellence of all members of the team from the Williams and BMW sides and quite well on the drivers. It's better than we'd hoped and one always hopes for miracles at your home Grand Prix. I'm looking forward to tomorrow, wet or dry."
Patrick Head: "This was a very solid result from the team and a great recovery from Jenson after his mistake this morning. For Ralf it didn't quite come together because he gave up the first of his last two laps in order to get a clear run for the second, but then overcooked it."
Arrows
Jos Verstappen: "It was a difficult situation but at the end it was dry and I tried everything to get the best out of the car, although it was over-steering a little bit at times. The car was very good on both laps and although I tried harder on the second lap I came up through the curve and spun, but before that I think as a team we did really well and went out at the right moment with good tyres and good set up. I'm very pleased with my position and the mechanics have worked very hard so hopefully it will pay off tomorrow. I'm not sure yet of the exact tactics for tomorrow's race but hope to finish in the top six. Rain or dry will be fine."
Pedro de la Rosa: "I made a bad mistake on my quick lap, but towards the end it was dry and I nearly lost the car, along with losing all speed so it wasn't a very good lap. The car is fine, it was just a matter of getting a clear lap at the end, but I didn't manage to do that. I don't feel particularly proud of my qualifying position and am angry and annoyed, as everything was going quite well until the last lap which is when it really mattered. Tomorrow it will be a very difficult race starting so low on the grid, but we'll see what I can do."
Tom Walkinshaw: "Obviously I am pleased with Jos's performance - it also shows what a difference a tenth would have made. It is a shame he went off at the end, but at least he did it trying. Pedro just didn't get it all together, so the race for him will be difficult. He will most likely be more disappointed than anyone, especially as he went so well in last week's test."
Jaguar
Eddie Irvine: "We had three laps left, and we put three laps of fuel in. That probably cost 0.2s, which would have moved me to sixth. It could have been a lot worse, it could have been better. I was thinking just before the run that the tyres were only looking good for one lap, and maybe we should take the fuel out, but if you mess up that lap, it's a disaster. The safe way cost me today."
Johnny Herbert: "I think I got the timing right, but the traffic wrong. Mika Hakkinen had finished his lap and he eased off, and made my line a bit tight through the last part of Becketts. So I lost out a bit there. And I had a small issue with the engine. It was just a bit too 'pushy', so I was a little bit untidy whenever I hit a damp patch. Then on the next lap there were yellows for an Arrows and a Jordan, so I couldn't go quicker on that one. I was a bit disappointed this morning, because we were miles off, whereas in testing we were quite good. We've heard there's 5 per cent chance of rain, but I'm sure it will end up being 95 per cent by the end of the day! So then we'll have to see. I'm surprised where we are because we didn't do any testing in the dry at all."
BAR
Jacques Villeneuve: "The car was certainly quick enough to be higher today. I put a good lap in with about ten minutes to go and there was a hope that it might rain again, but then the sun came out and the track really started to dry out. After that, it was always going to be busy in the last few minutes. It's frustrating when qualifying comes down to the last seconds like that. You are always going to get some traffic, but if the yellow flags come out, you're finished. If there was no limit on the number of laps it might be better."
Ricardo Zonta: "The car and engine felt very good today, but the time we lost in testing last week did not help us to find a dry set-up. We didn't know what the weather would do, so I set a time early as insurance, but in the end that actually wasted three laps. The traffic at the end of the session was not as much of a problem as the yellow flag for Verstappen's car and I am sure we could have gone at least half a second quicker."
Takefumi Hosaka, Managing Director, Honda: "We have seen today that our direction of development is not wrong. Little by little we hope to get closer to the top group. We are still far away, but we are making progress, although in these conditions it is difficult to judge total performance. Jacques produced a very good lap, but both drivers could have gone quicker at the end. We are still a young team and we need to learn and develop our qualifying strategy. You can never predict the race, but I hope we should be able to score some more points tomorrow."
Benetton
Giancarlo Fisichella: "I have been happy with the car all weekend and as the track got drier we adapted our set-up and I felt we were really competitive. But a combination of mistakes in turn 10 and traffic meant we didn't manage to fulfill our potential."
Alexander Wurz: "I ran in the spare car for qualifying because this morning there was a problem on my race car that we couldn't identify. I was quite comfortable with the set-up, and was able to push hard but the track was improving dramatically throughout the session so the only laps that counted were the last ones and on my last one I got a yellow flag."
Pat Symonds, Technical Director: "Conditions in qualifying were extremely difficult, but of course this applies to all teams. We missed a great opportunity on a circuit where we have tested extremely competitively under all conditions. I guess that's the luck of the game, but I am confident from all the testing we have done that we have a car that is very strong in the race."
Sauber
Pedro Diniz: "Qualifying was pretty difficult because the track was getting faster all the way through. It was hard to find a good set-up for the dry track, after all our running this weekend had been on a wet road. But it was the same for everyone. Thirteenth place isn`t too bad in the circumstances. If the weather is changeable again tomorrow, things could go either way."
Mika Salo: "That was a highly frustrating qualifying session, because the window for a quick lap right at the end was so small. By the time I was going into my fast lap, it felt as if everyone else had come out of the pits for their warm-up laps. I'm really disappointed with 18th place."
Peter Sauber: "I think we timed our final runs okay this afternoon, but unfortunately the first sector proved a problem for us today. On the positive side, both cars have been reliable all weekend, and we now have data from running in both wet and dry conditions today and therefore have a direction for our set-ups regardless of the weather tomorrow."
Prost
Jean Alesi: "It was truly a very interesting session, even if I am disappointed not to have succeeded in gaining a better position on the grid. We did not know if the showers were going to become very much heavier, as was the case yesterday, or if the track would continue to dry. Anything was possible. I had an engine problem at the end of this morning' session and we changed it in the break. My car began to behave well in the middle of the session when the track conditions were part-dry, part-wet, and it got better and better. But it was our first real opportunity to run in the dry at Silverstone , since we had difficulties in testing last week and we are still suffering for not having done enough running."
Nick Heidfeld: "We knew it would be tough to qualify in a good position as during the testing we did here last week, and yesterday, we were not really able to find the right set-up for the car because we did not complete enough testing mileage. Besides, my car was not ready when the qualifying session started so I jumped in the T-car, which was prepared for me, to set a lap time. In fact, I could have taken my race car out for the rest of the session, on a track which was getting better and better, so it was not really necessary. When I went out for my last three timed laps, my car was behaving well, but I was held up in the second lap, before the engine blew on my in-lap. It is sad because I could feel it decreasing and sounding unclear in the preceding laps and without this I might have done better in the end."
Alain Prost: "We would, without doubt, have been better placed on a partly-wet circuit to the end. But we had not run on a dry circuit here since arriving yesterday, nor in the previous 15 days because of our recent reliability problems. So today's result is not illogical. We are all the same disappointed, in view of the work done by the team in the last two days, which had given us hopes of better positions in qualifying this afternoon. That said, the weather forecast for the race is not good, and I don't know if we will have resolved our reliability problems by then but we are starting to have a better experience of this circuit and of the set-ups we need. So, we must do our best to seize the opportunities which come our way in this race."
Mindari
Marc Gene: "It has been a tough session for everybody due to the so changeable weather conditions. We only could look at the sky and save our laps for the end. This was the right strategy, indeed. My last timed lap was pretty good, however considering that I had not run much on the dry track and that my time is only 2,5" slower than the pole, I feel satisfied. It is disappointing to have qualified in the last position but I feel happy with my today's performance."
Gaston Mazzacane: "Notwithstanding my grid position, I feel fairly satisfied also considering that the changeable track conditions and my lack of experience didn't help me at all. During the session we have concentrated on the set up work which changed over the morning. I believe we did a good job because my car felt much better with respect to the few laps I put in yesterday on the dried track. We took to track at the last moment to set the time but unfortunately when I was putting in my last fast lap I have encountered too many cars on the track thus losing 6 tenths in the third sector."
Gian Carlo Minardi: "Despite our position we are pretty satisfied because today's has been a good performance if we consider that we are only 2,5" slower than the pole. Furthermore, it has been one of the best qualifying sessions for us on a circuit where we didn't expect to perform well. The disappointment to be classified last is, therefore, a bit softened."
---