Today's Selected Quotes - British GP
Sunday April 23rd, 2000
McLaren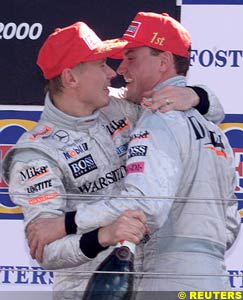 David Coulthard: "It's a fantastic feeling to win in front of my home crowd for the second time in a row. My engineers and mechanics did a fantastic job and I would really like to thank them for all their effort and support. I managed to overtake Rubens just before my one and only pitstop. That left me with quite some time to think about what it would feel like to win. I had a gearbox problem approximately 15 laps from the end, which meant that I wasn't able to take things easy. The car felt good and I'm pleased that my challenge for the Championship has begun."
Mika Hakkinen: "The start really decided the outcome of the race and it was unfortunate that I just lost grip while accelerating. I had a problem with my car in this morning's warm-up which meant that I didn't get a lot of track time and we were unable to make the final adjustments to our race set-up. As a result I was not happy with the balance of the car in the race. We made a minor change in my pit stop and I was able to go quicker but we needed more than that. The car did improve towards the end when there was a lot more grip on the track surface and I was clear of traffic so I was able to close the gap to David."
Ron Dennis: "A perfect end to a less than perfect weekend. We, along with all the other teams, suffered many problems as a result of the severe weather conditions on Friday and Saturday. The fog delaying race warm-up this morning further hampered our efforts to optimise the cars for the race. At the end of the day the team as a whole performed very well solving the problems as quickly as they emerged. I'm delighted for the team and also for Silverstone who persevered throughout the weekend and ultimately gave the public the opportunity to see a great race."
Norbert Haug: "What a fantastic victory in the home Grand Prix of our partner McLaren. Congratulations to David and Mika and the whole West McLaren Mercedes team. We need to continue to push but today there is certainly time for a celebration."
Ferrari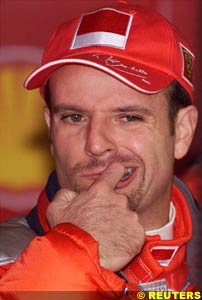 Michael Schumacher: "I had a good start, but there were cars everywhere around me! I considered going up the grass but given all the rain we have had, I decided against it. I had a good fight with Ralf for the first two corners, which I enjoyed. Then I got almost alongside him at Bridge and I decided to back off as I did not want to crash with my brother. I thought my chance would come later, but it did not. I spent much of the race in eighth place and I was wondering if I was fighting for nothing. But if you don't give up then you can get somewhere. I was stuck behind Villeneuve, because with roughly the same amount of fuel and with him having good speed, it was impossible to pass. But thanks to a good car I was able to catch the others. So, at the end of the day I am very happy to have finished third."
Rubens Barrichello: "I am very sad, because I had the opportunity of taking my first grand prix win. Around five or six laps before I retired I started to feel there was something wrong with the car. Then I began to have problems with the clutch and the throttle. That is why Coulthard managed to pass me. I spun because of the erratic behaviour of the engine, which almost died on the entry into the corner, before the power suddenly came in again. I decided to pit, but there was nothing to be done. It was a problem with the high pressure hydraulic circuit, similar to the one in Brazil, but for a different reason."
Jean Todt: "Above all, I am disappointed for Rubens who was having a great race. Much of the outcome was decided at the start, especially for Michael. He made a good start but got hemmed in on the first lap. We had planned for a one stop race and it proved to be the right choice. After a great start which saw him lead, Rubens suffered a high pressure hydraulic system problem which forced him to retire. After spending 33 laps behind a slower car, Michael managed to finish third and pick up valuable points for the championship. We know that in the current situation we are trading points with another team and every opportunity missed gives our main competitors an advantage. Now we have to discover what caused the problem on Rubens' car and we will concentrate on not letting any more points slip from our grasp."
Williams
Ralf Schumacher: "I think today we showed a good performance and proved that WilliamsF1 as well as BMW has definitely done a very good job. After the start I found the right spot to pass Michael and also Villeneuve. This was very good because I was on a two-stop strategy and I had to gain as much advantage as I could. My car, especially after the second stop, was very good to drive so that I could easily bring the car home in fourth place."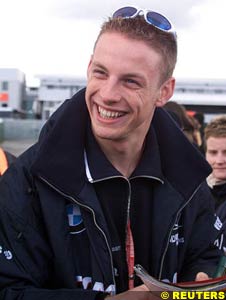 Jenson Button: "I am of course very pleased with my result. I finished my second race of the season (out of four) and scored my first 'real' points right here, in my home race. I think the best moment for me was getting past Michael Schumacher on the first corner after the start. It was an amazing feeling racing in the top group, I was following Mika Hakkinen for so long and then leading him after the pit stop. And I think I also learnt something from it! I knew this circuit more than the others I have raced on so far and it's good for the team to have both Ralf and myself in the points."
Frank Williams: "I am delighted with the result, almost better than we could have hoped for, in a way. I liked the way Ralf dusted off his brother quick smart in the first few laps. They beat us in the end but we were certainly much closer to the two currently dominating teams than we have been in the previous races. We now have a good way forward to follow."
Patrick Head, Technical Director: "It was obviously very pleasing to get two cars in the points. At the present level to be beaten by the McLarens and the sole running Ferrari is the best we can expect. After a difficult Imola where we had quite a few problems and neither car finished the race it's good to have a recovery where the cars were reliable from a mechanical point of view throughout practice and the race."
Dr Mario Theissen, BMW Motorsport Director: "This was our best race-weekend so far: in the race we gained fourth and fifth places thanks to our own strength and we have performed consistently for all of the past three days. We didn't experience any real engine problems, here all weekend. To be for the third time in the points after the fourth race clearly passes our expectations at this stage of our programme. This is thanks to a good team and to a good test and development squad in Munich. In the last weeks they worked tirelessly to further improve the reliability of our BMW engine. We are very pleased to be presently third in the Constructor's Championship."
Jordan
Jarno Trulli: "This was a tough race as I had trouble with the gears for much of the race. But I was able to overtake Villeneuve and bring the car home in the points, which is a good result, especially since I started the race from 11th place. Every point counts for the team in what is going to be a tough championship battle, so I am very happy to have won that point today. We chose a one stop strategy to enable me to move up the field, and it worked perfectly. What I need in the future is better luck in the qualifying sessions so that I can race from higher up the grid."
Heinz-Harald Frentzen: "This was a disappointing day for us - I had to retire from the race because I was stuck in sixth gear. We were competitive all weekend so it is frustrating to come away without points. We should have finished in the top four as our decision to drive an aggressive race by making two stops was working well to keep us up with McLaren and Ferrari. At least we know we can lead races and I think we will soon solve our reliability problems."
Eddie Jordan: "Overall, today was disappointing. It was frustrating to see Heinz having to abandon his race after he had performed so well all weekend, qualified on the front row and then lead the race. Jarno coming through to win a point from 11th place was some compensation. Like Heinz, he drove a good race. His overtaking manouevre on Villeneuve was fantastic!"
Benetton
Giancarlo Fisichella: "At the beginning of the race Trulli hit a piece of bodywork in front of me and it flew up and damaged the nose of my car. I thought it would be more of a problem but in fact we left it as it was for the rest of the race and it wasn't a big problem. I pushed all race but think this was the best position we could really have expected today."
Alexander Wurz: "I got a good start and had a great first few laps with five good overtaking manoeuvres. This was the fun part of the race, but then I found myself behind Salo and didn't have enough power to overtake. Our strategy was good and considering my starting position I should be satisfied with 9th position, but I am disappointed not to have scored any points."
Flavio Briatore, Managing Director: "We started from the 12th and 20th on the grid and finished 7th and 9th, so this was the best result we could expect, from a weekend we would much rather forget."
Pat Symonds, Technical Director: "This was a race where our result was determined on Saturday afternoon. With this in mind we adopted an unusual strategy that worked very well for Alex, getting him past a number of cars. This was enhanced by his very good first two laps in which he overtook five cars. With Giancarlo, the result was not quite so positive but nevertheless we got both cars to the finish and now we must look for some more performance."
Sauber
Pedro Diniz: "Perhaps I didn't have the better tyres, but that's because we expected poor weather today when we made the choice yesterday. It's one of those things. I had a lot of understeer as a result, and I also had a poor start. In the first lap I lost my mirror, this is why I could not see Michael Schumacher behind me. This race was a very difficult race."
Mika Salo: "When you start 18th in F1, you either get things done in the first lap, or you don't get it done at all. I'm quite happy to have come up as high as I did by the end. My car felt good all afternoon, though I had a bit too much understeer on my last set of tyres. Otherwise, everything was fine."
Peter Sauber: "When you start from less than optimal grid positions, you cannot be dissatisfied with eighth and 11th places. In retrospect, our tyre choice may not have been absolutely right, but we anticipated more bad conditions and the English weather surprised us. But our stops were very good, and once again the cars were completely reliable."
Prost
Jean Alesi: "I'm happy, because finishing the race is a first result. From now we are going to check precisely the positive and negative points of the weekend. I drove the all race with a car which was far from perfect, but we have to take the situations in the right order and we have crossed a first stage."
Nick Heidfeld: "I lost some places and was then blocked in the traffic. The car was not bad, but it's clear that we have to make a lot of progress. Unfortunately I was forced to retire close to the chequered flag."
Alain Prost: "We have less and less problems and this is going to allow us to maximise our tests in Barcelona next week. We have to be patient and concentrated on the development of our car. In some weeks we should be in a much better position especially on the grid, which is a necessity if we want to score points in the future."
Jaguar
Johnny Herbert: "Both of us got bad starts, and we need to fix that first. Here you just get stuck behind people. I had a couple of chances to be on my own and go much quicker, and then got stuck behind them again. After my lost stop, when the engine died. We lost time. I would probably have got in front of Alesi and Diniz, but because of that I didn't. When I went out I was on my own, but I caught Pedro and got stuck behind him again, which just makes the race a little bit frustrating."
Eddie Irvine: "I had another clutch problem at the start, similar to the one we had in Imola, which is something we have to sort out. As for the second pit stop, I engaged neutral and the engine just cut out. It could be that it is related to the new pit limiter system, but we will have to investigate it. It's difficult to understand why the car is so good in qualifying but a handful in the race. I have a few ideas, but until we get some quality testing done we won't really identify the problem areas and find a fix."
Gary Anderson, technical director: "It's been bad because everything sort of headed off in the wrong direction. We got a bad start, and then it was just a train going round. There were six cars at the front motoring along merrily, and that was it. We've got to get out starts sorted. There's something wrong there. We've practised them and got some good ones, but whenever it counts it doesn't work. So I don't know what it is. We've got a lot of good data from here, so we'll have a look at it. We've still got this sensitivity issue where the car seems too nervous on corner entries. We've got to look at it really. It's not necessarily an aero issue, but I'm sure that's part of it. So we need to do a lot more wind tunnel work. Then at the second stop both of them stopped for some reason. That shouldn't happen, so there's something wrong there, so we'll have to have a look."
Minardi
Marc Gene: "I am pretty satisfied with today's race. I pushed since the beginning despite the chaos during the first laps. We did two stops: the first set of tyres was not very good even though I was told that my rhythm was the same as the cars in front of me. We did a very fast pit stop and I was able to catch Heidfeld because I pushed very hard during all my laps. The second set of tyres was excellent and permitted me to follow the other cars in front of me although I was lacking more speed to overtake them; the third set of tyres was not as good as the second except in the final laps. The car felt good since the warm-up and I feel very pleased to realise that we were able to keep the rhythm of some of the Teams that test on this track all year long."
Gaston Mazzacane: "I believe I did a good race. It is the third consecutive race I am able to finish. This is thanks to my team that always prepare a good car and also thanks to me because I did not make any mistake. Considering our lack of power, I think that we did all the best we could. Unfortunately the flu and the pain in my back prevented me from putting in a half sec. faster lap. My car behaved very well and was always well balanced, filled with fuel and before the refuelling. This allowed me to keep a steady pace during all the race. I believe that the outcome after four races is very positive and I feel I'm improving race after race."
Gabriele Rumi: "We believe we have done all our duty in today's race: Marc was only 19"1' slower than the eighth position thus managing to reduce the gap with a Benetton and both Saubers and he even arrived only 2"9' and 3"1' from both Jaguars. Considering our lack of horse powers, we can feel satisfied. Our drivers did a good race both keeping the same pace."
BAR
Jacques Villeneuve: "We have only really had one problem all year, but it has always been the gearbox and we must sort it out quickly. It's frustrating because our strategy was good today and we were definitely on course for more points. I made another great start, got ahead of Michael Schumacher and after the first lap, he was never really in a position to come past me. I am very satisfied with Honda's latest engine. What is slowing us down is not the engine; it is the chassis and the aerodynamics, so we need to work on these areas. But we have been more competitive this weekend and were able to run closer to the pace of the leaders."
Ricardo Zonta: "I am so sorry. It was completely my mistake. The car was really good on the straights and the race was all going to plan. I was pushing hard to stay with Irvine who had to stop again and we would have got him after his stop. But I ran wide at Stowe corner and lost it. The car has been good all weekend. The engine has given us the power down the straights and that helped me to set such a quick lap time during the race."
Takefumi Hosaka, Managing Director: "Ricardo showed good speed and Jacques drove a very good race to hold off Michael Schumacher. We are taking things little by little and have a strong base to build on for further improvements. Other teams are working very hard and we need to work even harder. It was unfortunate that we were not able to show the full potential of our new engine today."
Craig Pollock, Managing Director: "Unfortunately it wasn't progress today, more a regression. We knew Jacques had a problem with the gearbox about five laps before he retired, but were hoping he could hang on to the finish. Ricardo was going faster and faster in the race - his progress was spectacular - and I think perhaps he was just caught out by his own speed. It was good to see him respond to the accident he had here in testing just over a week ago with such a strong performance."
Arrows
Pedro de la Rosa: "It was very difficult, but this is motor racing and I just have to accept it. When I came in to do the pit stop I had some flashing red lights on the dashboard and clutch problem which clearly isn't a good sign! Then I stalled and went out again but found the same problems which I think were caused by the electronics. It's not been a good weekend for me and frustrating as I think we deserve better, but I'm now looking forward to Barcelona."
Jos Verstappen: "It was an electronic problem but I don't know what exactly - the engine wasn't running right. I didn't have a fantastic start but the car was running fine and I was happy with the balance to start so it's a shame as I think we could have come in the points. The problem showed up in my last 6 or 7 laps so that's why I had to come in. We tried to fix it but weren't able to. I was behind [Michael] Schumacher at a similar speed but found it impossible to overtake because of the problem with the car. It's always disappointing when I don't finish a race, but I think the team did very good work and I'm very happy with them. We will work together to sort it out but it's a shame as it could have been a good result for the team."
---