Saturday August 26th, 2000
Hakkinen claims his 26th pole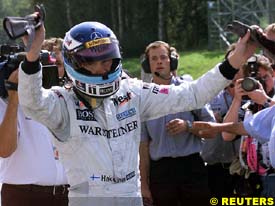 Mika Hakkinen drove three perfect runs of the formidable Spa Circuit, improving on each of them and his eventual 26th career pole position after heading the time sheets with his McLaren-Mercedes throughout the one hour session but for a brief two minutes before making his second run. "We made a lot of radical changes to the car since this morning, which is why I went out early in the session to see if the car was better," said Mika. "It's good to have my main opposition well behind me on the grid, but at the same time worrying to have some new guys with me on the front row in case there are any problems at the start," admitted the Finn. David Coulthard was a disappointed fifth on the grid. "I was confident of a place on the front row, but I had two runs spoiled with Frentzen and when I did get a clear run the balance was good, but the grip went away," said David.
Trulli on the front row for Jordan
For the second time this season, Jarno Trulli made the front row of the grid for Jordan, the Italian briefly taking pole before losing it again to Hakkinen who ended up a7/10th s of a second ahead of him. "The car was pretty good all weekend. To take Eau Rouge and Blanchimont corners flat out was really exciting. I thought maybe a place in the top five, but second place is fantastic."
Heinz Harald Frentzen had an equally competitive car as his sector times showed, but was a disappointed eighth on the grid after his first run was spoiled by an off behind Coulthard. His next run saw his time disqualified after Coulthard blocked the chicane and he cut across the grass while the third run was a 'safe' one to get him into the race. He made a final attempt and improved his time, but traffic prevented him making the front two rows of the grid.
Schumacher makes the second row
"I cannot honestly say that this was an entirely satisfying qualifying session for us. Being fourth on the grid and almost a second off the pole is not what we expected. Now we must look at our performance to understand what we need to do to be as well prepared as possible for tomorrow's race. It should be very interesting as the weather could be different to today's," said Michael. Despite yellow flags on the third sector, Michael set his best time on his final run which pushed David Coulthard back into fifth place.
Rubens Barrichello was even more disappointed with his 10th place. "I have been unable to find the ideal set-up all weekend. On my third run the car seemed to be going better, but I locked my brakes into the chicane and spun. When I got into the pits the stewards checked the weight of the car and there was no time left to make a proper final run," said Rubens.
Button delighted with third spot
"I guess it will not hit me for a couple of hours," said a delighted Jenson Button who drove his Williams-BMW into third place. "I didn't expect third, but the car was perfect and I had told the mechanics not to change it after the morning run," said Jenson. Ralf Schumacher could not better sixth quickest complaining of traffic on his quickest run.
In brief...
Jacques Villeneuve was disappointed not to have made fifth place on the grid. "The car was a bit nervous at the rear with too much oversteer," he said after setting 7th fastest time, his BAR teammate Zonta back in 13th spot, losing half a second to Villeneuve at Eau Rouge alone. Herbert was happy to have taken ninth spot for Jaguar, Irvine back in 12th place, never really finding the grip he expected from the car. Benetton had a troubled session. Wurz took the spare car after his own blew its engine on his first run. He then only got one run before Fisichella needed the car to qualify when his engine went. Fisichella managed 11th in one run and Wurz took 19th.Heidfeld ended up quickest for Prost in 14th spot. Jean Alesi's last lap push on his only clear lap ended up with a spin at the chicane and 17th overall.
Pos  Driver         Team                 Times                 
 1.  Hakkinen       McLaren Mercedes     1:50.646  226.712 km/h
 2.  Trulli         Jordan Mugen-Honda   1:51.419   +  0.773
 3.  Button         Williams BMW         1:51.444   +  0.798
 4.  M.Schumacher   Ferrari              1:51.552   +  0.906
 5.  Coulthard      McLaren Mercedes     1:51.587   +  0.941
 6.  R.Schumacher   Williams BMW         1:51.743   +  1.097
 7.  Villeneuve     BAR Honda            1:51.799   +  1.153
 8.  Frentzen       Jordan Mugen-Honda   1:51.926   +  1.280
 9.  Herbert        Jaguar Cosworth      1:52.242   +  1.596
10.  Barrichello    Ferrari              1:52.444   +  1.798
11.  Fisichella     Benetton Playlife    1:52.756   +  2.110
12.  Irvine         Jaguar Cosworth      1:52.885   +  2.239
13.  Zonta          BAR Honda            1:53.002   +  2.356
14.  Heidfeld       Prost Peugeot        1:53.193   +  2.547
15.  Diniz          Sauber Petronas      1:53.211   +  2.565
16.  de la Rosa     Arrows Supertec      1:53.237   +  2.591
17.  Alesi          Prost Peugeot        1:53.309   +  2.663
18.  Salo           Sauber Petronas      1:53.357   +  2.711
19.  Wurz           Benetton Playlife    1:53.403   +  2.757
20.  Verstappen     Arrows Supertec      1:53.912   +  3.266
21.  Gene           Minardi Fondmetal    1:54.680   +  4.034
22.  Mazzacane      Minardi Fondmetal    1:54.784   +  4.138

All timing unofficial

---