Saturday July 29th, 2000
By Patrick Vignal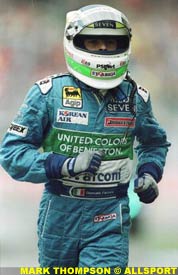 Giancarlo Fisichella's long wait for a first Formula One victory may be about to end following his surprise third place in qualifying for Sunday's German Grand Prix.
"We usually do better in the race than in qualifying and I really like this track," said the Benetton driver. "Of course, a win would be great, but a place on the podium would be enough to make me happy."
The Italian experienced his share of drama on Saturday, having to jump into the spare car after spinning off on his first lap.
"I thought that would be the end of the session for me because we expected it to rain any minute," he said.
It did rain, but only after he had set what remained the second best time until Michael Schumacher knocked him off the front row with a few seconds remaining.
Fisichella did not expect such a performance after finding out the T-car had the wrong gear ratio.
"Fifth and sixth gears were too long and that cost me 10 kph on the straights," he said.
"I couldn't believe it when my engineers came on the radio and said I was second. It's a pity Michael pipped me at the end but I'm in a very strong position for the race."
Potential
Fisichella has long been regarded as a driver with potential, but he still has to prove himself as a winner.
With five second places, the most recent in Brazil in March, the Italian has been close to success several times.
One of his best chances came at Hockenheim in 1997 -- his first full Formula One season after a stint with Minardi the previous year. Driving a Jordan, he started from the front row and led for seven laps.
"Since then I know I can do well here," he said.
Last season brought him disappointment with only 13 points -- his worst tally in three years. The highlight of a frustrating year was off the track, when his girlfriend Luna gave birth in April to a daughter, Carlotta.
But he soon bounced back. He has already done better this year than in 1999, reaching the podium three times and collecting 18 points.
"We've been pretty competitive all weekend and a fourth podium finish is certainly a possibility," he said, pinning his hopes on the revised aerodynamic set-up and uprated engine specification being used by his team in Germany.
Like last year, Fisichella keeps outclassing his Austrian team mate Alexander Wurz, whose future at Benetton appears uncertain.
While Wurz, who denied reports saying he might be sacked before the end of the season, has plenty to worry about, the Italian looks safe. Benetton boss Flavio Briatore told Italian television this week that his contract should be extended for another year.
But he remains under pressure to do well to keep his seat in 2002 when Renault, who acquired Benetton last March, make a full return to Formula One.
If he is still around, Fisichella should then have the perfect toy in which to shrug off his reputation as nearly-man.
---
© 2005 Reuters Limited.
Click for restrictions
| © 1995-2005 Kaizar.Com, Inc.
Copyright & Terms