Sunday July 30th, 2000
By Timothy Collings
An emotional Rubens Barrichello wiped away tears of joy with a Brazilian flag on Sunday then dedicated his remarkable maiden grand prix victory in Germany to his friend and mentor Ayrton Senna.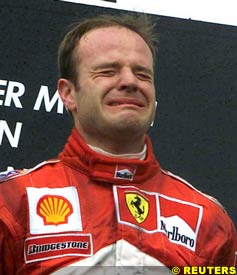 Barrichello, seen by his countrymen as the natural successor to the great Brazilian following Senna's death at Imola six years ago, had made 123 abortive attempts to succeed.
He finally achieved that elusive but memorable first win on a track made treacherous by rain having started way back in 18th place on the grid.
The Brazilian's triumph turned his Ferrari team's despair into celebration after they had watched their world championship leader Michael Schumacher crash out on the first corner again.
Schumacher stayed top because of his team mate's exploits, albeit by the slender margin of two points from McLaren pair David Coulthard and Mika Hakkinen, third and second respectively.
The German has not scored in four of the last five races.
Barrichello, a model of consistency all season, is now fourth in the standings, only 10 points off top spot.
Fantastic Moment
"This is such a fantastic moment for me, I can hardly believe it," said Barrichello, who inherited the lead by daring to remain on 'dry weather' tyres as others switched to 'wets' after the second intervention of the safety car.
"The last lap was the longest lap of my life, but I got there. Of course, I dedicate this win to Ayrton. He was the man at the top for me and I followed him so much and he did so much for me. And, of course, I know that a lot of people have put me in his place."
Barrichello wept on the podium as the significance of his first victory, and therefore the first by any Brazilian driver since Senna at the 1993 Australian Grand Prix, sank in.
But he was just as quick to express his delight in what his achievement meant to Ferrari and Schumacher, who went out when he collided with Italian Giancarlo Fisichella's Benetton at the first corner.
Best Result
Young Briton Jenson Button scored his best Formula One result by finishing fourth for Williams after starting from the back of the grid having stalled at the start of the formation lap.
Finn Mika Salo was fifth in a Sauber and Spaniard Pedro de la Rosa equalled his previous best performance with sixth place for Arrows on a day when only half of the 22 starters were still running at the end.
There was no lack of drama, including the fortunately rare sight of an intruder on the track.
The Frenchman, protesting at his dismissal by Mercedes-Benz, pranced across the circuit before being taken away by officials. His action brought out the safety car and neutralised the race for a time.
Later, a storm soaked half the circuit and Frenchman Jean Alesi's Prost lost both left wheels after a major collision with Brazilian Pedro Diniz's Sauber.
The wheels bounced wildly down the track and Alesi slammed into the wall but both drivers escaped unhurt.
---
© 2005 Reuters Limited.
Click for restrictions
| © 1995-2005 Kaizar.Com, Inc.
Copyright & Terms