Jaguar Celebrate First Points in Formula One
Sunday June 4th, 2000
Jaguar celebrated their first points in Formula One with a mixture of jubilation and relief on Sunday after Eddie Irvine finished fourth in the Monaco Grand Prix.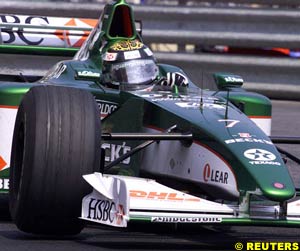 "We badly needed the points," said former world champion Jackie Stewart, who founded the team that carried his name and won one race last season before carmaker Ford rebranded it as Jaguar from the start of 2000.
Stewart also had the satisfaction of seeing his former protegee David Coulthard triumph for McLaren 27 years after he had won on the same track.
Coulthard was the first Briton to win at Monaco since fellow-Scot Stewart in 1973.
"It's a race of attrition here," said Stewart. "You have to finish and that's what Eddie did. It's really what the team desperately needed."
Irvine, who concentrated on avoiding mistakes and keeping his car out of the barriers in soaring temperatures, said it was one of the hardest races of his life.
"There have been races this year when we deserved points -- today we got them," he said. "I'm really pleased for the guys. Together we've all been slogging away and not getting any payback.
"The steering was getting very heavy towards the end. I was suffering from dehydration because my drink bottle wasn't working and my foot is badly blistered, but I'll worry about that tomorrow," he added.
The Northern Irishman joined Jaguar this season after four years alongside double world champion Michael Schumacher of Germany at Ferrari and had finished runner-up to him in last year's race.
Like everyone associated with the Jaguar team, he was as relieved as he was delighted after enduring a difficult start to the season.
"It's very gratifying for all our efforts to be rewarded at last with the team's first points," said Jaguar chief Neil Ressler, who took over as chief executive when Stewart's son Paul began a course of treatment for cancer earlier this year.
The three points helped Jaguar, who arrived in Formula One after considerable success in Le Mans sportscar racing, move to seventh equal in the constructors' championship while Irvine moved up to 10th equal in the drivers' title race.
Briton Johnny Herbert, who gave the Stewart team their only victory last year, was ninth in the other Jaguar after a difficult race that showed the team still have much to do.
Herbert felt he could have secured a top six placing but a communications breakdown meant he lost time on an unscheduled pit stop.
For the team and their owners, Ford, the result may end some of the criticism they have suffered after an extravagant and expensive launch at the start of the year.
They arrived promising that 'the cat is back!' but the high-profile public relations exercise was followed by a run of dismal results and problems in testing.
On Sunday, the roar could be heard again.