M.Schumacher on Pole; Qualifying - Canadian GP
Saturday June 17th, 2000
Dramatic 26th pole position for Schumacher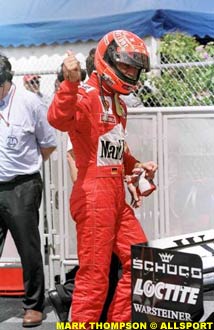 Michael Schumacher regained the upper hand in qualifying for tomorrow's Canadian GP, literally in the closing moments of the session. The German put his head down and scratched out the fastest time of the afternoon in response to David Coulthard's effort, which had beaten him by nine thousandths of a second. "It was a great lap, and I managed to reverse the deficit," Schumacher beamed. Teammate Rubens Barrichello was happy with his Ferrari, but had to change his strategy partway through the session when he was caught out by a red flag when Gaston Mazzacane crashed his Minardi. "After that it was a case of playing catch up," the Brazilian said.
Coulthard defends McLaren honour
David Coulthard once again led the McLaren attack, narrowly losing out to Schumacher for pole position after a dramatic closing lap which momentarily put him on the premier spot. "It's disappointing to lose out like that," Coulthard said, "but the really important thing was to start on the front row here. The car feels good, and I'm confident for the race."
Mika Hakkinen was less content. Having set fastest time early in the session the Finn was unable to string sufficient traffic-free laps together to do better than fourth place.
Frentzen climbs to fifth
Heinz-Harald Frentzen's careful preparatory work reaped dividends in qualifying, as he pushed up to fifth place, best of the challengers to Ferrari and McLaren. "The wind was gusting into the hairpin, which made things a bit tricky," Frentzen said, "but I was pretty happy with the way things went." Jarno Trulli wasn't so cheerful, dropping back to seventh after losing grip as the session progressed.
Villeneuve sixth on home ground
Jacques Villeneuve delighted the home fans with a strong performance to place his BAR-Honda in sixth place, taking a narrow victory in a lively contest with teammate Ricardo Zonta The duo traded lap times, with the French-Canadian making the most of the revised aerodynamic package first tried yesterday afternoon. Zonta finished eighth, only two tenths of a second behind.
De la Rosa in the top 10
While Jos Verstappen crashed his Arrows-Supertec exiting a chicane, Pedro de la Rosa steered clear of trouble to take ninth fastest time. "The car felt much better today than yesterday," the Spaniard reported.
Fisichella edges out Herbert
Giancarlo Fisichella squeezed into the top 10 in the closing stages, reporting that his Benetton felt better balanced than it had during free practice. While teammate Wurz was delayed in Verstappen?s accident, Fisichella was able to push Johnny Herbert?s Jaguar down to 11th place.
In brief...
Though disappointed to miss the top 10, Herbert was far happier with his Jaguar than Irvine was with his. The Ulsterman struggled all afternoon and was only 16th. Ralf Schumacher and Jenson Button found their Williams-BMWs as tricky as they had been on Friday, while Mika Salo said he missed the top 10 after encountering rear wheel locking on downshifts.

Pos  Driver         Team                 Times                 
 1.  M.Schumacher   Ferrari              1:18.439  202.904 km/h
 2.  Coulthard      McLaren Mercedes     1:18.537   +  0.098
 3.  Barrichello    Ferrari              1:18.801   +  0.362
 4.  Hakkinen       McLaren Mercedes     1:18.985   +  0.546
 5.  Frentzen       Jordan Mugen-Honda   1:19.483   +  1.044
 6.  Villeneuve     BAR Honda            1:19.544   +  1.105
 7.  Trulli         Jordan Mugen-Honda   1:19.581   +  1.142
 8.  Zonta          BAR Honda            1:19.742   +  1.303
 9.  de la Rosa     Arrows Supertec      1:19.912   +  1.473
10.  Fisichella     Benetton Playlife    1:19.932   +  1.493
11.  Herbert        Jaguar Cosworth      1:19.954   +  1.515
12.  R.Schumacher   Williams BMW         1:20.073   +  1.634
13.  Verstappen     Arrows Supertec      1:20.107   +  1.668
14.  Wurz           Benetton Playlife    1:20.113   +  1.674
15.  Salo           Sauber Petronas      1:20.445   +  2.006
16.  Irvine         Jaguar Cosworth      1:20.500   +  2.061
17.  Alesi          Prost Peugeot        1:20.512   +  2.073
18.  Button         Williams BMW         1:20.534   +  2.095
19.  Diniz          Sauber Petronas      1:20.692   +  2.253
20.  Gene           Minardi Fondmetal    1:21.058   +  2.619
21.  Heidfeld       Prost Peugeot        1:21.680   +  3.241
22.  Mazzacane      Minardi Fondmetal    1:22.091   +  3.652

All Timing Unofficial