Friday March 10th, 2000
Schumacher on top despite accident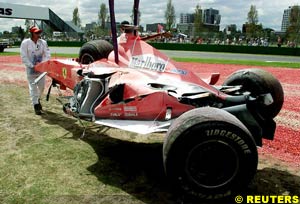 Former double world champion Michael Schumacher topped the opening practice session on Friday for Sunday's season-opening Australian Grand Prix despite an accident which tore a wheel off his Ferrari.
The 31-year-old German clocked the quickest time early in the afternoon session as he bids to end Ferrari's 21-year wait for their first drivers' world title since South African Jody Scheckter's 1979 triumph.
His time of one minute 32.130 seconds was good enough to keep him on top to the end of the day even though he slid off the track and into the barriers midway through the afternoon.
Schumacher was unable to resume and watched most of the remainder of the session from the pitwall. "It was my fault," he said. "I was pushing too hard and went past the braking point. The car slipped away from me and I lost it. There was nothing I could do. I was going just a bit too fast in that section of the track.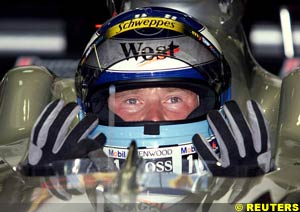 "But at the end of the day I am very happy with the performance of the car. We are on top, we are close together - myself and Rubens (Barrichello) - and we are not one second behind the McLarens. So it is a good thing for us today and, also, we had no major problems.
"I am happy with the car and it has a lot of room for improvement."
His former team-mate Briton Eddie Irvine in a Jaguar and the two McLaren drivers also spun on the circuit.
Schumacher crashed at turn 14 on the sweeping Albert Park circuit, between the two grandstands named after himself and Jackie Stewart. He hit the barriers sideways on, tearing the left rear wheel off his F1-2000 car, but suffered no injury.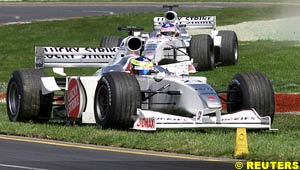 His time, after only 15 laps of the track, was good enough to keep him on top as his rivals battled to improve.
Defending world champion Mika Hakkinen of Finland, in a McLaren, was unable to improve on fourth place and spun on his last lap as he attempted to clock a faster time. "It was a good start to the season," said Hakkinen. "I am happy with the balance of the car and the work we have done. We had no technical problems and I concentrated 100 per cent on my set-up for the weekend."
His McLaren teammate David Coulthard of Britain was second fastest with Brazilian Rubens Barrichello in the second Ferrari third on his first day of official action with the team.
The 1997 world champion Jacques Villeneuve of Canada was fifth in his BAR Honda, a massive improvement on his fortunes last year when he endured a pointless season. "The car is good here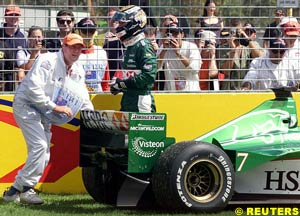 and I will be disappointed not to make the top six on the grid," said an enthusiastic Villeneuve. The team tested different steering wheels and worked on basic set-up, Ricardo Zonta ending his session after 20 laps when he spun off into a gravel trap, 13th fastest for the session.
Pedro Diniz found that less downforce was the way to go with his Sauber despite suffering from too much understeer. He set the sixth fastest time of the day, his teammate Mika Salo back in 11th spot working on a race set-up and suffering from the fact that he has not driven for a month since his testing crash.
Although only seventh quickest today, Heinz-Harald Frentzen was not unhappy with his Jordan after concentrating on race set-up and chassis tuning without trying for a quick lap. Jarno Trulli had more gearbox and a clutch problem in the afternoon which saw him end up in 15th spot with just 20 laps for the day.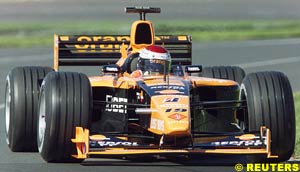 Another troubled session for Prost at the back of the grid with Jean Alesi suffering from gearbox trouble and Nick Heidfeld handling problems, both drivers complaining of their engines being to brutal in pick-up. Jaguar also had a lot of trouble again. Eddie Irvine stopped when his engine shut down automatically with more suspected oil pressure trouble and Johnny Herbert's nightmare continued with clutch, steering wheel and starting trouble despite a new engine and transmission since the morning. He ran 11 laps for the day.
"We've got a lot of problems to sort out," Jackie Stewart said. "But I was more concerned about Michael Schumacher's accident because it was an accident you could see coming. He paid the penalty for going over the top and pushing too hard on a dirty track on the opening day. I wouldn't have been too happy if he had been one of my drivers."
Ralf Schumacher did not run after his BMW engine was found to be leaking oil in the Vee. It also turned out to be a disappointing day for his Williams teammate, British new boy Jenson Button who, after a promising morning session, wound up 18th. The second rookie of the season, Gaston Mazzacane, had better fortures when he set an impressive 12th fastest time for Minardi.
Friday Practice - Accumulated Times:

Pos  Driver         Team                 Time               
 1.  M.Schumacher   Ferrari              1:32.130           
 2.  Coulthard      McLaren Mercedes     1:32.144   +  0.014
 3.  Barrichello    Ferrari              1:32.482   +  0.352
 4.  Hakkinen       McLaren Mercedes     1:32.702   +  0.572
 5.  Villeneuve     BAR Honda            1:33.525   +  1.395
 6.  Diniz          Sauber Petronas      1:33.597   +  1.467
 7.  Frentzen       Jordan Mugen-Honda   1:33.698   +  1.568
 8.  Wurz           Benetton Playlife    1:33.718   +  1.588
 9.  Zonta          BAR Honda            1:33.847   +  1.717
10.  Irvine         Jaguar Cosworth      1:33.899   +  1.769
11.  Salo           Sauber Petronas      1:33.940   +  1.810
12.  Mazzacane      Minardi Fondmetal    1:33.988   +  1.858
13.  Fisichella     Benetton Playlife    1:34.049   +  1.919
14.  de la Rosa     Arrows Supertec      1:34.060   +  1.930
15.  Trulli         Jordan Mugen-Honda   1:34.151   +  2.021
16.  R.Schumacher   Williams BMW         1:34.158   +  2.028
17.  Herbert        Jaguar Cosworth      1:34.414   +  2.284
18.  Button         Williams BMW         1:34.547   +  2.417
19.  Gene           Minardi Fondmetal    1:34.696   +  2.566
20.  Verstappen     Arrows Supertec      1:34.708   +  2.578
21.  Alesi          Prost Peugeot        1:35.613   +  3.483
22.  Heidfeld       Prost Peugeot        1:35.997   +  3.867

All timing unofficial

---