Sunday March 12th, 2000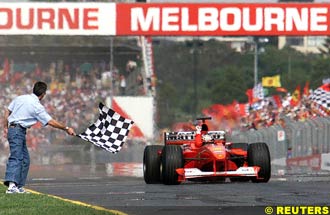 Double world champion Michael Schumacher led new Ferrari team-mate Rubens Barrichello home in an emphatic one-two triumph for the Italian team in Sunday's season opening Australian Grand Prix.
The 31-year-old German, taking full advantage of the mechanical failings of his McLaren and Jordan rivals, crossed the line comfortably clear of the first Brazilian to drive for Ferrari.
It was Schumacher's 36th victory in his 129th Grand Prix and Ferrari's first one-two since last year's controversial and spectacular triumph in Malaysia. That result was cancelled but reinstated after appeal.
Schumacher's younger brother Ralf gave the Williams team a podium finish on their first outing with BMW as engine suppliers by coming home third ahead of 1997 champion Jacques Villeneuve.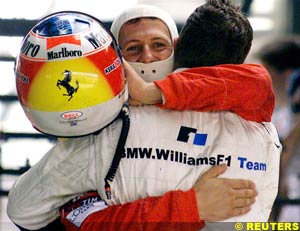 The Canadian's fourth place finish gave the BAR-Honda team their first points in Formula One.
Villeneuve had endured a pointless season in 1998, but his steady drive brought him home ahead of fifth-placed Italian Giancarlo Fisichella in a Benetton and sixth-placed Mika Salo of Finland in a Sauber.
Both McLarens, driven by world champion Finn Mika Hakkinen, who led for the opening 19 laps, and Briton David Coulthard retired with engine problems.
Williams second driver Jenson Button, 20, ran as high as sixth before he retired with a similar problem only 11 laps from the end of his debut race.
Both Jaguars, with Britons Eddie Irvine and Johnny Herbert, retired after just six laps of the team's debut.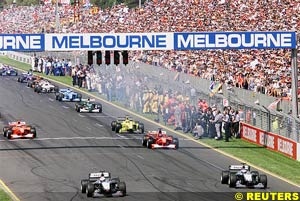 Hakkinen and Coulthard out of Australian GP
The McLarens of world champion Mika Hakkinen and Briton David Coulthard retired from the Australian Grand Prix on Sunday with apparent engine problems.
Finland's Hakkinen, who had led from the start after taking pole position, retired after 18 laps.
Coulthard went out after completing 11 laps.
The Scot had earlier come into the pits with smoke seen coming from the back of the McLaren. Coulthard went out again on lap 12 but retired after the fourth corner.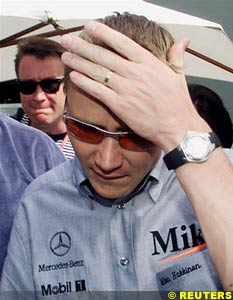 Their retirements were a repeat of last season's opening race when both McLarens set the pace but retired early on.
Jaguars out of Australian Grand prix
The Jaguars driven by Britons Johnny Herbert and Eddie Irvine retired from the Australian Grand Prix after just six laps in the team's Formula One debut on Sunday.
Herbert went out after one lap in Melbourne and was followed five laps later by Irvine, runner-up last season with Ferrari before moving to Jaguar.
"We knew we had an engine sort of problem, we hoped when we came here to have got rid of most of that but we still haven't," said Herbert.
The safety car came out briefly after Irvine tore the wheels off his car when he hit a wall in a shunt that also involved Spanish Arrows driver Pedro de la Rosa.

PROVISIONAL RACE RESULTS

Australian Grand Prix
Albert Park, Melbourne;
58 laps, 307.574 kms.
Weather: Sunny and warm


Pos  Driver         Team                  Time
 1.  M.Schumache    Ferrari               1h34:01.987 
 2.  Barrichello    Ferrari               +    11.400 
 3.  R.Schumacher   Williams BMW          +    20.000 
 4.  Villeneuve     BAR Honda             +    44.400 
 5.  Fisichella     Benetton Playlife     +    45.100 
 6.  Zonta          BAR Honda             +    46.400 
 7.  Wurz           Benetton Playlife     +    46.900 
 8.  Gene           Minardi Fondmetal     +    1 Lap  
 9.  Heidfeld       Prost Peugeot         +    2 Laps 

Fastest Lap: Barichello, 1:31.481 (209,685 km/h), lap 41

Not Classified/Retirements:

Driver         Team                On Lap  Reason             
Button         Williams BMW          46    Engine                
Diniz          Sauber Petronas       41    Transmission          
Mazzacane      Minardi Fondmetal     40    Gearbox               
Frentzen       Jordan Mugen-Honda    39    Hydraulic leak        
Trulli         Jordan Mugen-Honda    35    Exhaust/engine failure
Alesi          Prost Peugeot         27    Hydraulic leak        
Hakkinen       McLaren Mercedes      18    Engine/ valve pressure
Verstappen     Arrows Supertec       16    withdrawn by team     
Coulthard      McLaren Mercedes      11    Engine/ valve pressure
de la Rosa     Arrows Supertec        6    Accident              
Irvine         Jaguar Cosworth        6    Accident              
Herbert        Jaguar Cosworth        1    Clutch                
Salo           Sauber Petronas        -    Disqualified          


World Championship Standing, Round 1:                

Drivers:                     Constructors:            
 1.  M.Schumacher  10        1.  Ferrari            16
 2.  Barrichello    6        2.  Williams-BMW        4
 3.  R.Schumacher   4        =   BAR-Honda           4
 4.  Villeneuve     3        4.  Benetton-Playlife   2
 5.  Fisichella     2                                 
 6.  Zonta          1                                 

All timing unofficial

---