Coulthard Speaks About Fatal Plane Crash
Thursday May 4th, 2000
By Timothy Collings
David Coulthard on Thursday relived his miraculous escape from a plane crash two days ago and told how he had tried in vain to help the two British pilots who died.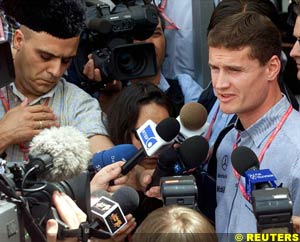 Speaking publicly for the first time since the accident at Lyon airport in the south of France, the British Formula One driver sent his condolences to the two men's families.
After recalling the trauma in a prepared statement, Coulthard asked the media to respect his privacy ahead of Sunday's Spanish Grand Prix and refused to take questions.
"I have written down some thoughts of the crash in which my fiancee Heidi Wichlinski and my fitness trainer Andy Matthews were involved," said the McLaren driver.
"First of all I would like to express my sympathy for the families of the two pilots who behaved in a thoroughly professional manner throughout the incident."
"We left Farnborough at lunchtime en route for Nice, the co-pilot informed us that we had an engine problem and would be making an emergency landing at Lyon.
"We had time to prepare for the emergency landing in the brace position. On landing one of the wing fuel tanks ruptured and there was a fire on the right of the plane.
"When the plane came to rest it was clear that the only way out was through the front of the plane which was now several feet from the ground.
"Andy led the way through the debris, I followed so that we could help Heidi to climb out.
Nothing To Be Done
"Once we were all clear I returned to the plane to see what I could do for the pilots but there was nothing I could do.
"The rescue services were there within a minute and I have the highest regard for their actions.
"Heidi, Andy and myself recognised that this accident, like all accidents, is of interest to the media but I hope you will respect our feelings and allow us to get on with the job this weekend".
Coulthard, who had been returning to his home in Monte Carlo when the plane developed problems, said he was helping the French authorities with their enquiries.
His McLaren team said in a statement that Coulthard, currently second in the world championship behind Germany's Michael Schumacher, would race on Sunday.
"David is a consummate professional and as a dedicated Formula One driver he is in good physical and mental shape.
"We know this will allow him to recover from such an incident and if anything, increase his determination to win this weekend.
"Despite his traumatic experience during the week, David has given careful consideration to his participation in the Spanish Grand Prix. David recognises that he needs to look forward and will, therefore, race in this weekend's event," it said.
---