Post-Qualifying Press Conference- Spanish GP
Saturday May 6th, 2000
You can listen to the press conference at http://www.f1press.com
Q. Congratulations, Michael, on your first pole position of the season and the 24th of your career. Does it give you special pleasure to have achieved it here at such a demanding circuit?
Michael Schumacher: Yes, of course, but the potential has always been there since the start of the season and if you look back on it, we have just not taken advantage of that opportunity. As you can see, things are so close. If you get it perfectly right, you can do it. If you just make one little mistake, or if you get some flags and you cannot do your lap flat out, then obviously you won't do it. To be on pole position is nice, but it's the race that counts. That's why I want to wait until tomorrow.
Q. You used the word 'perfectly' there. Given the amount of testing, was that as perfect as you can get?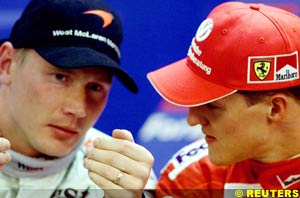 MS: Unfortunately in the conditions we have seen here, with the wind, you always feel that you could have improved a little bit here and there. Whether you actually improve or not is another question. But [my best lap] was probably as good as it could have been in the circumstances.
Q. Mika, although you seem to have resolved the problem in time to set 2nd fastest time, you have been fighting the car for most of the weekend. Does it deserve to be on pole position instead of behind Michael's Ferrari?
Mika Hakkinen: Basically, yes. Through the whole session I did not get a 100 per cent clear run until the last one, so I didn't have an opportunity to maximise it.
Q. Rubens, in your final there appeared to be a chance of you improving on Mika's time, at least until the final sector. What spoiled your time through that sector?
Rubens Barrichello: As Michael says, it was quite windy today, which made things unpredictable out there. In a way I thought the way the car was set up this morning was better - not that we changed very much, but I didn't think the car felt as good when I needed it this afternoon. In a way it is good to be in the top three, but I am disappointed not to be on the first row, because I think it should have been better.
Q. Michael, you made bad getaways from the start at the last two races. How important will a good start be tomorrow?
MS: You always know more after the event. Generally, if you make a good start [from the front] you can lead the race. Being able to plan your tactics from the leading position is always slightly easier than to be the challenger. But we have proved that we can also win even from behind. So it is not essential - but it helps.
Q. Well done, Michael. Early on in the session, while almost everyone was doing just one quick lap per run, you tried to do two consecutive fast laps. What was your thinking behind that?
MS: Well, we were trying it to see whether it worked or not, and basically it didn't work. There was not much difference, and I am not sure even now whether the second lap was the faster one, because my own display showed exactly the same lap time for the two laps while the official times were a little different. But I wanted to see how the tyres went, and having experienced that I decided to go for just one fast lap in the later runs.
Q. Right at the end of the session the sun came out for your final runs. How much difference did that make to your lap times?
MS: The circuit temperature went up, of course, but at the same time the wind also became a little stronger. That made it a bit more difficult. We made a little adjustment for the last run, which didn't take us in exactly the right direction. I couldn't get the car quite the way I wanted it, which is probably the reason why I was slower. I did have a clear run, though.
Q. Have you been practising starts since Silverstone?
MS: Yes, of course we have, but I only had bad starts in the last couple of races because there were so many cars in my way - especially at Silverstone. I thought I did a very good start at Silverstone, but you can't practise avoiding cars that get in the way. I don't know how to practise avoiding cars at the start. Perhaps you would like to ask Mika if we would do some practice starts together.
Q. Looking at the records of this race, I see that you have never failed to finish a race here. Are you aware of your outstanding results here?
MS: No! You're telling me now, because I honestly would not have known. I believe my record is the same in this respect that it is in Brazil. I hope we get the same outcome here ...
Q. Mika, earlier today you were speaking of a loose rear and and lack of grip. Are you happier with the car's performance here?
MH: I am definitely happier. It is not 100 per cent there, but we have made big progress through the day. I made my best time on the last run - and being quick here is all about technique. Yes, changing conditions can also affect the performance, but when the sun went in at the end it did not affect. I personally think my first two runs would have been a little better. It wasn't until my last run that the weather changed, and it did not affect my lap time.
Q. How would you describe the task ahead of you tomorrow?
MH: It's going to be really heavy, really difficult. Our experience is that on this track our car is not easy to drive and it is physically very demanding. Tomorrow will be very difficult.
Q. Rubens, were you happy with your grid position today?
RB: In a way, yes. This morning I thought the car behaved a little bit better, but this afternoon, because of something, I couldn't get the maximum out of it. In one of the two last runs the time wasn't at all good, and I had to abort the other. I never could get the car right for all three sections in one run. Barcelona is pretty much about that, but I thought I would be able to compromise and have a better run. I had the same problems this morning. The computer is saying that the steering wheel is straight, at zero, but for me it isn't. I think we are getting on top of that problem, which isn't the same one that we had this morning.
Q. How do you feel about the race?
RB: It's going to be quite difficult, because although the tyres last well, you have to treat them nicely. You can't push-push-push, you have to look after them. In the simulation we did last week I think I got the hang of it, so in case I don't get past the other two here at the start, I still hope to be quite close.
Q. At the final corner, where a Formula 3000 car was involved in a heavy impact yesterday, the barrier comes back at the drivers. Are you happy about the ability of the barriers here to cope with such a crash?
MS: I take your point about the angle of the barrier there, which is never a good thing. In the circumstances the organisers have done their best. What I am not happy about, though, is the corner before the last one, which is quite fast but still has only two rows of tyres in front of the barrier. I don't think the safety there is up to the top level. It's not perfect and I would like to see changes in the future.
Q. Have you and the GPDA asked for it to be checked?
MS: Honestly, we have been asking for many years. But not very much has happened, which is why I am talking now, to put a little bit of pressure on the organisers here in the hope that they will respond - if they hear this message.
* The last ten questions, to Schumacher, Hakkinen and Barrichello, were not part of the TV Unilateral coverage
---