News Wrap-Up for this Week's Testing
Friday May 12th, 2000
Ferrari: Training Mechanics
Following the accident in the Spanish Grand Prix, where chief mechanic Nigel Stepney had his tibia broken by Schumacher's car while it accelerated back into the race after his first pit stop, the Ferrari team has been testing mechanics to take over his duties in handling the refuelling hose. Stepney should be fit to resume his position at the Grand Prix of Canada.
Luca Badoer managed about 20 practice pit stops during a session at Fiorano on Tuesday and Wednesday when he was also working on aerodynamic and mechanical set-ups. Meanwhile at Mugello, Rubens Barrichello was testing the latest evolution engine and although the technicians are quite satisfied with it, the decision whether or not to use it at Nurburgring will only be taken next week. Barrichello will continue running on Friday while at Fiorano Badoer will shake down all three cars destined for the German race.
McLaren: Coulthard Takes a Rest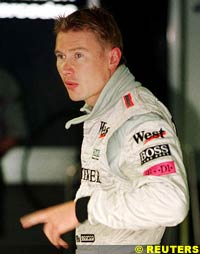 David Coulthard was allowed to miss this week's McLaren-Mercedes test at Jerez in order to help speed his recovery from the three cracked ribs which it now been confirmed that he sustained in the plane crash at Lyon on the Tuesday prior to the Spanish Grand Prix. FIA Chief Medical Officer Professor Sid Watkins commented; "I am absolutely confident that David will race at the European Grand Prix and that these findings will not influence his performance."
Meanwhile, Hakkinen set the pace in Tuesday testing at Jerez with a comfortable 1:23.998 in the test team's MP4/15 while Olivier Panis managed a 1:26.939 in the interim development MP4/14J which is still being used as an integral part of the ongoing test programme. On Wednesday Hakkinen was third fastest on 1:25.66 with Panis recording a 1:26.16. On Thursday, Panis was left to test on his own at Jerez using both the MP4/15 in which he managed a second fastest 1:24.77 and recorded fourh fastest 1:25.31 despite an oil leak and clutch problems on the MP4/14J.
Williams: Rain Spoils First Day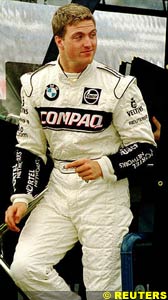 The BMW Williams team did not start testing until Wednesday at Jerez where Ralf Schumacher and Jenson Button scarcely got any serious running during the morning due to the onset of heavy thunderstorms. However, by the end of the afternoon Ralf Schumacher had completed 29 laps in the Williams FW22 to post a best time of 1:26.21 with Button getting down to 1:27.22 after 39 laps. "Unfortunately we lost valuable time in the morning, but in the afternoon we could go through our testing programme properly to find a good set-up for the Nurburgring race next week," said Schumacher. Button added; "It was quite a good day for us. I didn't really get a perfect lap because we weren't looking to set a good time, but rather testing new things on the car."
Schumacher, who suffered engine problems on both days, admitted at the end of the test that he was "quite happy" with the feel of the car after posting a 1:25.08 best lap on Thursday with Button managing a 1:26.03. "I'm satisfied with the mileage we achieved," said Button, "particularly during some of the longer runs."
Jordan: Drivers Split Test Programme
The Jordan Mugen-Honda team began its three day test at Jerez on Tuesday with Jarno Trulli driving until Wednesday lunchtime after which Heinz-Harald Frentzen took over through to Thursday evening. On the first day Trulli completed 40 laps in changeable wet/dry conditions for a best time of 1:26.259, most of his efforts focusing on set-up and chassis balancing work. In the wet conditions which prevailed on Wednesday morning Trulli ran 20 laps (best 1:27.86) concentrate on brake system development before handing over the car to Frentzen who completed 43 routine laps in the afternoon. His best time was 1:25.99. On Thursday Frentzen completed 62 laps (1:25.31) concentrating on suspension set-up and more brake evaluation before his programme was cut short by an engine failure late in the session.
Benetton: Test for Giorgio Pantano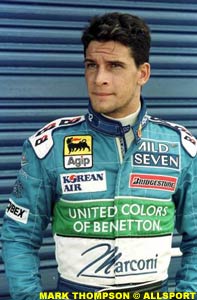 The 21-year old Italian driver Giorgio Pantano, who currently leads the German F3 Championship points table, was given his first F1 test with the Benetton-Playlife team at Jerez this week running alongside regulars Giancarlo Fisichella and Alexander Wurz. The first day on Tuesday saw Fisichella (1:25.750) and Wurz (1:26.255) carry out some preliminary work on wet set-ups and were joined by Pantano the following day. On Wednesday morning Fisichella managed only a few laps, setting second fastest time of the day on 1:25.39 before the need for an engine change halted his progress.
In the afternoon Pantano took over for his preliminary run in the car as part of his evaluation for the possible role of Benetton test driver. He covered 12 laps for a best of 1:29.51. Meanwhile Wurz concentrated on suspension and general set-up work, setting fourth fastest time of the day on 1:25.68. Wurz maintained this momentum to wind up fastest on 1:24.44 at the end of Thursday, his programme having included further development on front suspension settings, tyre comparisons and general set-up for the European Grand Prix. Pantano got down to 1:26.92 before spinning off, his car sustaining minor chassis damage which halted his programme for the rest of the day.
BAR: Zonta Sets Pace on Wednesday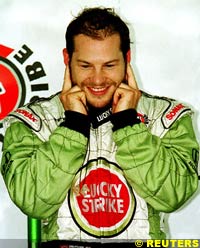 British American Racing has been running at Jerez since Tuesday with Ricardo Zonta, Patrick Lemarie, Darren Manning and Jacques Villeneuve. They were particularly satisfied on Wednesday when Zonta achieved the fastest lap of the day in changeable weather conditions.
Sauber: Four Days in Spain
Pedro Diniz spent three days testing for the Sauber-Petronas team in Jerez this week and is scheduled to be replaced today (Friday) by Mika Salo. The Brazilian driver spent much of his time practising starts in order to get more acclimatised to the C19's hand operated clutch. On Tuesday, Diniz completed 94 laps in changing weather conditions and ended up with a 1:25.670 best but stopped after 59 laps with engine failure on Wednesday having only managed 1:26.98. He also worked on high downforce chassis set-up and worked to improve mechanical grip. On Thursday the Brazilian carried out tyre comparison work and recorded a 1:25.40. Meanwhile, test driver Enrique Bernoldi was conducting aerodynamic tests on a Swiss military base near Buochs witnessed by an estimated 1500 onlookers.
Jaguar: Burti Involved Again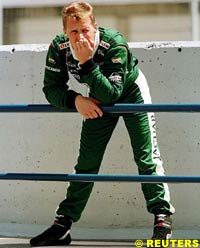 Luciano Burti again tested for the Jaguar team on Tuesday at Jerez where he was 0.3sec quicker than any other competitor when the track conditions were at their wettest. Burti's priority was to develop aerodynamic components in addition to differential and gear mapping. "We had a big programme to get through to try and develop the car," he said at the end of a day in which he managed a best time of 1:27.679. "Because of the bad weather we didn't get to do as much as we wanted, but I ended up doing 43 laps altogether." On Wednesday Eddie Irvine (1:25.87) and Johnny Herbert (1:26.28) continued work on chassis set-up, a programme which continued on Thursday with Herbert (1:25.40) slightly faster than Irvine (1:25.59) at the end of the day.
Prost: Testing at Magny-Cours
The Prost-Peugeot team has been running a three day test at Magny-Cours since Wednesday with a single car driven by Nick Heidfeld who was severely hampered by rain and a cross-wind which constantly changed direction. On Wednesday he managed 28 laps despite a gearbox problem and on Thursday completed 49 laps with no problems while testing aerodynamic components.
Arrows: de la Rosa Tests Alone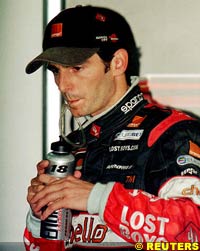 After his disappointing second lap collision in the Spanish Grand Prix, Pedro de la Rosa stayed in his home country for three days of testing with the Arrows team. On Tuesday he managed 1:27.364 and was able to improve that to 1:26.22 the following day as he worked on general chassis set-up preparation for the European Grand Prix. Jos Verstappen was unable to drive the third day because of flu. De la Rosa completed 69 laps on Thursday with a best time of 1:26.40 which was tenth fastest on the day.
Minardi: No Tests This Week
The Minardi team has not been testing this week as it is concentrating on preparation work at the factory. Gaston Mazzacane will again use the titanium gearbox at Nurburgring where the team will have four "evolution" engines at its disposal.
---