The Thursday-Five Press Conference - European GP
Thursday May 18th, 2000
Participants: Mika Hakkinen (McLaren), Michael Schumacher (Ferrari) Ralf Schumacher (Williams), Norbert Haug (Mercedes-Benz) and Dr Mario Theissen (BMW).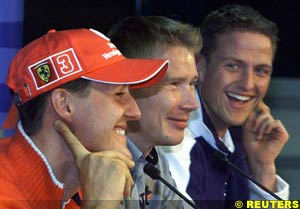 Q: Michael, as we come to this race you have had various outside events to look after, including an opportunity to play with the Kaiserslautern football team and your traditional karting evening at Kerpen.
Michael Schumacher: We had some press events planned with the team's partner, but the things you mention were both private things. The football is something I had wanted to do for a long time, and obviously being here in Germany gave me an opportunity to do it. The Kaiserslautern people had been very open to receive me. Then, just as Ralf invited his team [to go karting], I invited my team as usual before the Nurburgring race. We had a lot of good fun together.
Q: After you finished 6th in Spain, David Coulthard said that for once you didn't have good luck. Do you feel you are quite a lucky person?
Michael Schumacher: There are moments when you might think about this, but at the end of the day, when you look through your life, you have to say that you must work for your luck. And you have to use your luck. You have to see it. Whether I am more lucky or less lucky, or whether I do more for it or whatever ... I don't know. I think I work for my luck.
Q: After the race in Spain there was a difference of opinion between you and your brother. Have you spoken together about it?
Michael Schumacher: Oh, yes, certainly we had a chat about it. But not in the way some people may wish to see that, or even people wrote about the way it happened. I mean, we are well known brothers and we know very well what we are doing. Listen, he drives for Williams, I drive for Ferrari and nobody can give each other a present. We have to fight all the way to the limit, as the rules allow us to do and as we do with our competitors. But we can allow ourselves to get into this situation, because we respect each other and we know how much room we need to give each other in order to survive and not to have any problem. This was a clean situation and there is no need to clarify things, or to fight or argue or whatever.
Q: Ralf, your father was quoted as saying that this had happened between you before, in karting. Is that true?
Ralf Schumacher: No, I can't remember that one. We never raced [seriously] against each other in karting, we only ever raced for fun. Michael is seven years older, and obviously he raced in different categories, so by the time I was able to start karting seriously he was already in Formula 3 and we never raced against each other.
Q: So the Spanish situation has been resolved quite happily as far as you are both concerned?
Michael Schumacher: The question is: what needed to be resolved? The media made a story out of a clean fight, and then some silly journalist wrote nonsense stories about us shouting at each other and all that nonsense. Now we are in the position of having to put things straight. Sorry, but there was nothing. So there was no reason to blow up the balloon.
Q: Ralf, we read suggestions of an engine reliability problem at the Jerez test. Has that been a worry for you as you come here?
Ralf Schumacher: Any information you may have about an engine problem is wrong. We didn't have any problems at all. It was a good test, we tested everything we wanted to do, and that was it.
Q: No engine failures?
Ralf Schumacher: I didn't have one. But Mario Theissen knows better than me.
Q: Are you expecting having to do any extra work for BMW here because we are in Germany? Will there be a big push by BMW?
Ralf Schumacher: We push at every race, so this race is really no different from any other. It will be great if we are at a similar competitiveness here as we were at the last one. The weather seems to be good for us: I am hoping that it rains. Apart from one day on Tuesday I haven't got any extra promotional work to do here in Germany. We want to concentrate on the business of racing.
Q: Mika, there are rumours circulating about you, first about retirement. What are your feelings about that?
Mika Hakkinen: Well, they are not true. I am not planning to retire, those are just rumours.
Q: Can you be positive and say you will definitely still be racing next year?
Hakkinen: I cannot promise you that because you never know what is going to happen in your life. But my plan at the moment is that I intend to race [next year].
Q: This is your tenth year in F1. Does it get harder each year, even though you are a two-times world champion?
Hakkinen: No, not at all. Let's put it this way: what has happened through these ten years of F1 is that it has got much better. The one important point is the [improved] safety. There has been a massive improvement every one of these ten years. It makes me more comfortable and more confident about racing an F1 car. But if you are asking whether the pressures are higher, or whether it is getting more difficult to win, I can say that my life is going in a very positive direction. And I enjoy it more and more every day.
Q: Norbert, someone in your team suggested that the electronic changes introduced at Silverstone had penalised Mercedes more than Ferrari. Do you agree with that? Have you got it back?
Norbert Haug: Well, my driver friend here certainly hopes so! I think that Ron assumed that because we were very sophisticated [before the rules changes], now we are not. But I don't see us suffering any great disadvantage, I cannot see that.
Q: The suggestion has been made that the changes in the rules had a cost in terms of fuel consumption and engine driveability. Is that the case?
Haug: I think it is fair to say that, and it has been a little bit of a handicap. But everybody is working on that, and the consumption here is better than it was in Barcelona, and in Barcelona it was better than at Silverstone. So like everyone else, we are improving step by step. I am not sure whether we will every get back to the position where we used to be, but I am sure we will get close.
Q: Has it changed DaimlerChrysler's perspective on racing to have another big German company coming into F1 to challenge you?
Haug: Not really. But if I had a choice I would certainly have chosen to have BMW as a competitor. We are close rivals in the market place, but they go about being competition with style, which is very important for us, and I have to say that BMW has done a fantastic job so far. It is good for F1, and for us, to have a high-value brand like BMW competing in F1. It will only start to become bad for us if they start getting in front of us...
Q: Mario, how important is it for BMW to have a German driver?
Dr Mario Theissen: First of all, may I say how much I appreciate what Norbert said about the competition between BMW and Mercedes? It will take us quite a few races to eventually pass our competitor...
Haug: I am not so sure
Theissen: ...Like Mercedes, we have to go for the best drivers willing and able to drive for the team. If a German like Ralf is available, it is even better. But our priority is to get the best drivers.
---