Friday Second Free Practice - European GP
Friday May 19th, 2000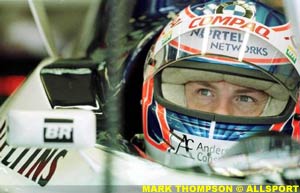 Briton Jenson Button topped the times in opening practice for Sunday's European Formula One Grand Prix with a late fastest lap on Friday afternoon.
The 20-year-old Williams driver, who had never even seen the Nurburgring circuit before arriving on Thursday, lapped in 1:19.808 to outpace second-placed Austrian Alexander Wurz in a Benetton.
World champion Mika Hakkinen of Finland, in a McLaren, was third ahead of teammate Briton David Coulthard and the Schumacher brothers Michael and Ralf, who were fifth and sixth respectively for the Ferrari and Williams teams.
It was a stunning effort by Button whose best lap came with just a minute remaining after a session run in mixed wet and dry conditions and in a strong and cold wind.

Pos  Driver         Team                 Time               
 1.  Button         Williams BMW         1:19.808  
 2.  Wurz           Benetton Playlife    1:20.248   +  0.440
 3.  Hakkinen       McLaren Mercedes     1:20.300   +  0.492
 4.  Coulthard      McLaren Mercedes     1:20.507   +  0.699
 5.  M.Schumacher   Ferrari              1:20.519   +  0.711
 6.  R.Schumacher   Williams BMW         1:20.548   +  0.740
 7.  Trulli         Jordan Mugen-Honda   1:20.609   +  0.801
 8.  Zonta          BAR Honda            1:20.709   +  0.901
 9.  Heidfeld       Prost Peugeot        1:20.751   +  0.943
10.  Villeneuve     BAR Honda            1:20.786   +  0.978
11.  Gene           Minardi Fondmetal    1:20.801   +  0.993
12.  Diniz          Sauber Petronas      1:20.850   +  1.042
13.  Fisichella     Benetton Playlife    1:20.862   +  1.054
14.  Barrichello    Ferrari              1:20.891   +  1.083
15.  Frentzen       Jordan Mugen-Honda   1:20.992   +  1.184
16.  Irvine         Jaguar Cosworth      1:21.246   +  1.438
17.  Herbert        Jaguar Cosworth      1:21.323   +  1.515
18.  Alesi          Prost Peugeot        1:21.442   +  1.634
19.  Verstappen     Arrows Supertec      1:21.655   +  1.847
20.  de la Rosa     Arrows Supertec      1:21.659   +  1.851
21.  Mazzacane      Minardi Fondmetal    1:22.135   +  2.327
22.  Salo           Sauber Petronas      1:22.161   +  2.353

All timing unofficial

---