Schumacher Has Fun at a Palestinian-Israeli Peace Match
Thursday May 25th, 2000
Brazilian legend Pele kicked off an all-star charity soccer match on Thursday in which Israelis and Palestinians fielded their first joint team to raise money for school Internet and other facilities to boost dialogue.
Smiling Nobel peace laureates Yasser Arafat and Shimon Peres watched from the stands of Rome's Olympic stadium as the mixed team, reinforced by Italian soccer stars and Formula One racing drivers Michael Schumacher and Giancarlo Fisichella, began play.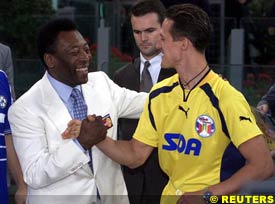 They faced a squad of Italian singers, including crooner Eros Ramazzotti and popular singer Gianni Morandi, with AS Roma's Japanese star Hidetoshi Nakata and Inter Milan goalkeeper Angelo Peruzzi among other famous faces.
"I think it has never happened before...Let's play football rather than shoot bullets one against another," said Peres, a former Israeli premier and now regional cooperation minister.
Palestinian Authority President Arafat, Peres and Italian President Carlo Azeglio Ciampi raised their arms and linked hands in a tribute to the solidarity on the pitch. The match was being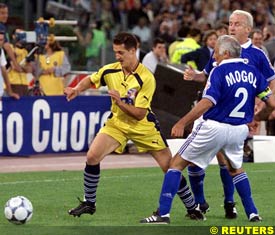 broadcast in Italy, Israel and Palestinian zones and U.S. President Bill Clinton sent a letter of support.
Two early goals - an own goal by the singers and a swift Israeli follow-up - raised laughter and cheers from the 80,000 capacity crowd and celebrities including the all-stars' coach, veteran Frenchman Michel Platini.
Ramazzotti gave the singers a goal later in the first half but in a departure from the tense Serie A matches played in the stadium, no one really appeared to be keeping score.
---