Timothy Collings' Monaco GP Preview
Wednesday May 31st, 2000
By Timothy Collings
Michael Schumacher is looking for his fifth win in seven years at the Monaco Grand Prix on Sunday, but he may prefer not to start in pole position.
The championship leader's last three wins on the notoriously tight and unforgiving Monte Carlo circuit have come from second place on the grid, despite the difficulties of overtaking through the narrow streets of the principality.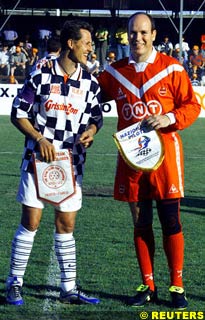 The 31-year-old German, who led his erstwhile teammate Briton Eddie Irvine home in a glorious Ferrari one-two last season, knows that a similar performance would put him in a commanding position in the title chase with 10 races to go.
Following his return to winning form at the Nurburgring in the European Grand Prix two weeks ago, Schumacher has 46 points and an 18-point lead over nearest rival and defending world champion Finn Mika Hakkinen of McLaren.
He knows, too, that like Ayrton Senna before him, he has the opportunity to prove that he is the finest driver of his generation by dominating the famous Mediterranean street circuit that tests a driver's ability more thoroughly than any other.
Senna, widely regarded as the best of his era before his death at Imola in 1994, had in turn succeeded Briton Graham Hill as motor racing's 'king of Monte Carlo' by reeling off five successive wins from 1989 to 1993.
Schumacher won at Monaco for the first time with Benetton in 1994 and repeated the feat a year later on the way to his second successive title with the Anglo-Italian team.
In 1996, however, having joined Ferrari, he started from pole and was swept aside by the heavy rain as Frenchman Olivier Panis delivered the Ligier team a famous win.
Near-Perfect Win
Schumacher resumed normal service in 1997 by claiming Ferrari's first win at Monaco for many years, but he fell by the wayside in 1998 when Hakkinen, on the way to his first title, claimed a near-perfect win for the McLaren team.
Last year, Hakkinen - starting from pole - could do no better than finish third behind the two Ferrari men.
As no pole-sitting driver has won a Formula One race in 11 attempts since Hakkinen's triumph at the Hungarian contest last August, the Finn may also be excused for aiming only for second spot on the grid this weekend.
After their recent overall improvement in form and reliability, the McLaren team will be confident they can win.
Schumacher remains equally sure that, after all the improvements to his car in the last month, he can secure the 40th victory of his career in front of a huge crowd packed around the hillsides of the 'millionaires playground'.
"Monaco has been very good for me in the past and I feel sure we will be just as competitive this year. The car is good and strong, the team are ready for it and I feel very good," he said.
Among the rest, Hakkinen's McLaren teammate Briton David Coulthard, who was third on the grid last year, could mount a challenge to the leading duo. And Schumacher's Ferrari partner Brazilian Rubens Barrichello, one of the smoothest and most technical drivers, should also be competitive.
For Briton Jenson Button, 20, it will be his first Formula One race on the twisting streets, but he intends to be well-prepared.
"I'm planning to do a few laps of the streets in a BMW road car with Gerhard Berger," said the Williams driver. "His advice has always proved to be invaluable to me and this is where I will probably need it most."
---