Thursday October 5th, 2000
By Timothy Collings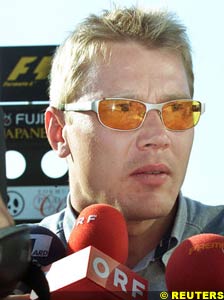 Defending champion Mika Hakkinen said on Thursday he was still optimistic about beating favourite Michael Schumacher to this year's Formula One world title.
Schumacher, who hopes to give Ferrari their first drivers' title since 1979, has an eight-point lead going into Sunday's Japanese Grand Prix, the penultimate race of the season.
But Hakkinen dismissed the German's lead at a news conference and said his McLaren team were doing everything to give him a third consecutive world championship.
"I know that what happened to me in the last Grand Prix, when I had to retire, can happen to anyone," Hakkinen said.
"It could happen to Michael. So I am very optimistic. I have come here prepared and thinking about these two races together. Not one, two.
"We want to get the best out of the car and we are ready to do that. I am ready to continue the fight. Eight points is a lot from one point of view but not much from another."
Schumacher, sitting alongside his Finnish rival, said Hakkinen could forget about the second race - the Malaysian Grand Prix on October 22nd - as the title would already be safely in the German's hands.
Victory on Sunday would settle the matter, bringing Schumacher his third world championship, and the Ferrari driver made no secret of his game plan for the high-speed circuit.
"I see this as just one race," he said. "I would much prefer to finish everything off here instead of going on to Malaysia. For me, it is better to win so that is what we are going for - there is no point in me thinking about second."
Despite the rivalry on the track, the two men indicated they had a good rapport off it.
Asked if he would be doing anything differently on Sunday, Hakkinen said: "No. Nothing really. Just that I will be braking a couple of metres later for every corner..."
Schumacher responded when his chance came, saying: "I will have to brake five metres later, I guess."
"But, then you will be in the gravel," said Hakkinen.
"We will be together!" said Schumacher, laughing.
Jokes aside, Schumacher said he knew that eight points alone were not enough to guarantee victory and he hoped for a straight duel between the two drivers, far from their team mates.
"I hope, that after qualifying, we are out on our own at the front," Schumacher said. "I hope it just Mika and me up front. Then, we can deal with it ourselves."
---
© 2005 Reuters Limited.
Click for restrictions
| © 1995-2005 Kaizar.Com, Inc.
Copyright & Terms