Saturday October 7th, 2000
Schumacher takes a 'quality' pole
"This was one of the most satisfying pole positions of my career. We had a very high quality fight for the pole today," said Michael Schumacher, who spent the session trading places with rival Mika Hakkinen for the pole, which he finally got by just 9/1000ths of a second - less than the blink of an eye.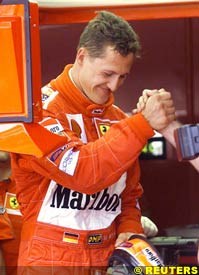 It was Schumacher's eighth pole of the season and the 31st of his career, but he wasn't ready to start celebrating. "To get the pole is nice, but it's tomorrow that counts," said Michael, who only managed three timed runs after he ran out of time for more. "There was no point going out early because the track was getting quicker and quicker and when everyone did get going it was too late to make all my laps," explained Michael.
Rubens Barrichello will be starting the race from fourth place on the grid, half a second slower than his teammate, the Brazilian's qualifying as perturbed as the rest of his practice this weekend, when he lost time with two weight checks after his first two runs and then a half spin on his third run, which prevented him getting in a perfect run.
Hakkinen loses pole in last corner
After beating Schumacher's time by a few hundredths of a second with each of his previous three runs, Mika Hakkinen's final bid for pole failed at the last corner. "I couldn't get the power down as early as I wanted to, and that cost me the time I lost," Mika explained.
David Coulthard took third place, the Scot was the first to admit that he was not able to match the pace of the leading pair. "The car was the best it has ever been around here, but I was lacking grip and I didn't have the confidence to attack the circuit," said Coulthard,"But I will certainly have the best seat in the house to watch the fight for the title," he added.
Button a delighted fifth for Williams
Jenson Button was delighted with his fifth place on the grid, the young Englishman describing it as his most satisfying qualifying so far. "Considering the circumstances, the circuit and that I was 1.5 seconds behind Ralf yesterday and am now ahead of him, I am really happy," said Button. Ralf Schumacher ended alongside Button on the grid, saying later that he had not optimised the full potential of his car throughout the session, and that it hadn't felt as good as it had this morning.
Irvine heads fourth row
Eddie Irvine was happy with his seventh place on the grid for Jaguar. "The new softer tyres have made the car much better to drive and I couldn't have gone much quicker than the time I did," said Eddie. Johnny Herbert found a better set-up for his car for qualifying and had it not been for traffic on his best lap, he felt he could have been on the fourth row with Irvine.
Frentzen predicts a tough race
Heinz-Harald Frentzen took eighth place on the grid for Jordan, the German still finding his car hard to drive, but happy to have managed an eighth place position. "It's going to be a tough race tomorrow," predicted Frentzen. Trulli was back in 15th place, complaining of a problem with his car's power steering, which made his car hard to drive in the fast corners.
In brief...
BAR's Jacques Villeneuve was happy to have made the top ten with ninth place in the BAR, his last run spoiled when he changed the car in the wrong direction. Teammate Ricardo Zonta was back in 18th spot, the Brazilian only managing nine laps, after losing half the session waiting for an engine change.
Mika Salo had to use his spare Sauber after he experienced alternator problems with his race-car. He didn't like it and could not better 19th. His Sauber teammate, Pedro Diniz, was 20th, after having his two best laps disallowed for laying oil down this morning.
Arrows had a troubled qualifying session. They were hoping for better than 13th and 14th, but a water leak for Jos Verstappen and hydraulic problems for Pedro de la Rosa spoiled their afternoon. Benetton were disappointed with the sixth row for their two cars, Alex Wurz ahead of Giancarlo Fisichella, who said his car had lost its performance since the morning.
Pos  Driver         Team                 Times                 
 1.  M.Schumacher   Ferrari              1:35.825  220.302 km/h
 2.  Hakkinen       McLaren Mercedes     1:35.834   +  0.009
 3.  Coulthard      McLaren Mercedes     1:36.236   +  0.411
 4.  Barrichello    Ferrari              1:36.330   +  0.505
 5.  Button         Williams BMW         1:36.628   +  0.803
 6.  R.Schumacher   Williams BMW         1:36.788   +  0.963
 7.  Irvine         Jaguar Cosworth      1:36.899   +  1.074
 8.  Frentzen       Jordan Mugen-Honda   1:37.243   +  1.418
 9.  Villeneuve     BAR Honda            1:37.267   +  1.442
10.  Herbert        Jaguar Cosworth      1:37.329   +  1.504
11.  Wurz           Benetton Playlife    1:37.348   +  1.523
12.  Fisichella     Benetton Playlife    1:37.479   +  1.654
13.  de la Rosa     Arrows Supertec      1:37.652   +  1.827
14.  Verstappen     Arrows Supertec      1:37.674   +  1.849
15.  Trulli         Jordan Mugen-Honda   1:37.679   +  1.854
16.  Heidfeld       Prost Peugeot        1:38.141   +  2.316
17.  Alesi          Prost Peugeot        1:38.209   +  2.384
18.  Zonta          BAR Honda            1:38.269   +  2.444
19.  Salo           Sauber Petronas      1:38.490   +  2.665
20.  Diniz          Sauber Petronas      1:38.576   +  2.751
21.  Gene           Minardi Fondmetal    1:39.972   +  4.147
22.  Mazzacane      Minardi Fondmetal    1:40.462   +  4.637


All timing unofficial

---