Sunday October 29th, 2000
Ferrari's World Championship celebrations attracted 50,000 fans to the Mugello circuit this weekend, where Michael Schumacher, Rubens Barrichello and Luca Badoer entertained the crowd with demonstration laps.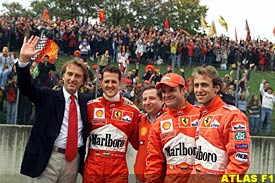 "Ferrari fans are really something special," said Schumacher. "To be honest, (today) was even better than I expected. Only Ferrari can trigger such feelings," added the man who brought the drivers' title back to the Italian team after a 21-year absence.
Top brass from Ferrari's parent company Fiat attended the festival, which was marred by the death of a 66-year-old German driver in a supporting race on Saturday.
"What happened yesterday was a pity, this was meant as a party for Schumacher and Ferrari," Fiat chief executive Paolo Cantarella said in a reference to the tragedy.
Burning Tyres
Barrichello was the first to come out to present the trophies for one of the historic races, and tried out the winning 1934 Maserati 6CM of William Binnie. Then came a parade of some 21 historic Formula One cars, the earliest dating from 1952 but most of them coming from the 70s, 80s and 90s.
Rubens then tried a 360 Modena Spyder. There were three available: one for each driver. Rubens's was yellow, Luca Badoer's steel blue and Michael Schumacher's red. But after Rubens had done a couple of laps, he joined his colleagues, plus Jean Todt and the president of Ferrari, Luca di Montezemolo, for a walk along Mugello's main straight, where they were greeted like royalty by the huge crowd.
Then, in honour of Ferrari's win, Italy's national nine-strong aerobatic flight, the Frecce Tricolori, did a fly past. At first, they trailed smoke in the national colours of Italy: red, white and green but, in a unique turn, they then just trailed red smoke in honour of Ferrari.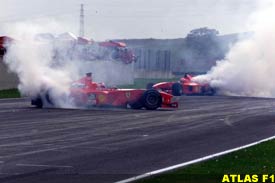 All three drivers were then paraded around the circuit in their 360 Modena Spyders. And then it was time for Formula One. As the mechanics wheeled three Formula One Ferraris out onto the grid, there were huge cheers from the crowd. Each driver was conveyed straight to his Formula One car by his 360 Spyder, and there were more cheers as the engines fired up.
The unique sight of three contemporary Ferraris on the circuit at the same time was made all the better as the three driver indulged in a great battle, constantly swapping places as each driver led. Then they stopped on the grid - and smoked off the track in a mock start.
One by one, each then came into the pits, and the long-suffering mechanics changed all four wheels and sent them on their way again, Luca first, then Rubens and finally Michael - although the World Champion was actually slow away as he didn't seem to be in gear!
After they had done their bit, all the mechanics came out onto the circuit to greet the two race drivers. But not before first Michael and then Rubens had done doughnuts until they were completely obscured by tyre smoke. And as they parked the cars, the mechanics lined up beside them and then stripped off their overalls to reveal T-shirts which, letter by letter, spelt Campioni del Mondo 2000 - World Champions 2000.
Schumacher Practices Italian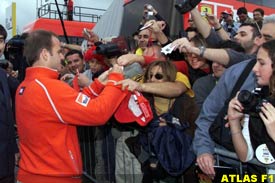 Michael, Rubens and Jean Todt then spoke briefly to the crowd. "I just want to say, to all the fantastic fans and this fantastic team, three things: thankyou, thankyou, thankyou," said Michael in Italian. "You've all been fantastic, all the fans, the whole team: thank-you."
Rubens said: "It has been a great year, with great joy, and I'm very happy to have won so much with these championships. I'm proud to be part of this Italian family."
Finally, it was Jean Todt's turn: "We have fantastic drivers and a World Championship team and our fans are World Champions too."
With that, there was a photocall, and the celebration was over. All three drivers are heading for a one month enforced holiday, thanks to the ban on testing in November, but all three are likely to be back on duty in December 2000.
---