Friday September 22nd, 2000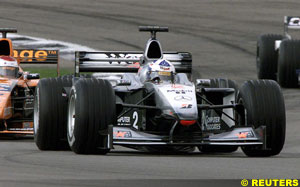 McLaren take top spot for day one
Despite the lack of track time this morning, the McLaren team came bouncing back this afternoon to take the two fastest times of the day with David Coulthard heading the field from team-mate Mika Hakkinen. "I had to catch up after running no laps this morning, but we found quite a good set-up and I am quite happy," said David who ran 25 laps during the session. Hakkinen was also happy with his time this afternoon, just over a tenth of a second slower than Coulthard, both drivers like most of the field taking advantage of the extra two sets of tyres they were allowed to run today.
Schumacher slips to third
Despite going from fastest to third fastest this afternoon, Michael Schumacher was pleased with his dayís work with his Ferrari, the German running 53 laps for the day, more than any other driver. "The banking is not as impressive as I thought it would be and the infield is quite difficult as it is so flat it is hard to see the corner," said Michael.
Rubens Barrichello took fourth place, he too happy with his dayís work, both drivers changing rear wings throughout the session, although neither of them managed to improve on their morning times.
Frentzen moves into fifth spot
Heinz Harald Frentzen went for some quick laps this afternoon taking the fifth fastest time of the session after a trouble free afternoon. "Today it was important to get as many laps as possible. I did a lot of changes and we have a good data base for tomorrow," said Heinz. Trulli slipped back to seventh place, his practice cut short by an electrical problem, which saw him stop on the track.
Ralf happier with sixth
After losing a lot of time with a wheel-bearing problem this morning, a new set of uprights on his Williams-BMW and sixth fastest time made him a lot happier this afternoon. "Itís a case of finding the right compromise between the speedway part of the track and the infield," said Ralf. Jenson Button had a good day. He stayed on race set-up this afternoon and didnít improve his time, although he retained eighth fastest for the day.
Top ten spot for Gene
Marc Gene will be pleased if he can retain a top 10 starting place tomorrow after setting ninth quickest for Minardi today. "The car was well balanced between the fast and slow corners," said Gene. His teammate was back in 20th spot after spending time in the pits with a broken first gear.
In brief...
Jean Alesiís day didnít improve after he spun off after a few laps and got stuck in a gravel trap. Johnny Herbert was another to walk back to the pits after he hit the wall under braking for turn one and broke the rear wheel of his Jaguar. Jos Verstappen was much happier with more downforce on his Arrows. He got up to 13th spot before he too spun off into a gravel trap and ended up walking back to the pits. Fisichella only got out for the last 20 minutes of the session while damage from his morning shunt was repaired. "I have a lot of work to do for tomorrow," he said after struggling with bad balance. His team-mate Wurz was happier after improving to 11th overall. Both BAR drivers were disappointed with Villeneuve slipping back to tenth and Zonta 15th, each of them complaining of a lack of grip on slower infield corners.
Pos  Driver         Team                 Times                 
 1.  Coulthard      McLaren Mercedes     1:14.561  202.546 km/h
 2.  Hakkinen       McLaren Mercedes     1:14.712   +  0.151
 3.  M.Schumacher   Ferrari              1:14.927   +  0.366
 4.  Barrichello    Ferrari              1:15.144   +  0.583
 5.  Frentzen       Jordan Mugen-Honda   1:15.226   +  0.665
 6.  R.Schumacher   Williams BMW         1:15.249   +  0.688
 7.  Trulli         Jordan Mugen-Honda   1:15.646   +  1.085
 8.  Button         Williams BMW         1:15.741   +  1.180
 9.  Gene           Minardi Fondmetal    1:15.806   +  1.245
10.  Villeneuve     BAR Honda            1:16.147   +  1.586
11.  Wurz           Benetton Playlife    1:16.345   +  1.784
12.  Irvine         Jaguar Cosworth      1:16.546   +  1.985
13.  Verstappen     Arrows Supertec      1:16.572   +  2.011
14.  Heidfeld       Prost Peugeot        1:16.626   +  2.065
15.  Zonta          BAR Honda            1:16.656   +  2.095
16.  Salo           Sauber Petronas      1:16.660   +  2.099
17.  Herbert        Jaguar Cosworth      1:16.670   +  2.109
18.  de la Rosa     Arrows Supertec      1:16.787   +  2.226
19.  Diniz          Sauber Petronas      1:16.838   +  2.277
20.  Mazzacane      Minardi Fondmetal    1:16.902   +  2.341
21.  Fisichella     Benetton Playlife    1:17.053   +  2.492
22.  Alesi          Prost Peugeot        1:18.213   +  3.652

All timing unofficial

---