Friday September 22nd, 2000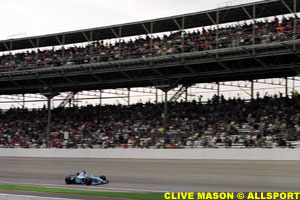 Formula One's top drivers on Friday enthused about the reshaped Indianapolis circuit that has been created for Sunday's U.S. Grand Prix.
World champion Mika Hakkinen of Finland, second-quickest in opening free practice behind McLaren team mate David Coulthard of Britain, said he thought the track was wonderful.
"I think the circuit is great, really enjoyable to drive and quite difficult in parts," he said. "Generally speaking, they've done a fantastic job with this race track.
"To find the right balance and the right set-up is very, very complicated. If you dont have the right balance, you are slow."
Asked about the safety aspects of the cicuit, he said: "I dont think any driver is ever happy enough with the safety of a circuit, but the run-off area in the very first corner is fantastic.
"If you go off there, you have lots of space. The other corners are very good too."
Coulthard said: "It's quite interesting through the infield section and probably more interesting than any circuit other than Monaco.
"The oval section is quite fun to be banked into the corner. But there's not a problem for anyone. Its more of a spectacle to us than a challenge."
Canadian Jacques Villeneuve, who won the Indianapolis 500 race on the full oval in 1995, said: "It's a very difficult track. The infield is very slow, but it's very intricate so it's very difficult to get a good lap.
"There are two very slow corners near the end that shouldn't be there. They're annoying. As to the banking, it's nothing. You're just flat out going up through the gears. It's heavy. It's loaded. But its not even near the limit of what the corner could be."
Former world champion Michael Schumacher said: "I did not find it difficult to adapt to this track. Going around the turns on the oval is not so exciting as it might look from the outside of the cockpit because the entry speed is not so high. That means the danger is also reduced compared to what it may have been."
Briton Jenson Button of Williams described it as a "great circuit", while Finn Mika Salo of Sauber said: "I like it a lot. I think it's great. But I dont like the three first-gear hairpins."
---
© 2005 Reuters Limited.
Click for restrictions
| © 1995-2005 Kaizar.Com, Inc.
Copyright & Terms